Teenagers lead freedom singing in Tabernacle Baptist Church, 1963.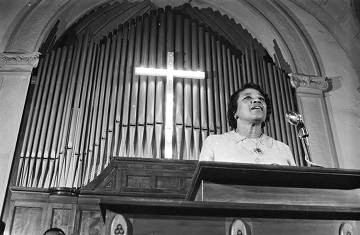 Selma Movement leader Amelia Boynton speaking in Brown Chapel.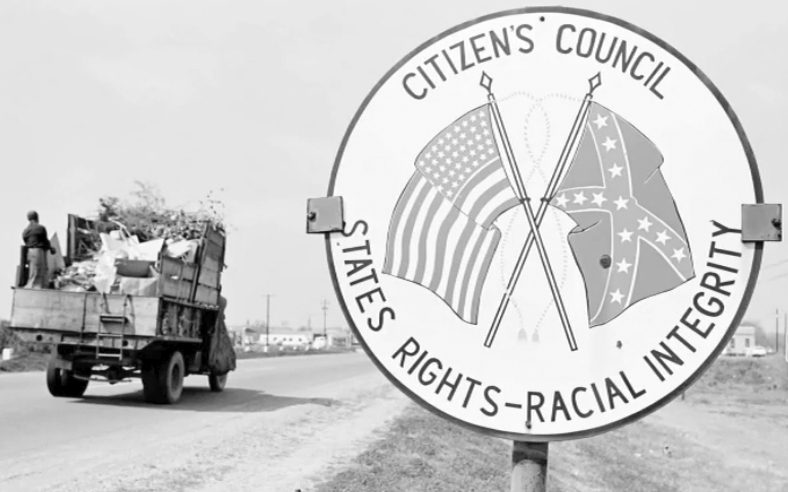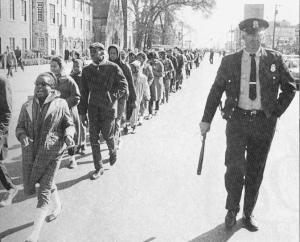 Selma, 1965

Oh Wallace,
you never can jail us all,
Oh Wallace,
segregation's bound to fall.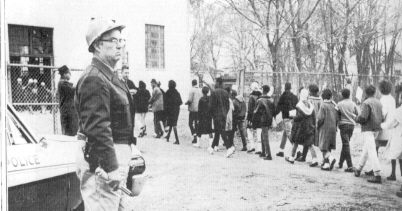 High school students under arrest for marching in support of voter registration, February, 1965. Sheriff Jim Clark supervises their incarceration for crimes against the southern way of life.
| | | |
| --- | --- | --- |
| | | Diane Richardson and Margaret Griffen, two of Selma's nonviolent warriors. You don't have to be a man with a gun to be a hero. |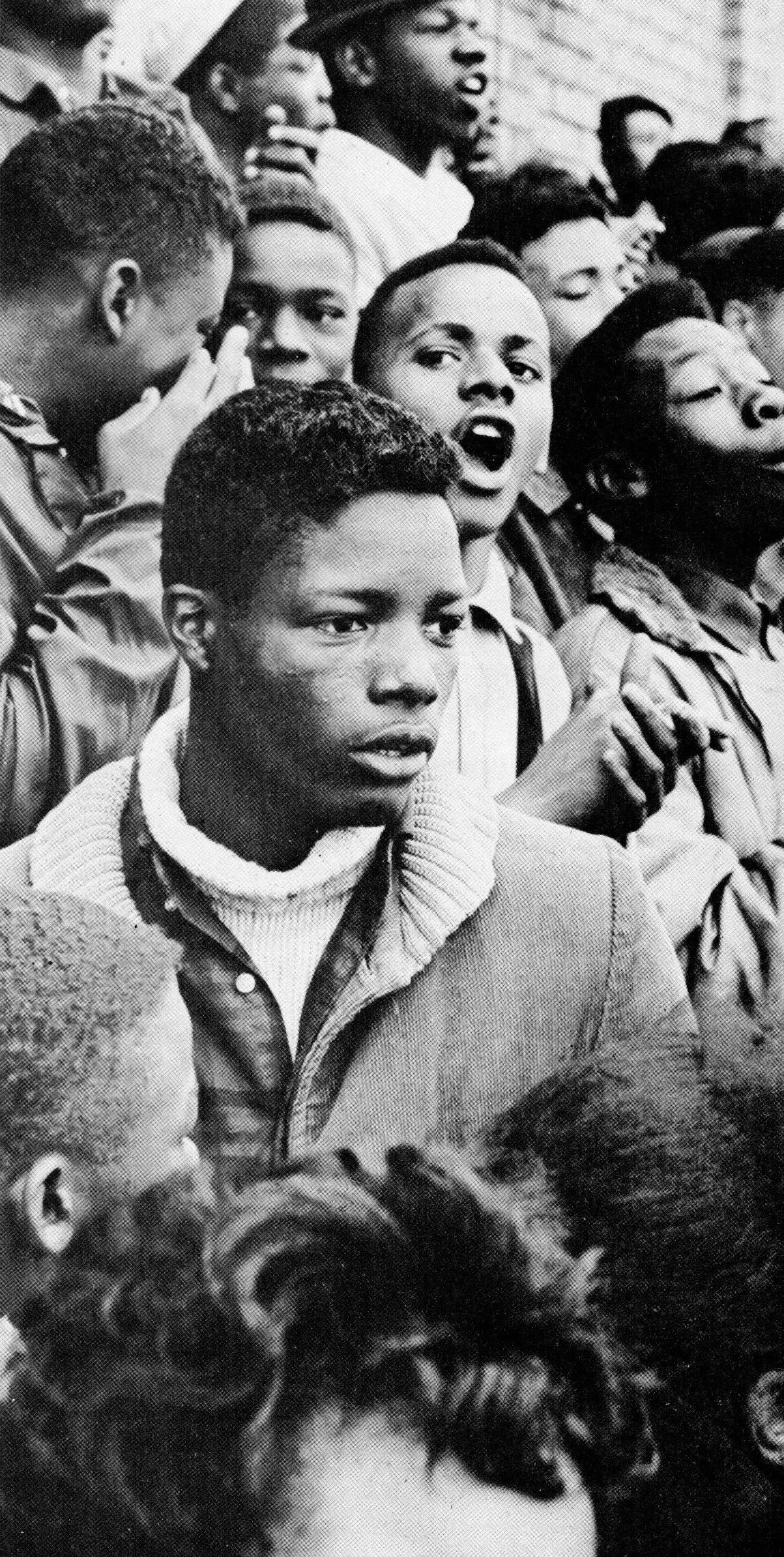 Young nonviolent warriors of Selma.
Dr. King, Rev. Fred Shuttlesworth, Rev. Ralph Abernathy, and Rev. Andrew Young demanding voting rights on the steps of the Dallas County courthouse.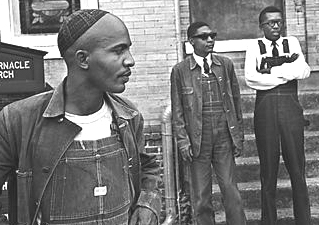 SCLC organizers Rev. James Bevel, Rev. Richard Boone, and Rev. Harold Middlebrook outside of Tabernacle Baptist Church in Selma.
Rev. Richard Boone leads protesters praying for Sheriff Jim Clark's soul after he is hospitalized for stess-related chest-pains. February 1965.
Afro-American citizens of Selma line up at the courthouse to register to vote. They are denied.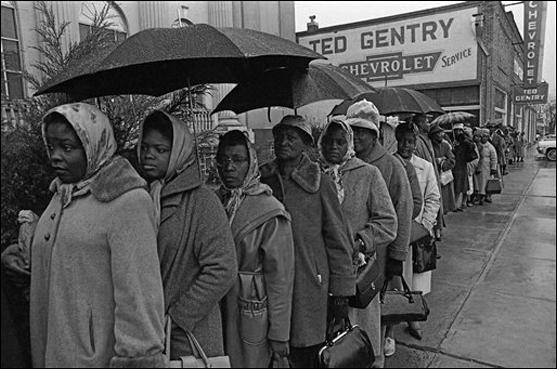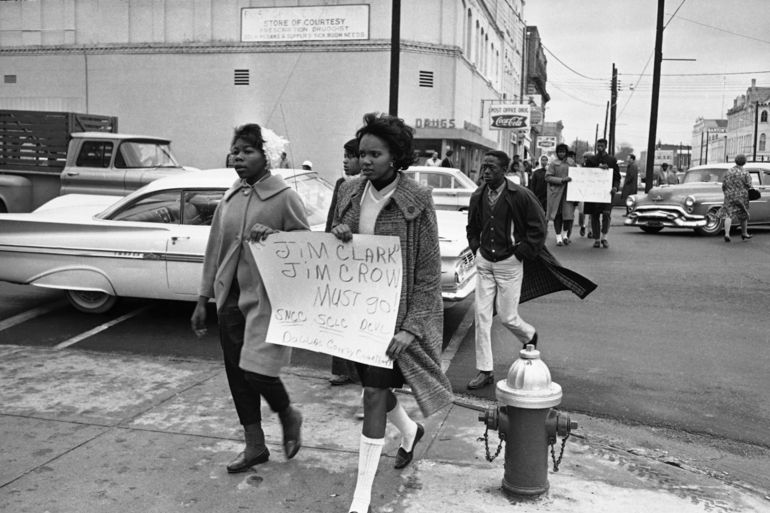 Selma students picket and march in support of voting rights for their parents.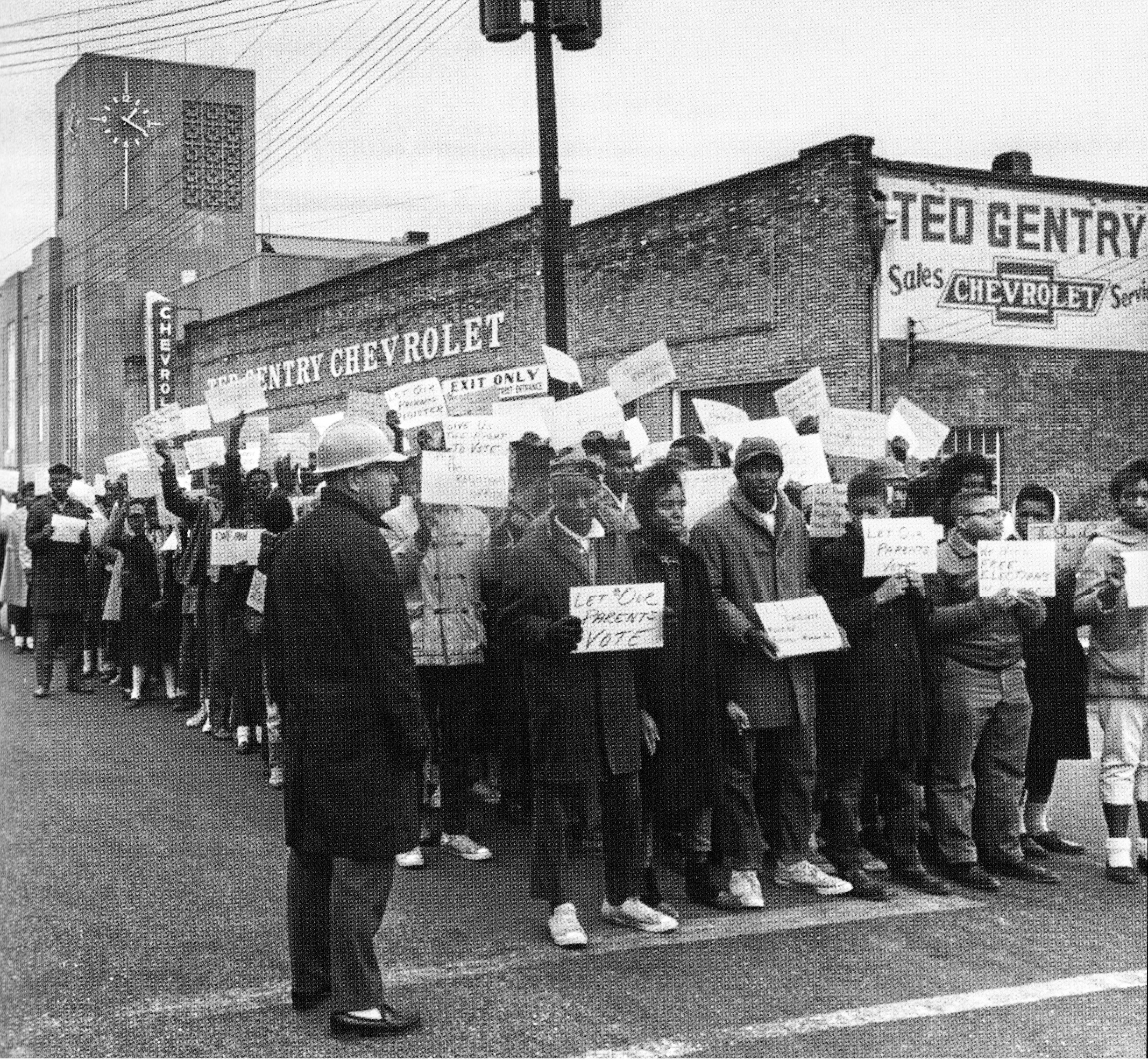 The students are arrested and led off to jail for the crime of peacefully protesting for voting rights.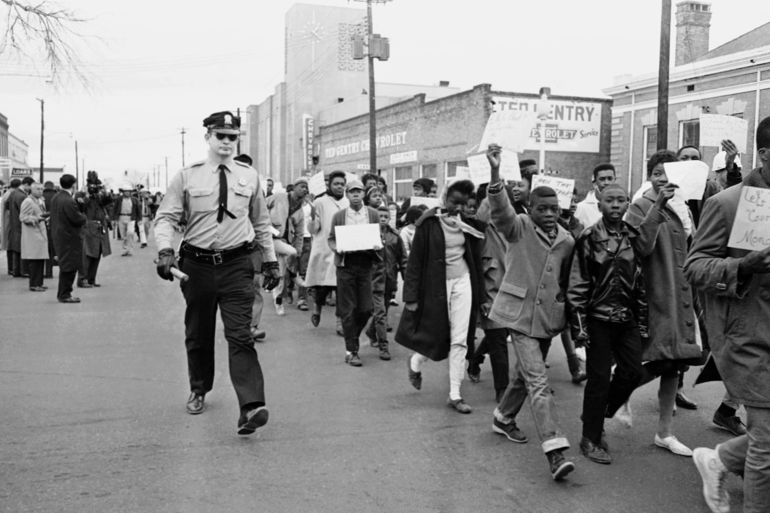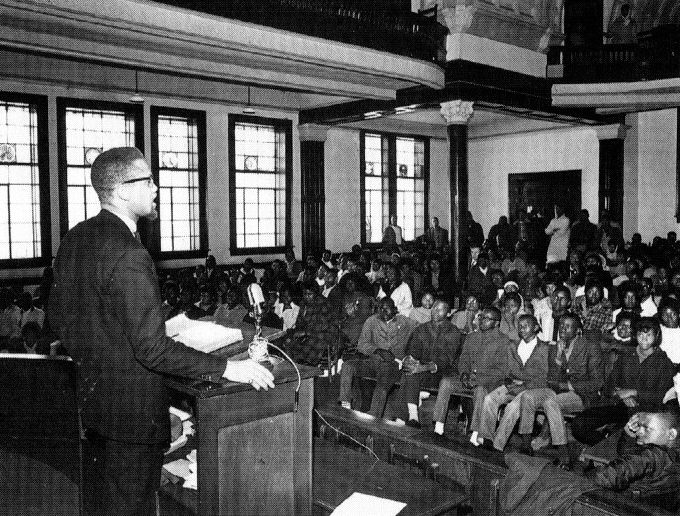 Malcolm X Addresses Selma Student Protesters, February, 1965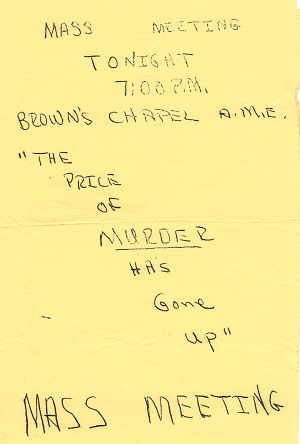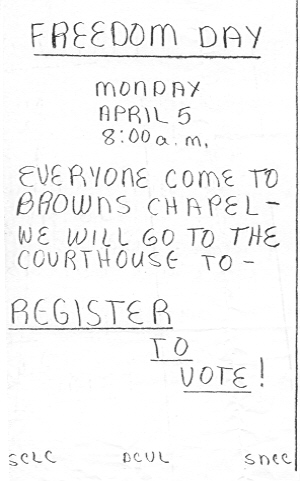 Rev. James Bevel preaches a
freedom sermon in Brown Chapel.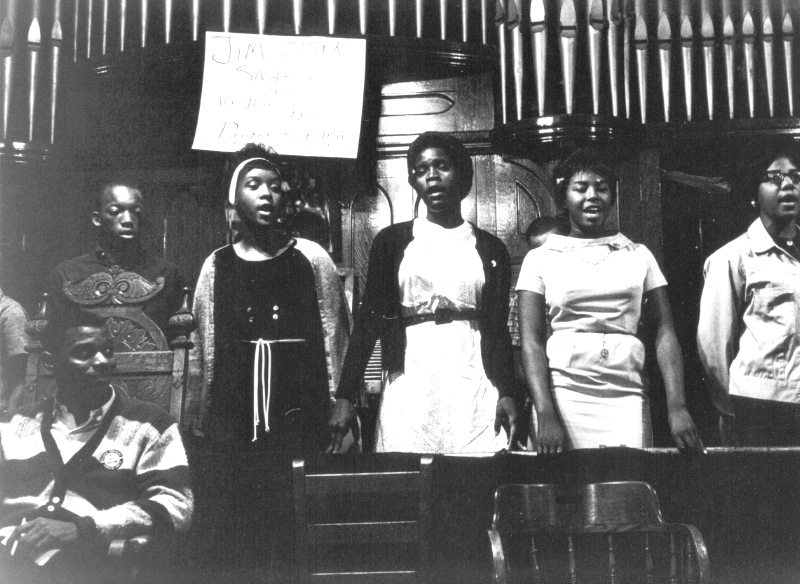 High school students leading freedom songs at a mass meeting in Brown Chapel.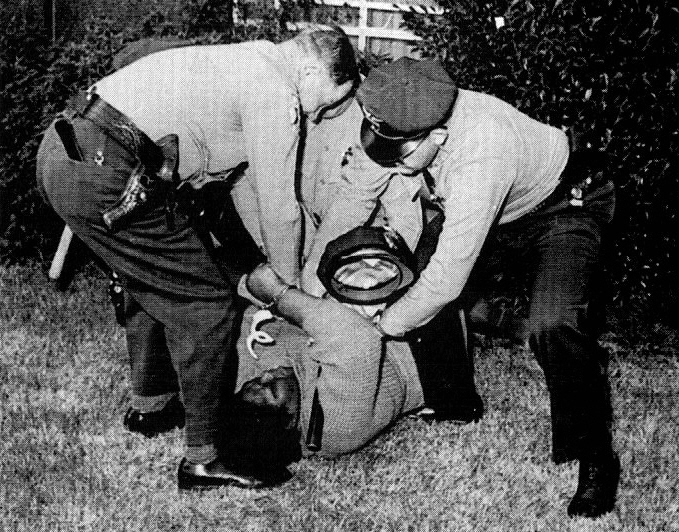 Annie Lee Cooper being arrested by Sheriff Clark & Deputies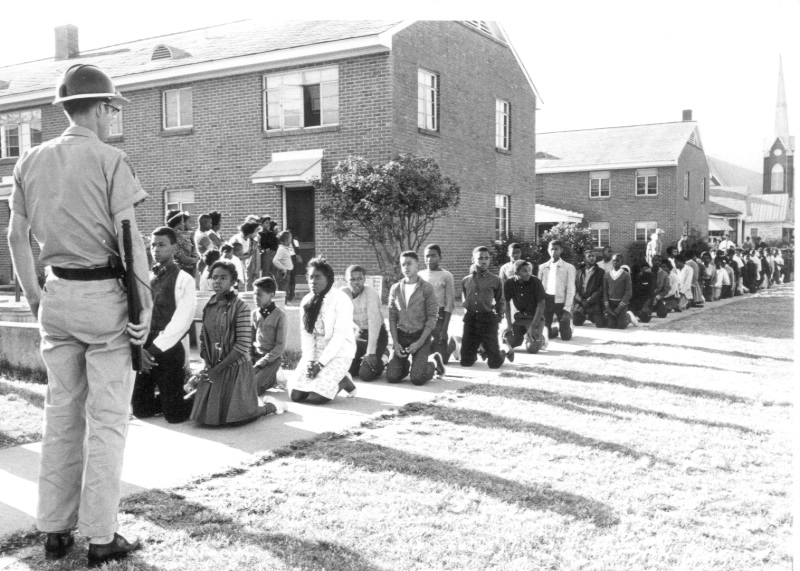 Young students march for voting rights and are placed under arrest.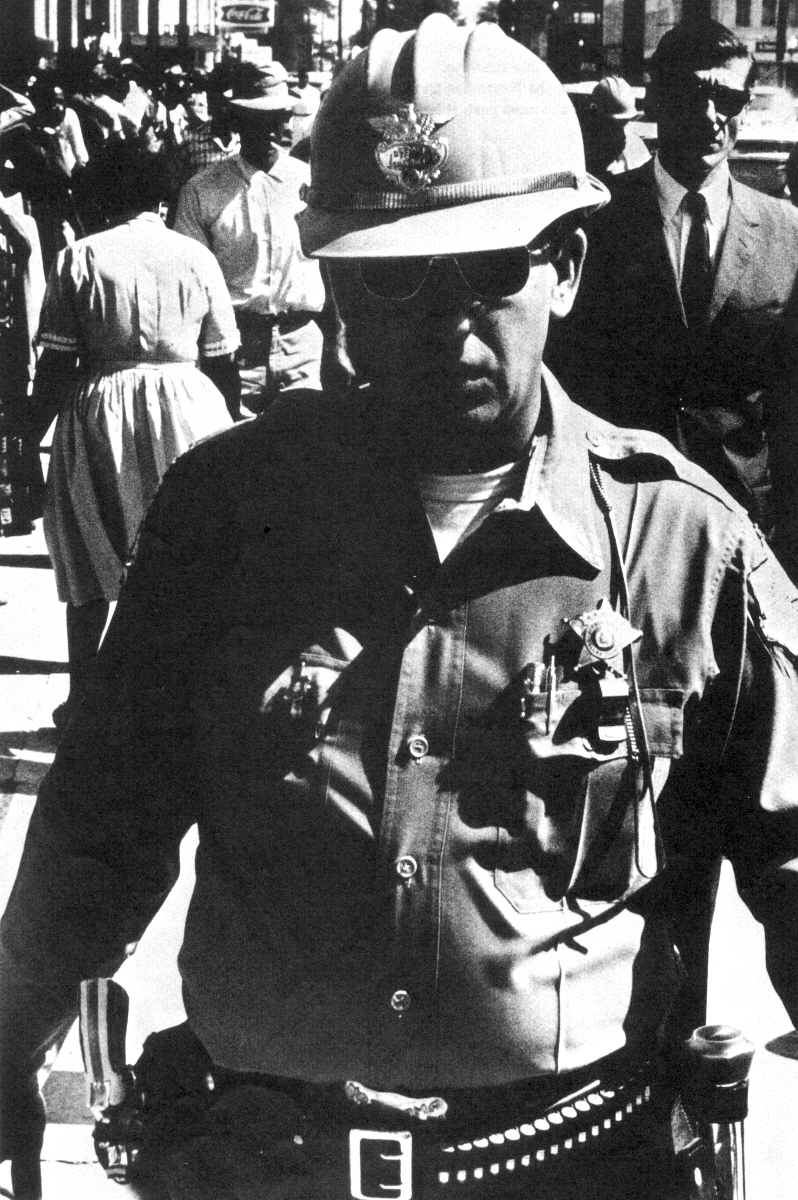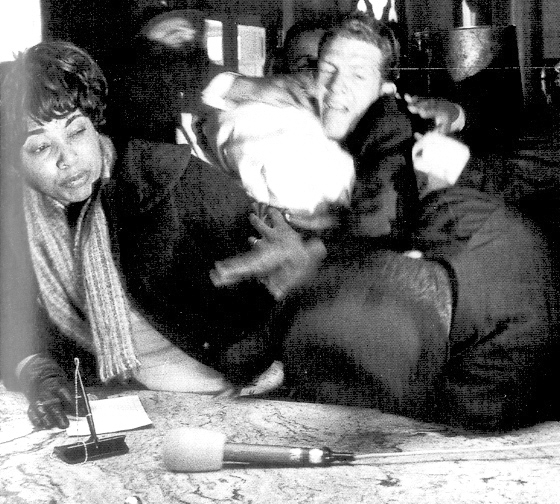 A white racist attacks Dr. King and Dorothy Cotton as they check into one of Selma's historically segregated hotels.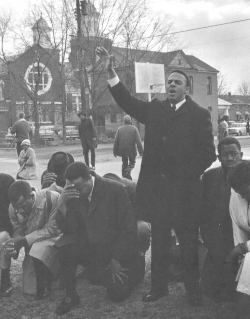 Preaching a sermon of freedom on a cold winter day. From left, John Lewis of SNCC (kneeling), Hosea Williams of SCLC (kneeling), and Andy Young of SCLC (standing). Movement headquarters Brown Chapel is in the background.
Looking back at Selma from the Edmond Pettus bridge.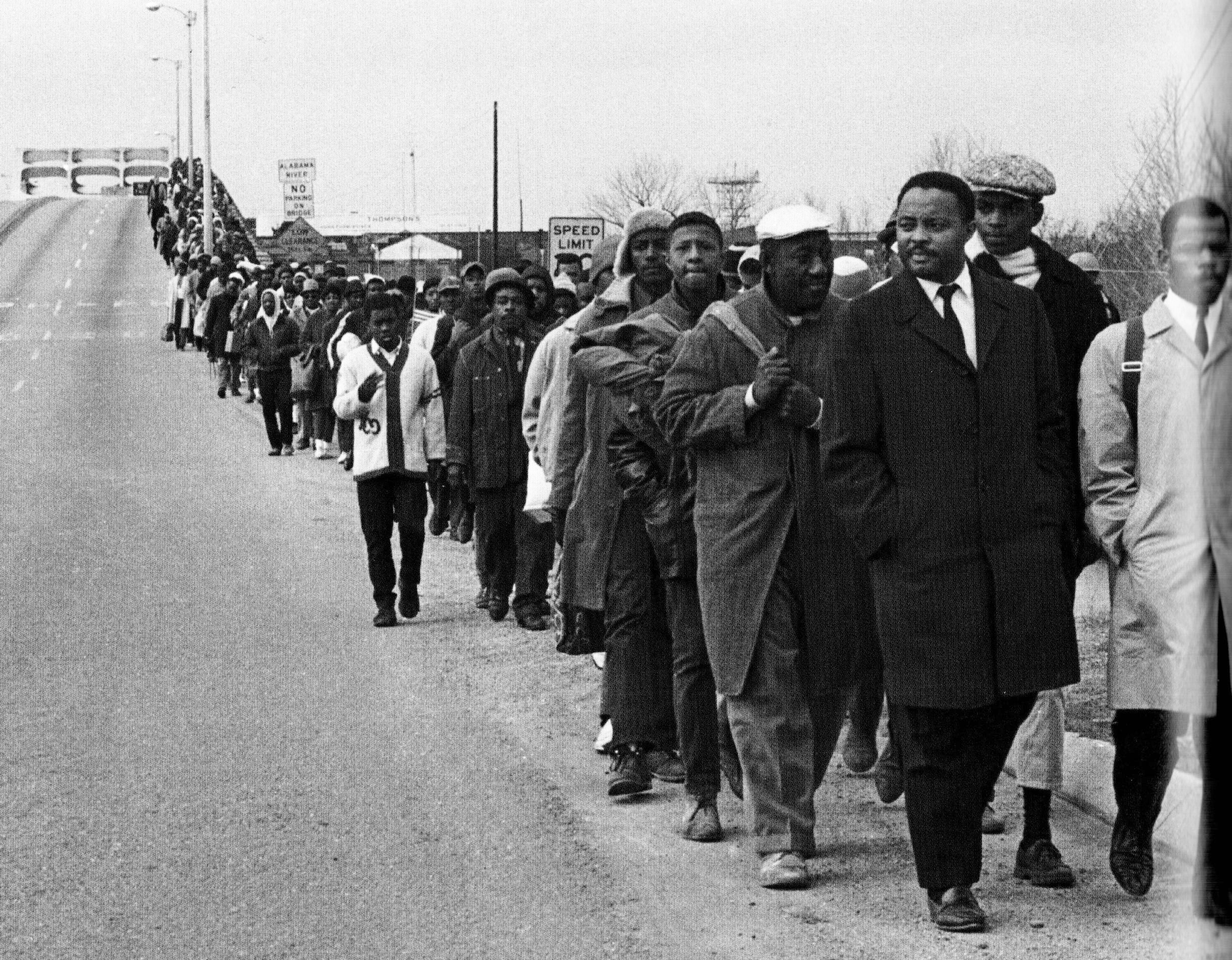 Hosea Williams (SCLC) and John Lewis (SNCC), followed by Albert Turner (SCLC) and Bob Mants (SNCC), lead the march down from the Edmund Pettus bridge towards the waiting troopers and possemen.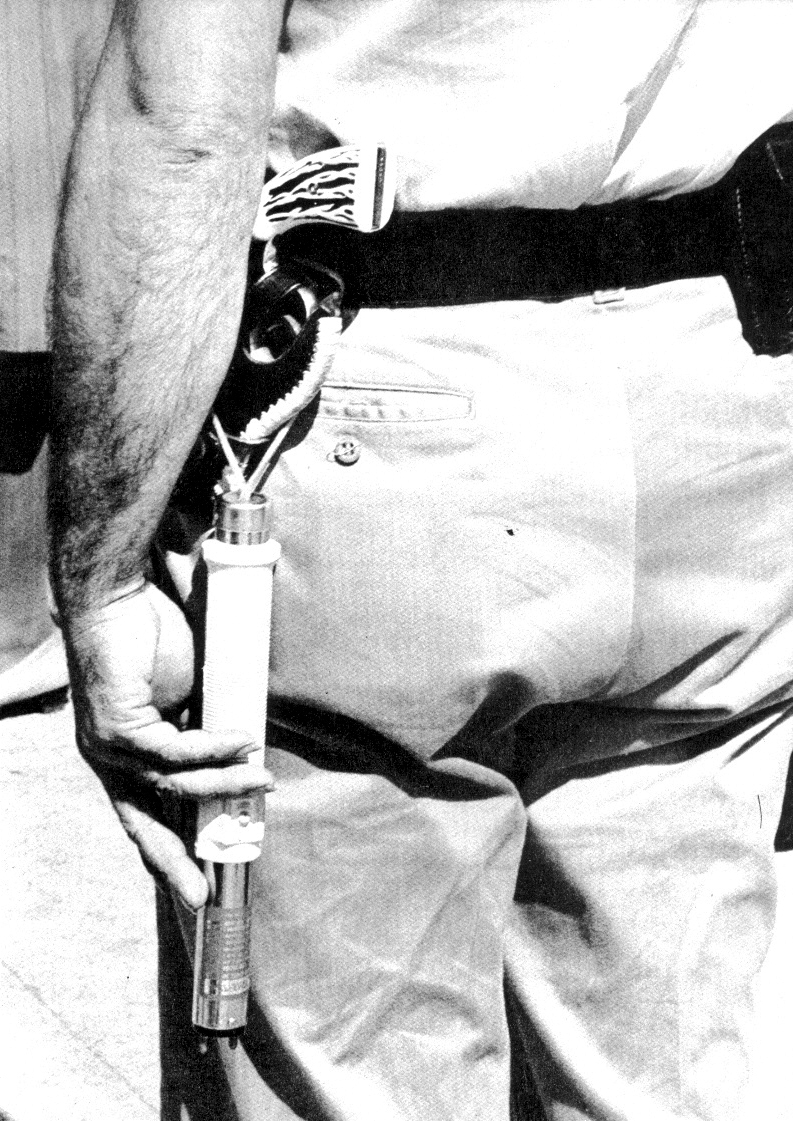 A posseman waits with his electric cattle-prod, and bone-handled six-shooter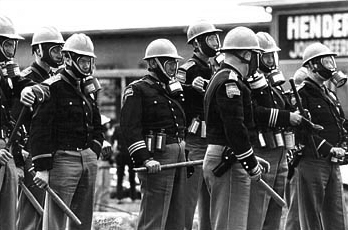 Troopers Attack!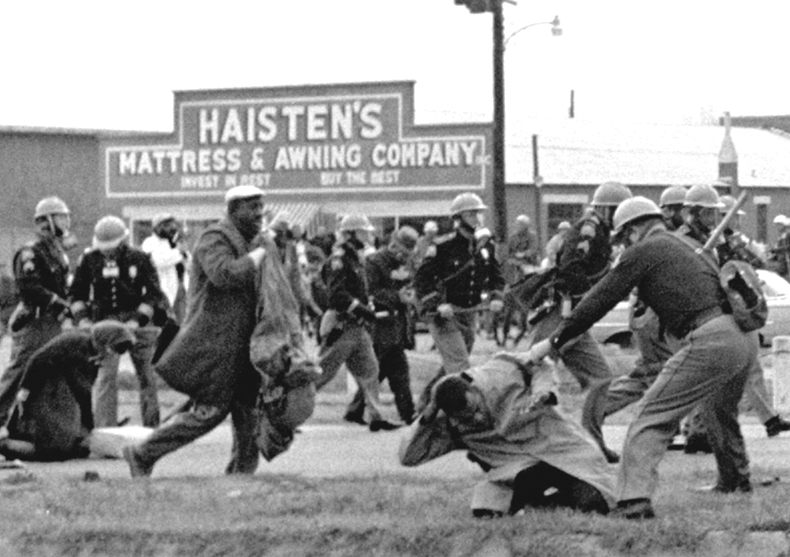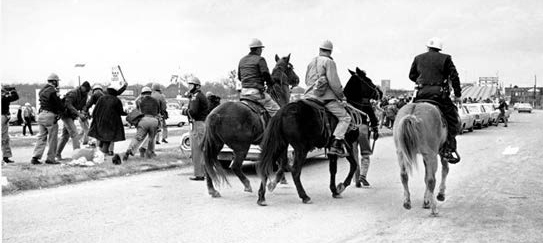 Mounted possemen moving in to club and whip marchers.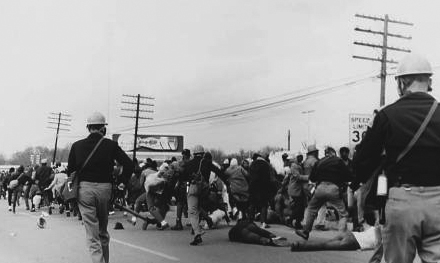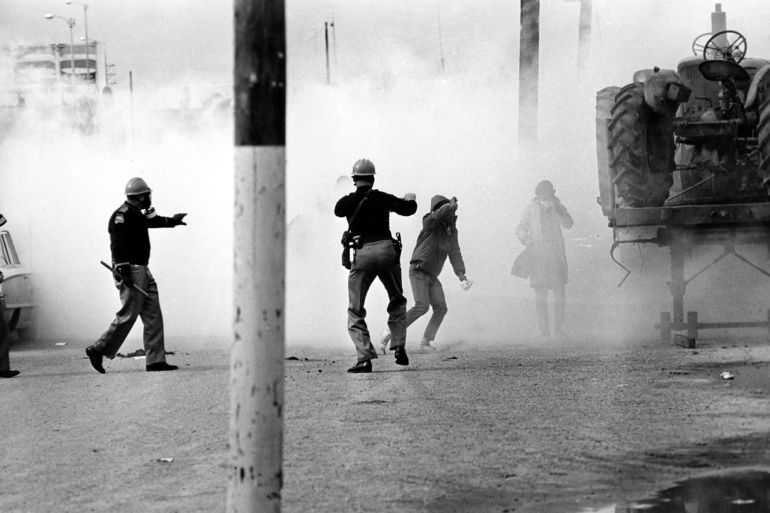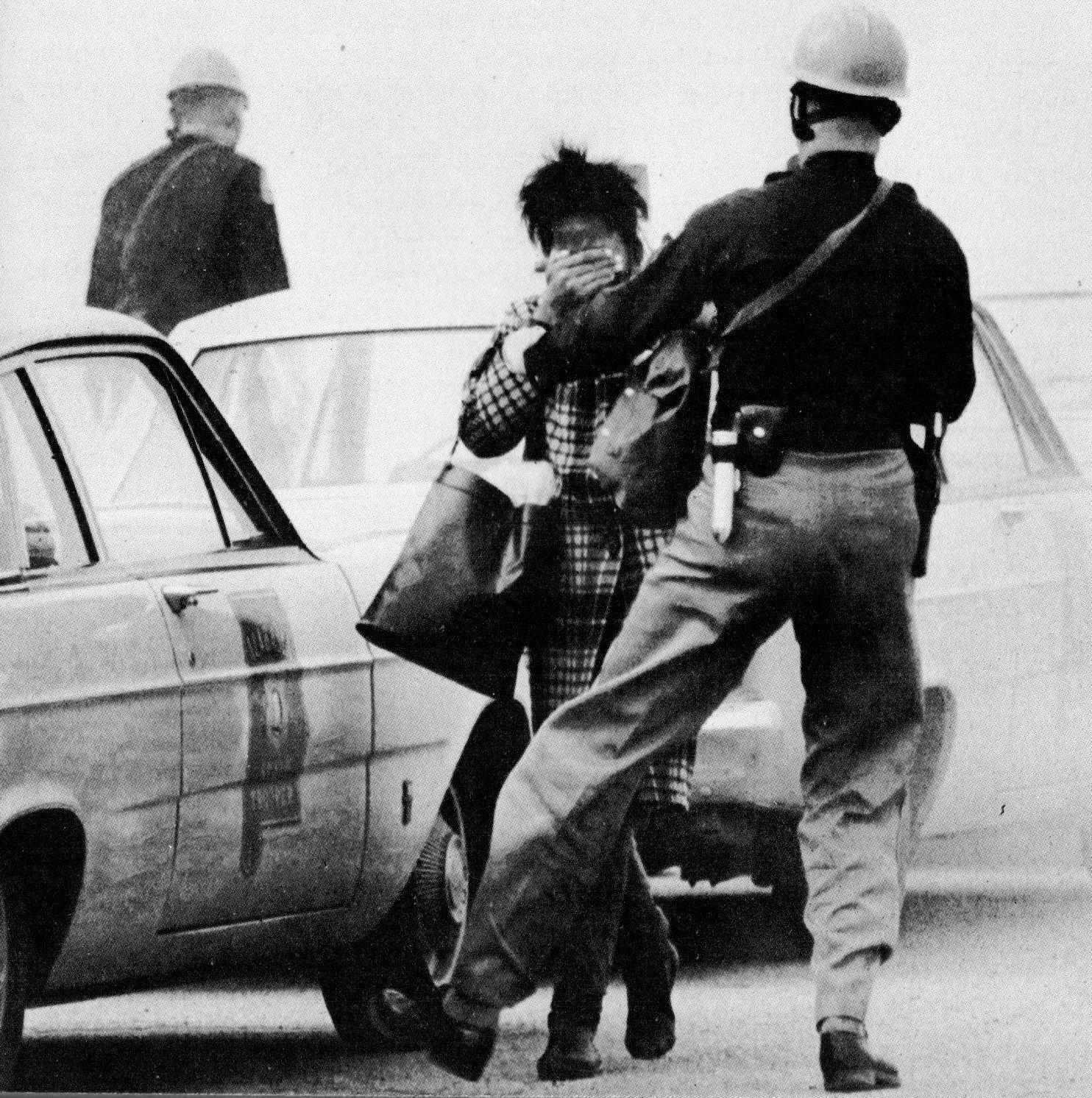 Trooper kicking woman blinded by tear gas.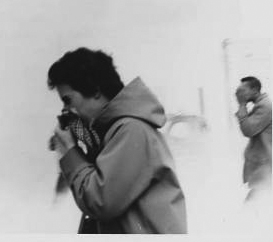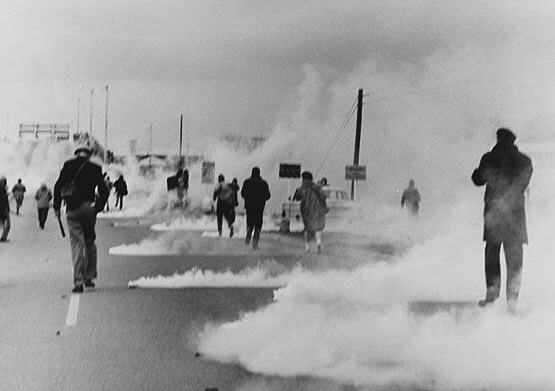 Copyrights © to these photographs belong to the photographers. Commercial use of these pictures is prohibited without the express written permission of the photographer. To identify the photographer (if known), simply let your cursor hover over the image to display the photographer's name, or view the image metadata.