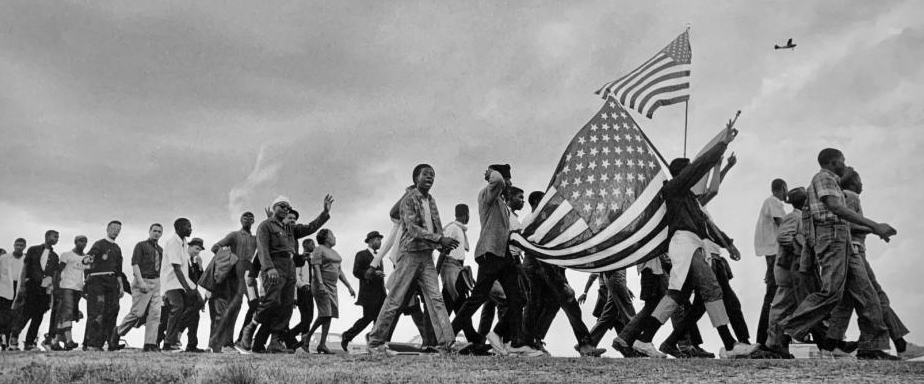 "We shall overcome!"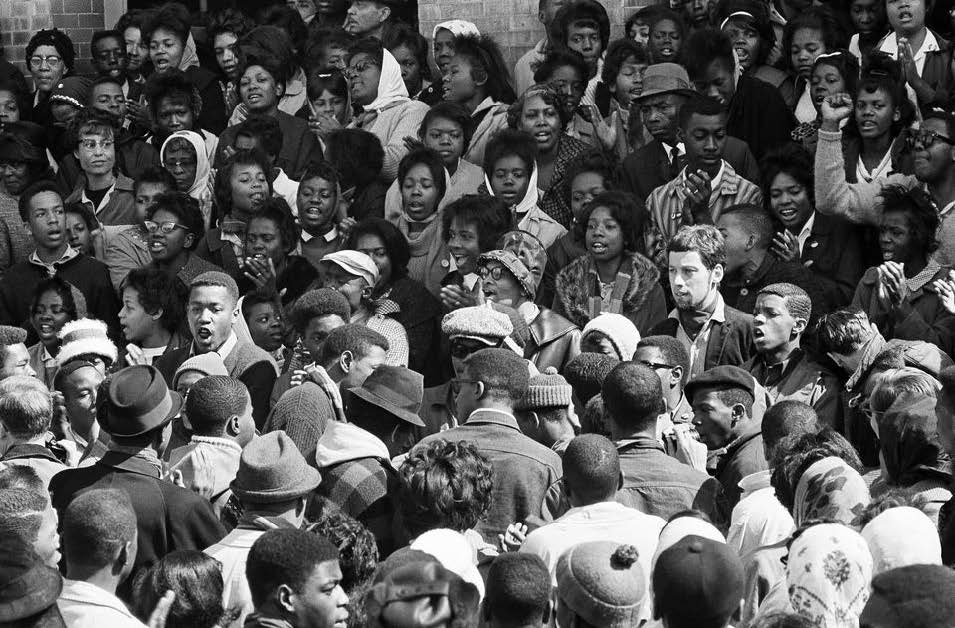 Students at R.B. Hudson High boycott classes to
join the second march, Tuesday March 9, 1965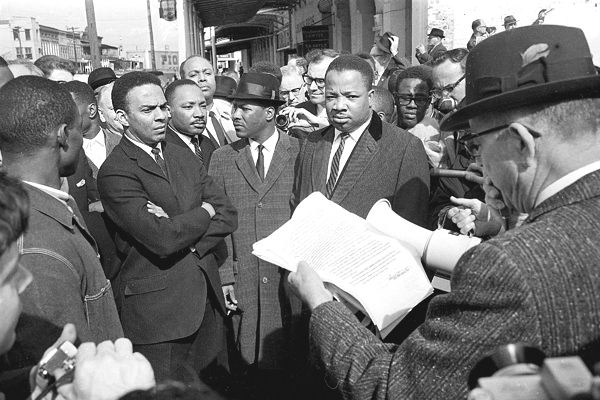 A federal marshal delivers injunction forbidding the march.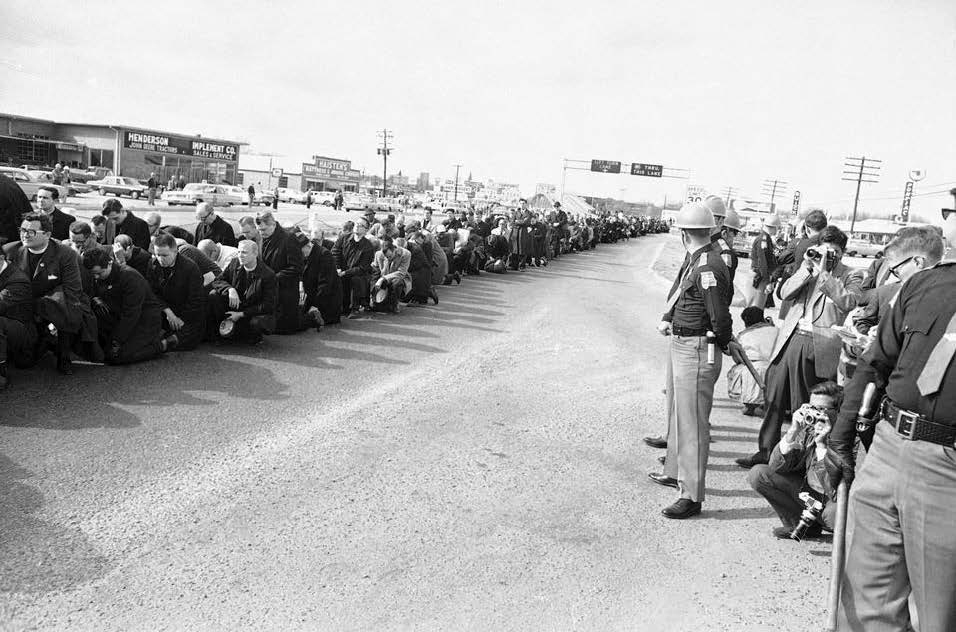 Praying for justice before returning to Selma.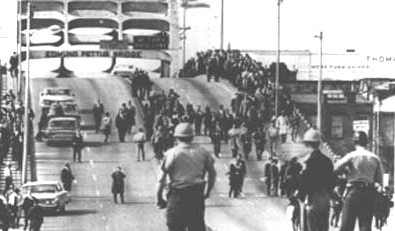 The 2nd attempt to march to Montgomery is forced to turn around.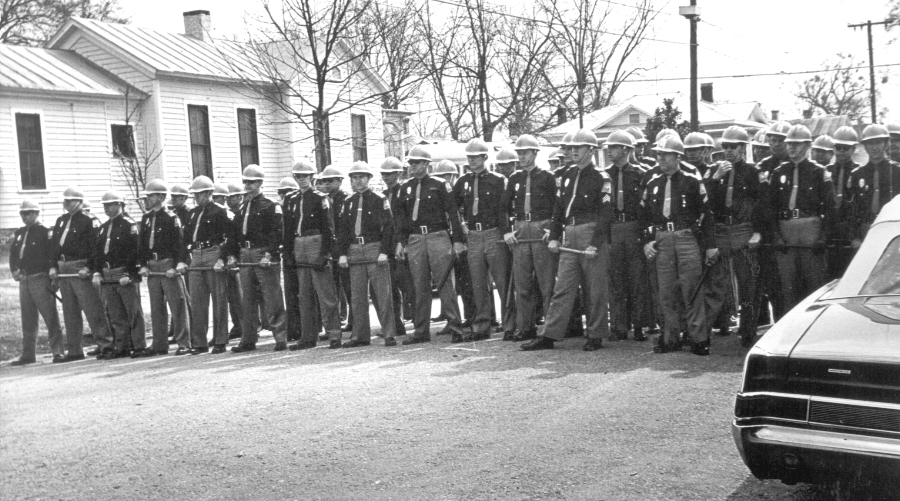 To prevent any further marching, the police stretch a rope across Sylvan Street outside of Brown Chapel. It is guarded by a line of cops. Anyone marching past the rope faces arrest, a beating, or worse.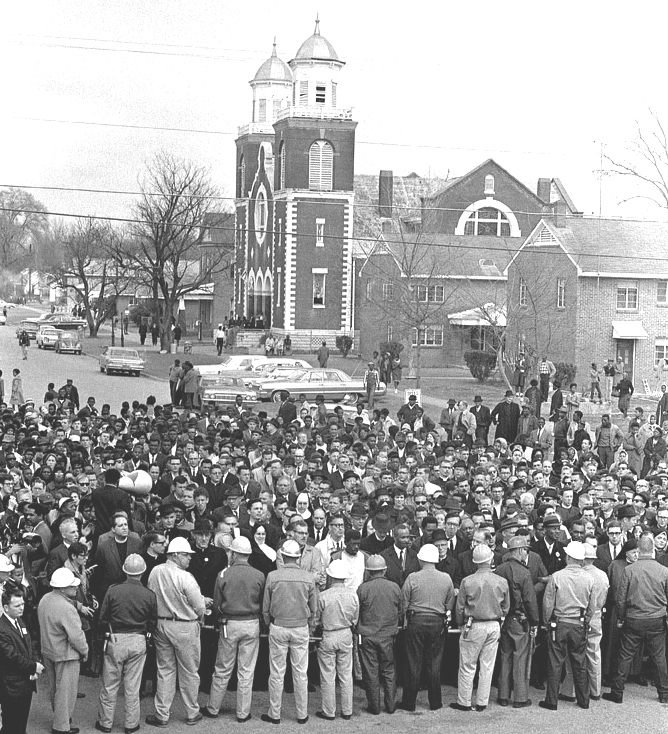 Around the clock — 24/7 — day after day, night after night, in freezing rain and blazing sun, the marchers press against the rope they call the "Berlin Wall."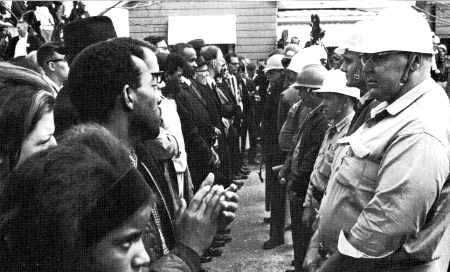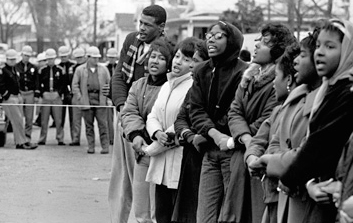 We're gonna stand here 'till it falls,
Till it falls,
Till it falls,
We're gonna stand here 'till it falls
In Selma, Alabama!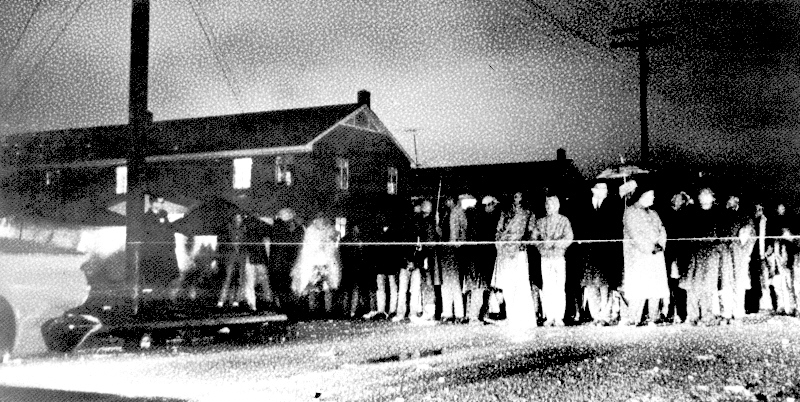 Holding the line at the "Berlin Wall."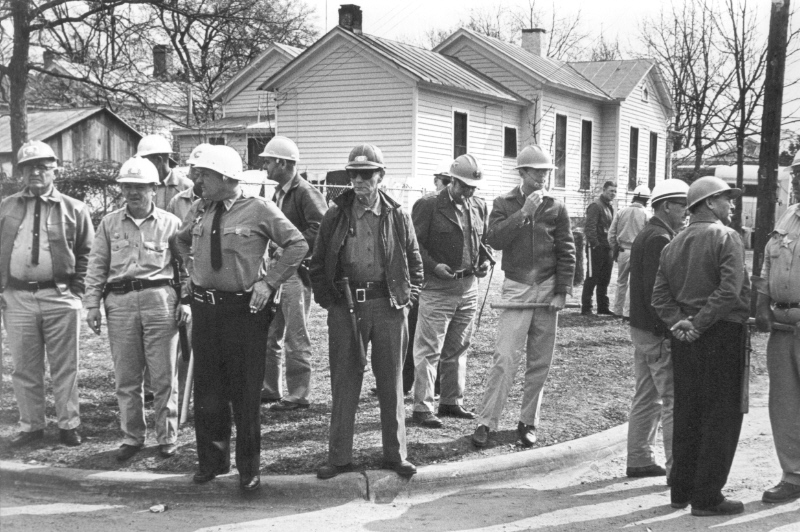 Sheriffs deputies and possemen ready to contain any breakout attempt.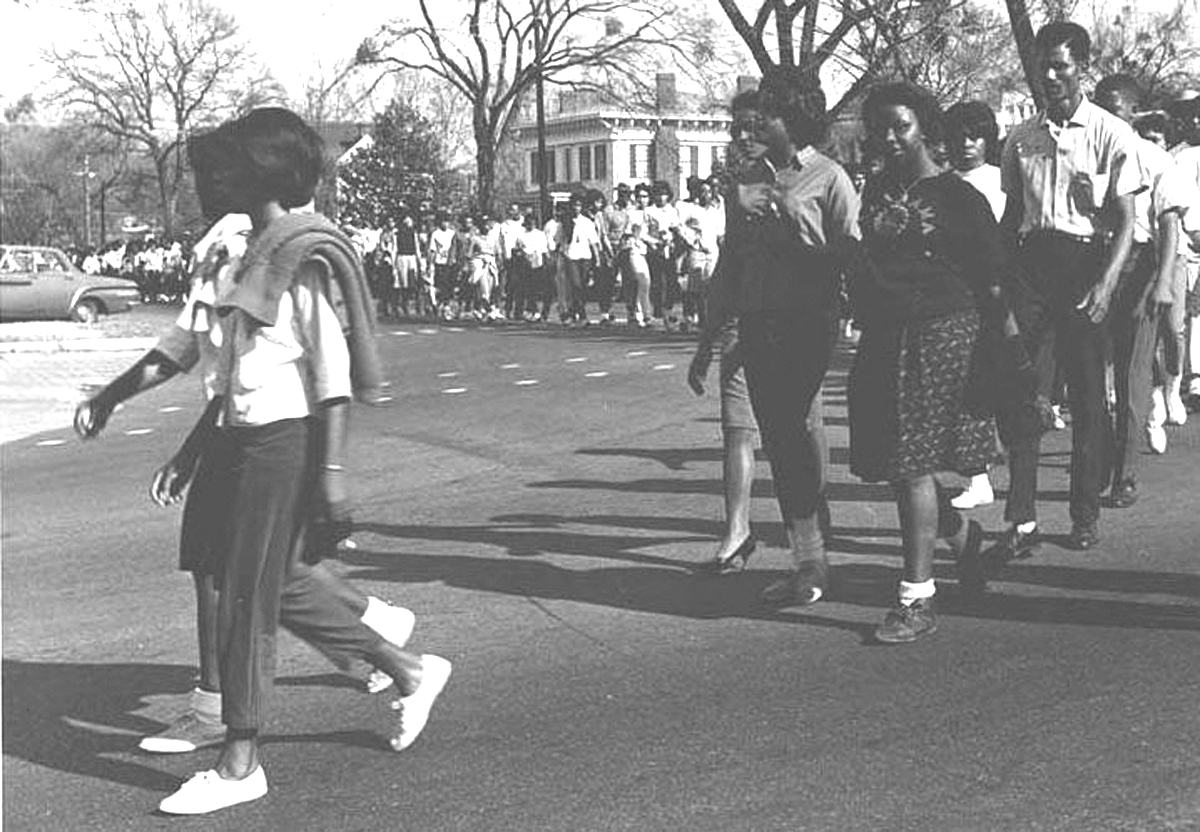 Black students from Tuskegee and Alabama State march on the capitol in Montgomery to demand voting rights.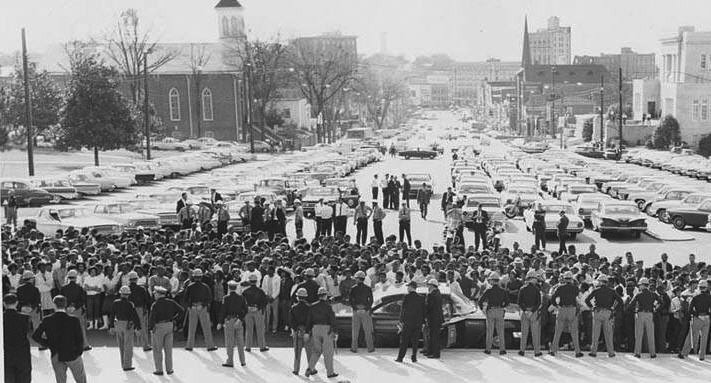 Blocked and surrounded by cops in front of the capitol.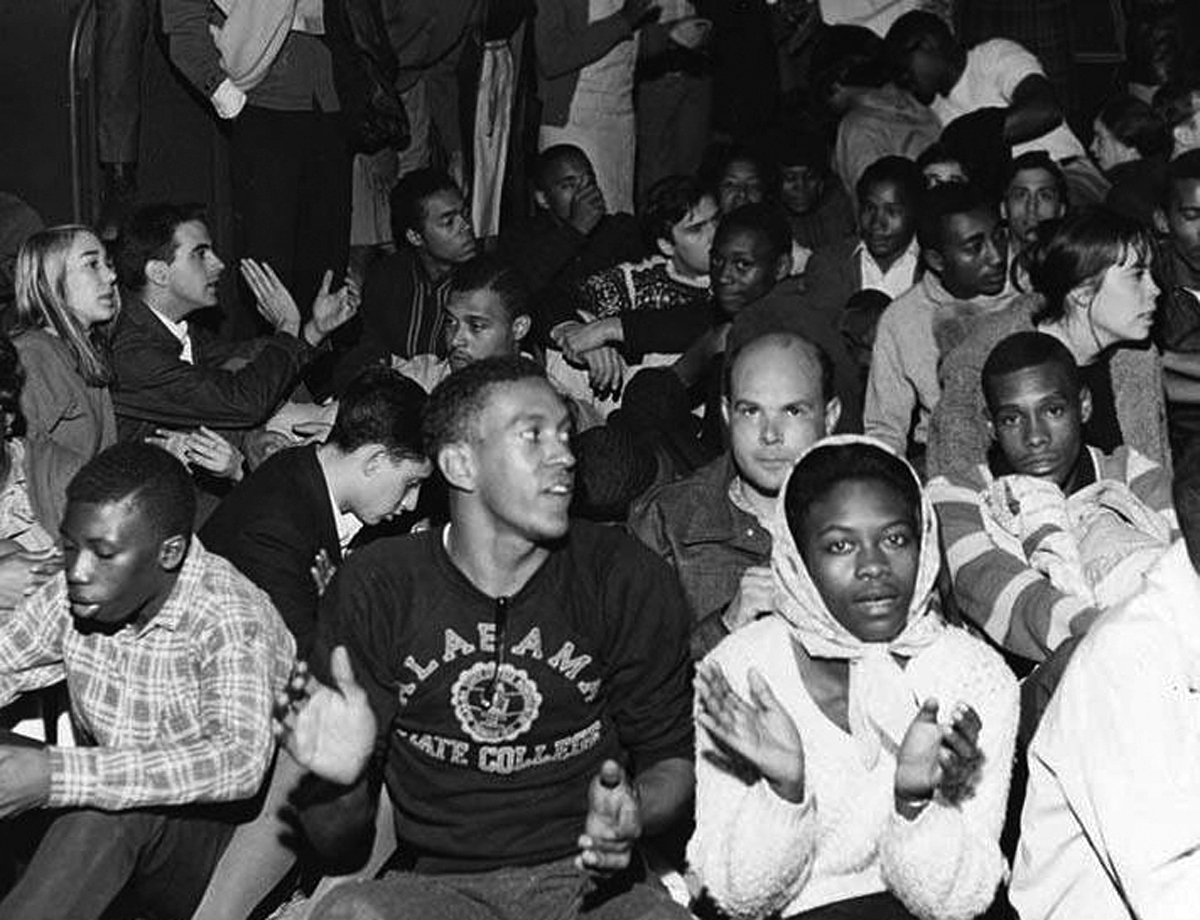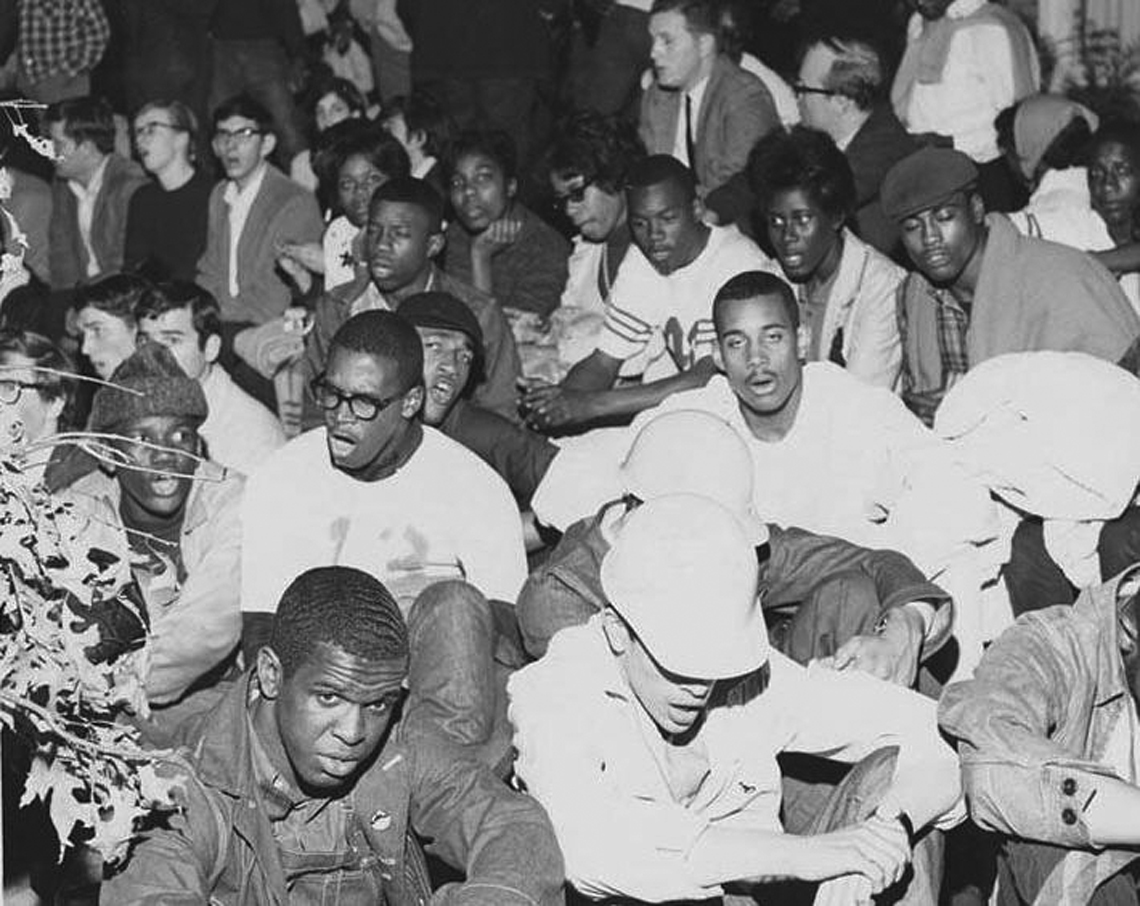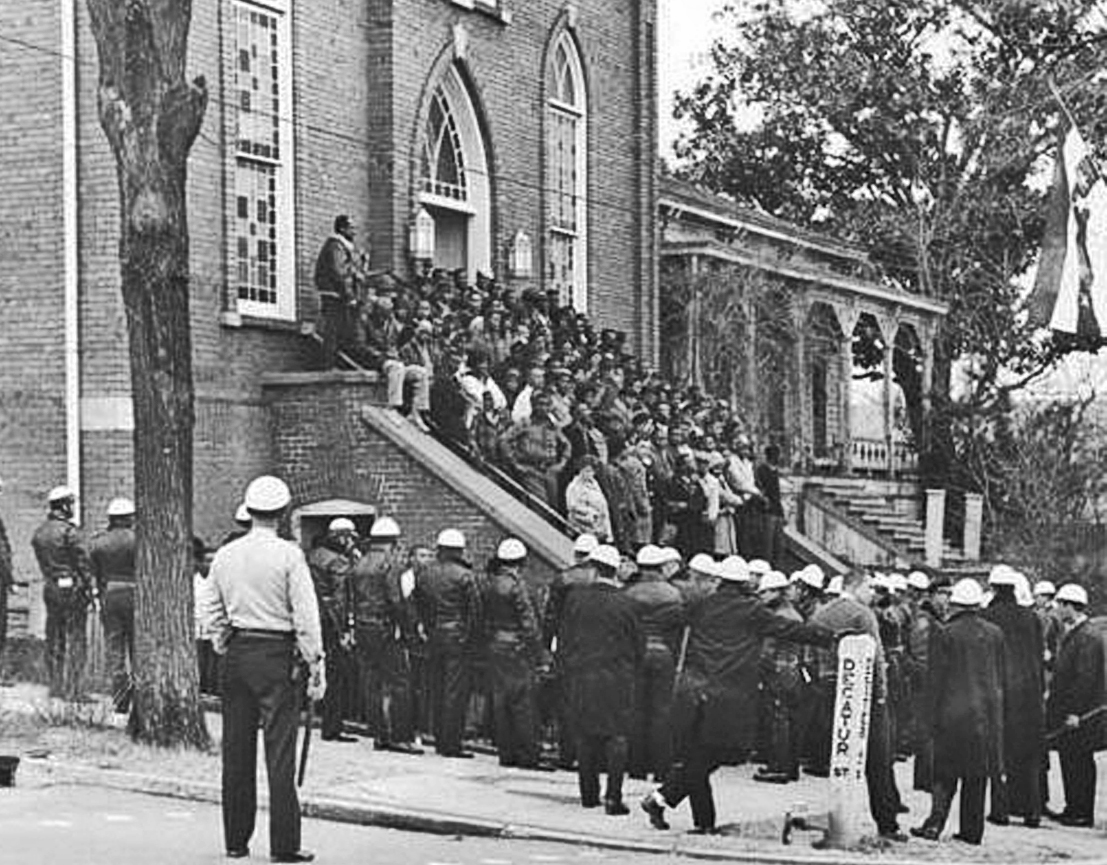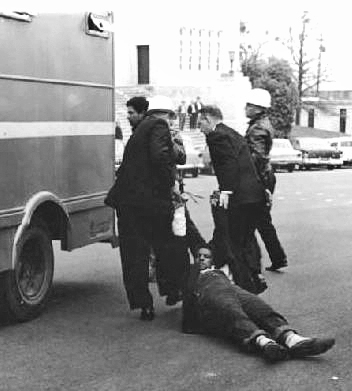 SNCC leader Jim Forman is arrested and dragged away.
Whites In Montgomery Mobilize Against Voting Rights for Blacks
White-supremacists marching past Dexter Avenue Church where Dr. King was pastor during the Montgomery Bus Boycott.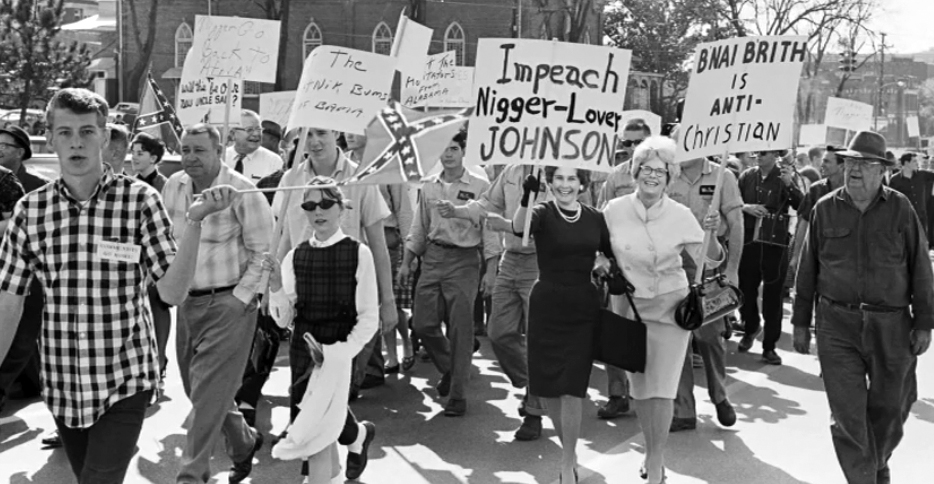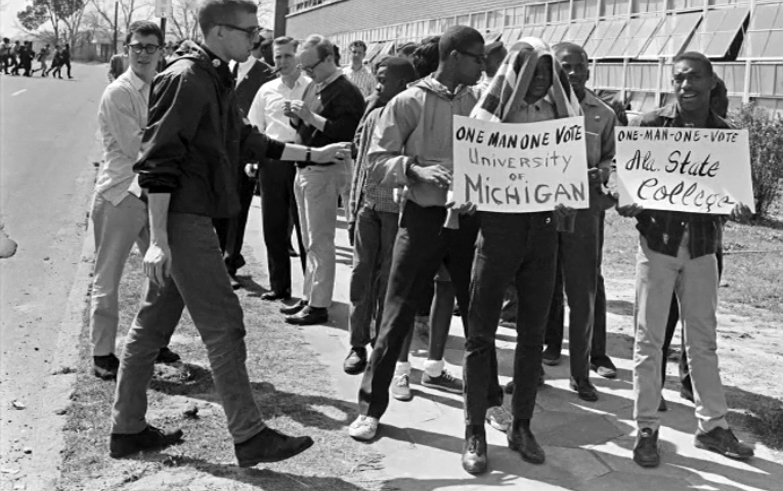 Led by SNCC, students at Alabama State College and local Montgomery high schools mobilize for a voting-rights march to the capitol on March 15, 1965.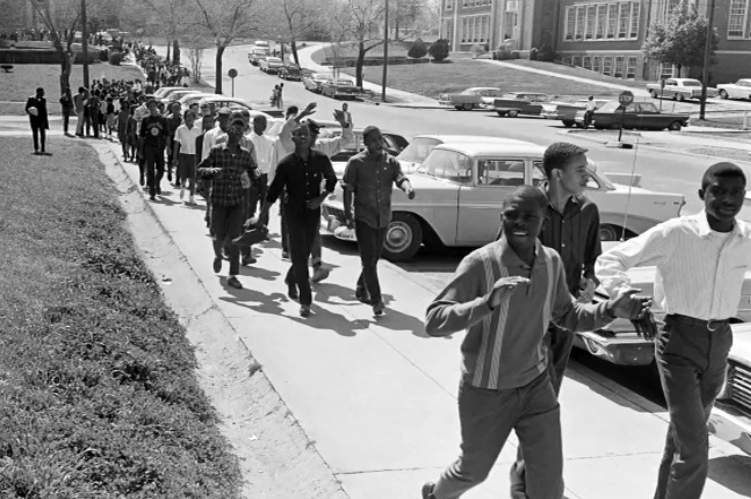 Students marching towards the state capitol.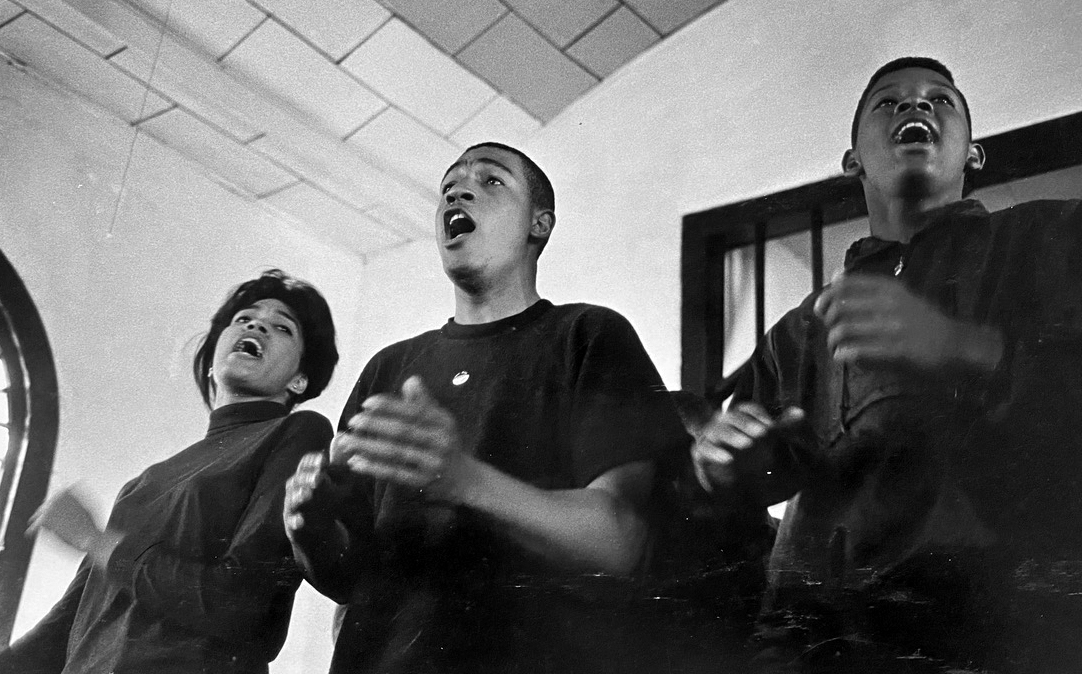 Montgomery police block the march short of the capitol.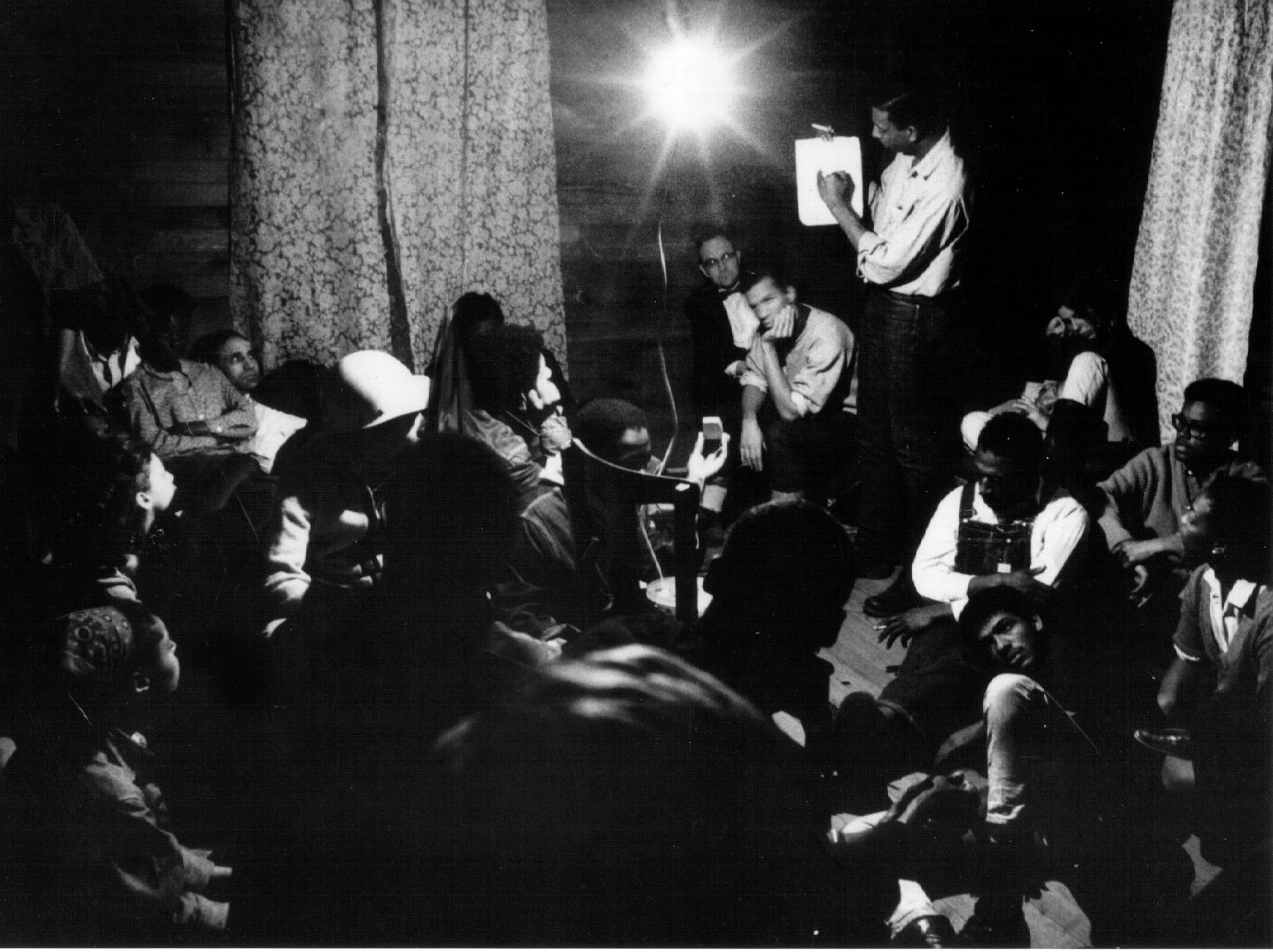 Stokley Carmichael (Kwame Ture) leading SNCC staff meeting.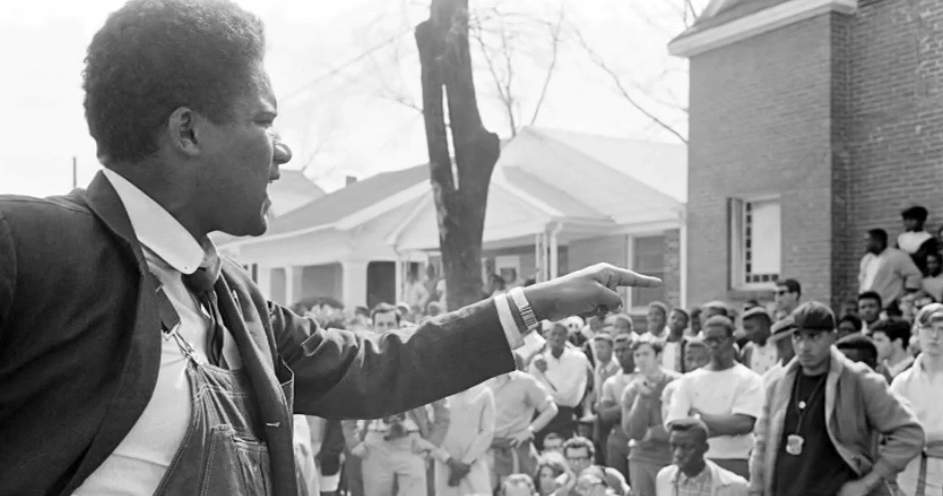 After "Bloody Sunday," James Forman of SNCC had called on northern students to come to Montgomery and stand with the embattled Black citizens of Alabama,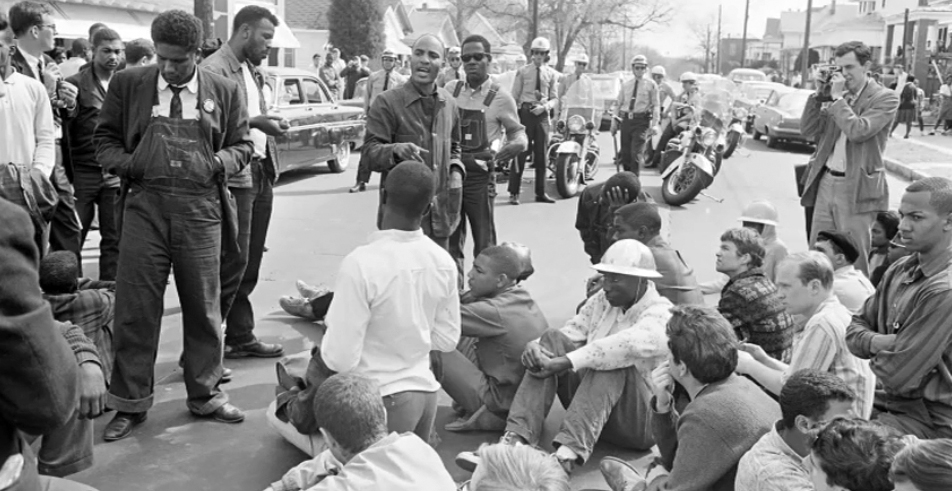 Joined by northern students who had answered SNCC's call, students occupy the street in front of the police blockade. SNCC leader James Forman with hands in pocket, SCLC leader James Bevel addressing the sitting students, SNCC member Willie (Mukasa) Ricks in sunglasses to Bevel's right.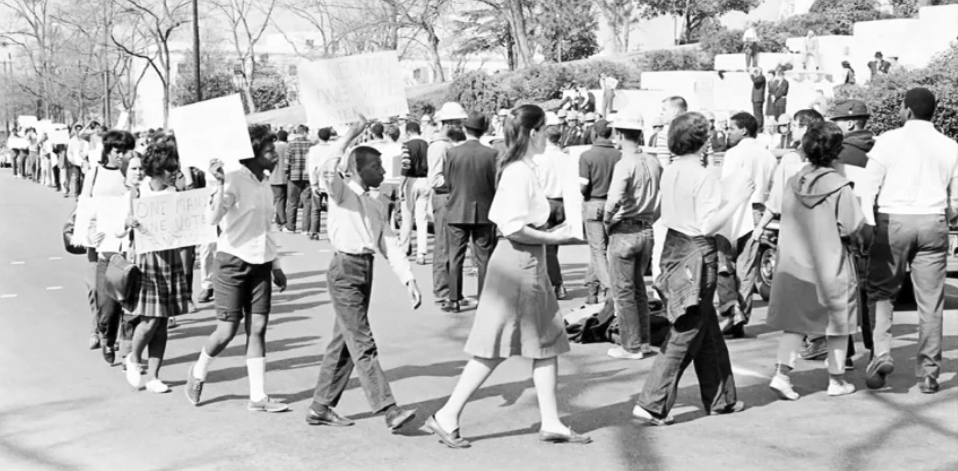 Late in the afternoon a portion of the student marchers manage to reach the state capitol.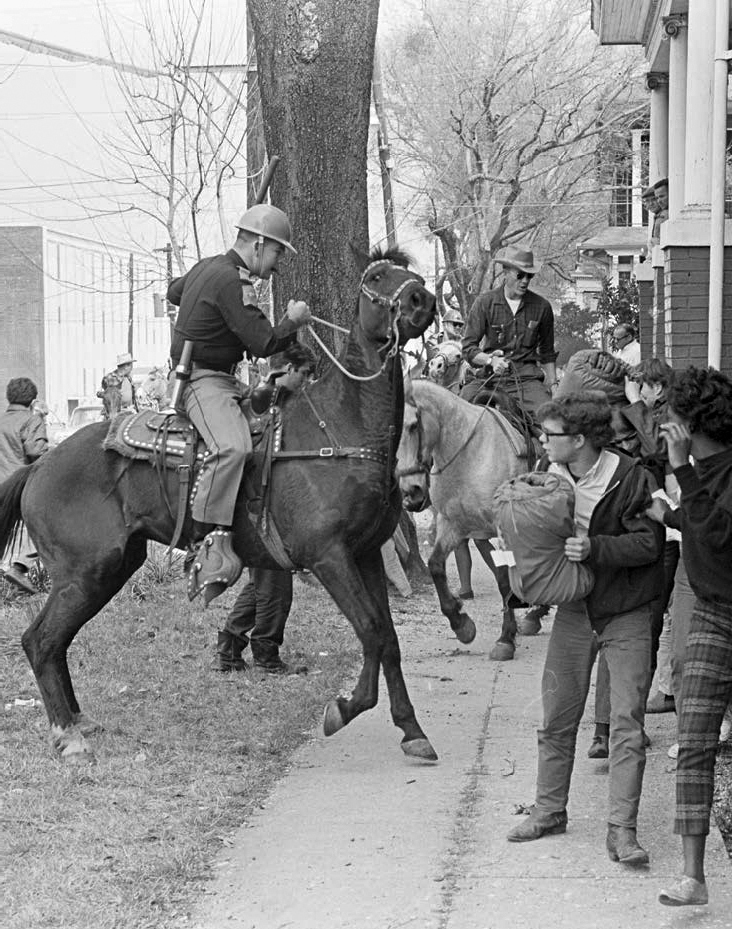 A group of the student marchers are cut off and attacked by mounted state troopers, deputy sheriffs, and civilian possemen who club and arrest them.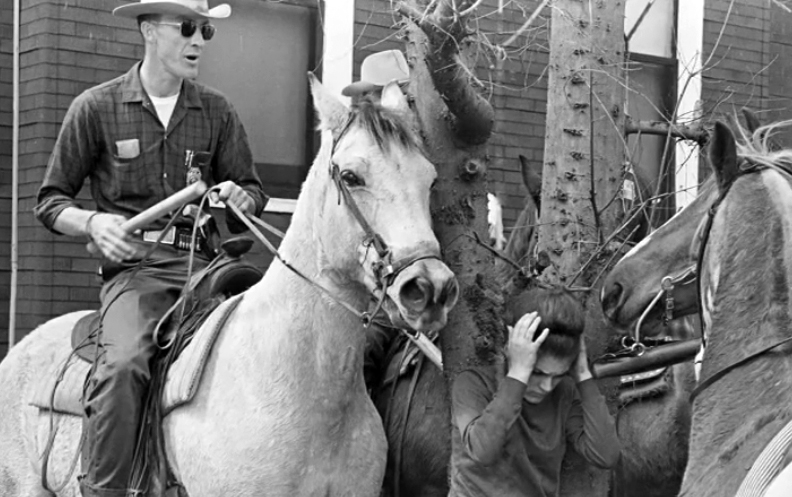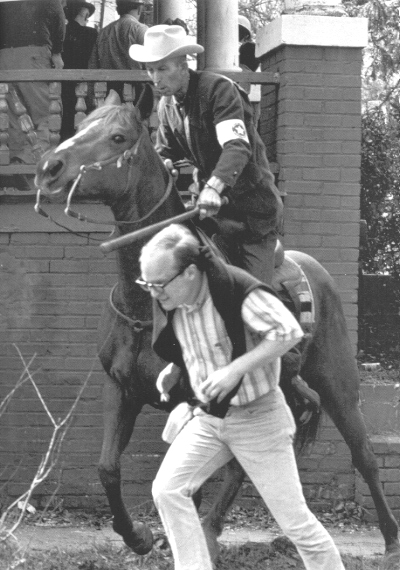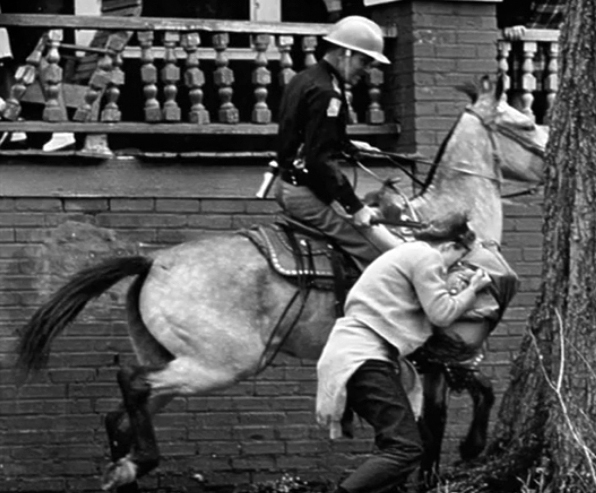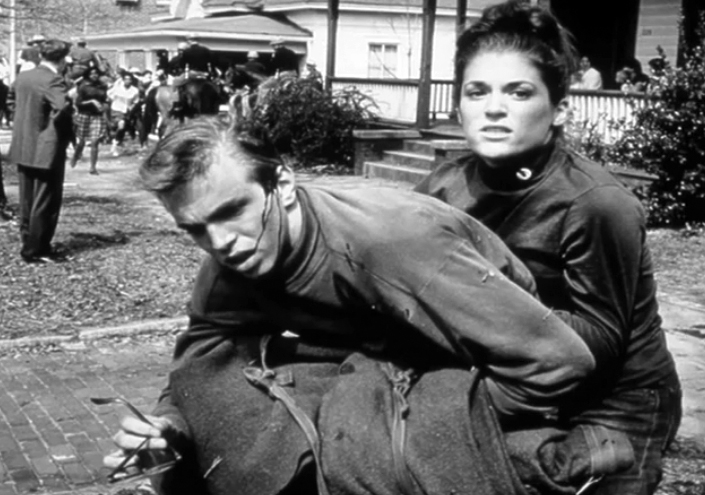 Juniata College student leader Harriet Richardson aids "poet-in-residence" Galway Kinnell after being beaten by mounted police.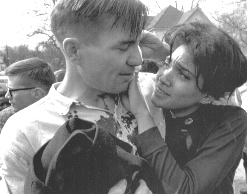 Juniata College officials had opposed their participation and ordered them to remain at school.
They came anyway.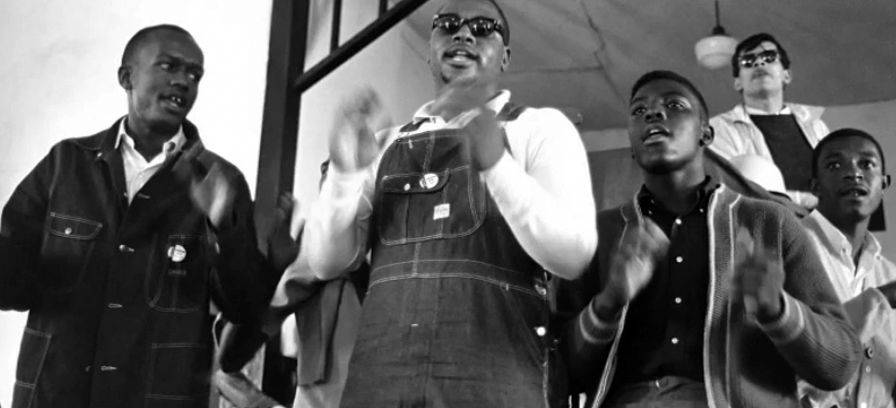 Song leaders, Montgomery AL mass meeting, 1965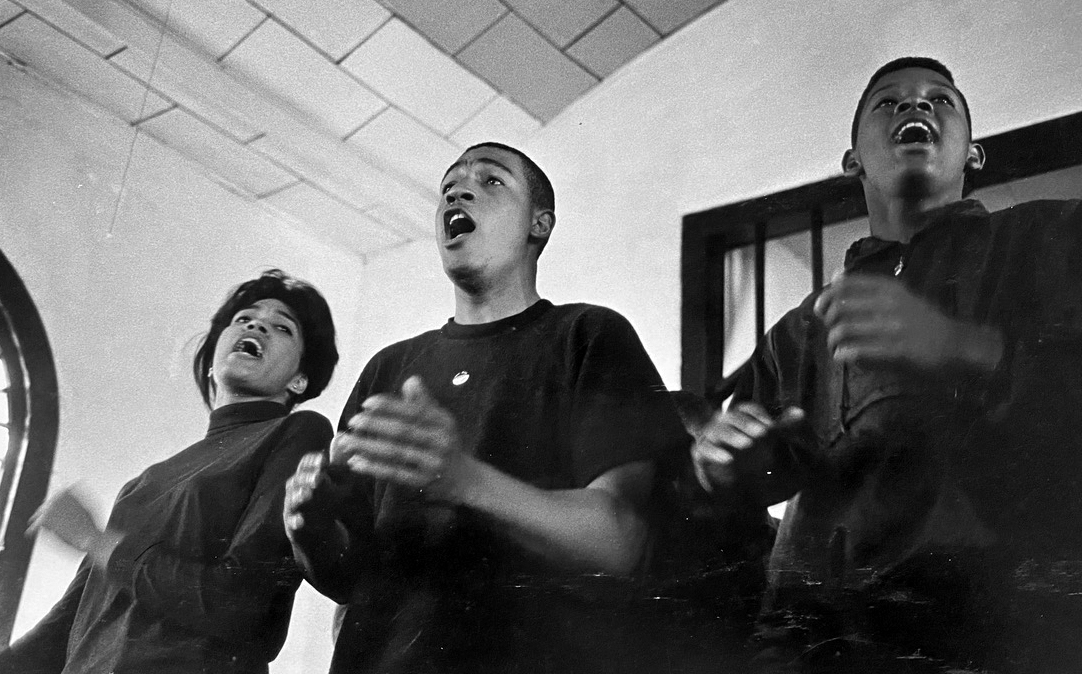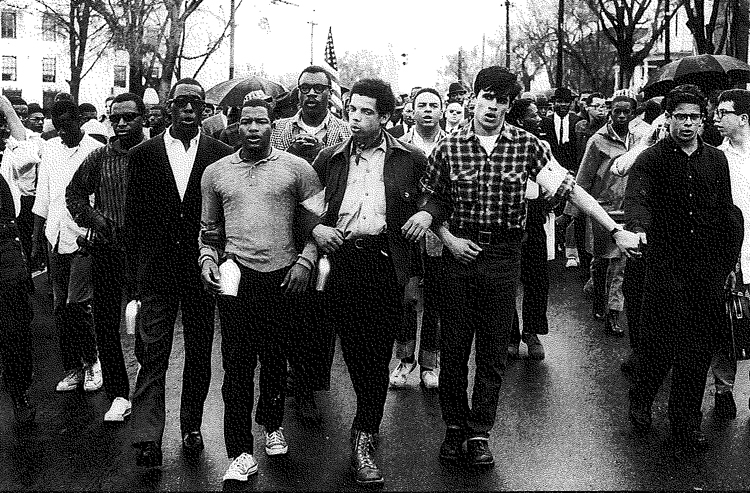 Mass march on the Montgomery Sheriff's Department. March 17, 1965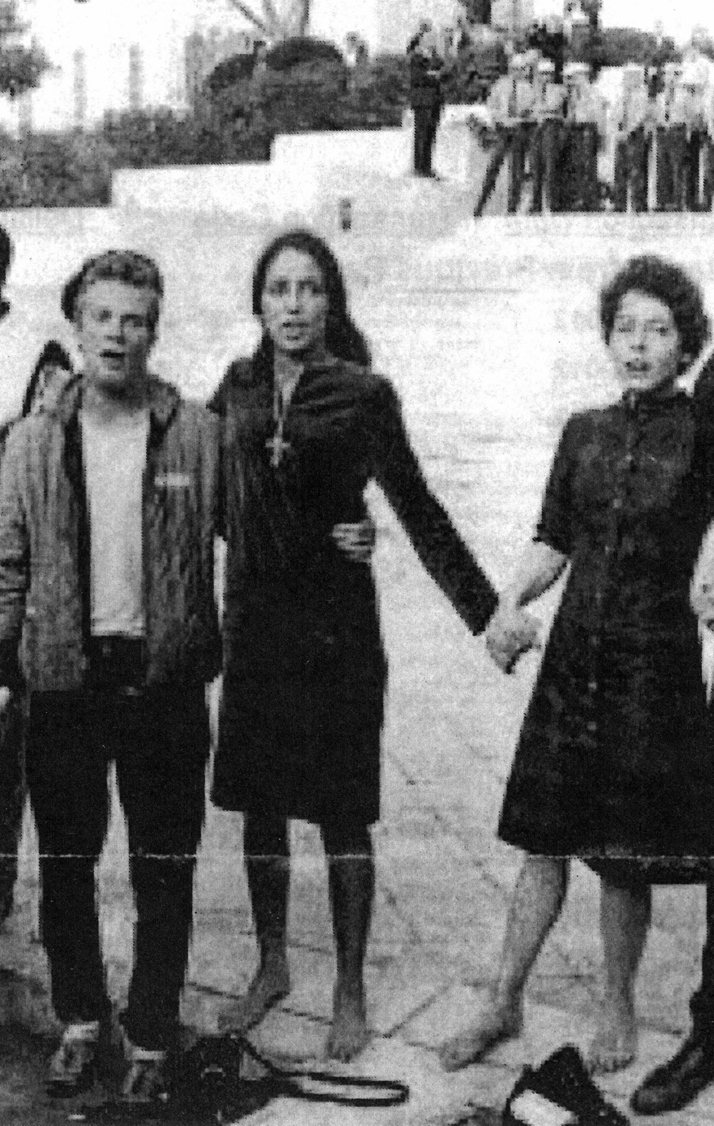 Arkansas (Strider) Benston, Joan Baez, and Mimi Farina protesting in front of Alabama Capitol steps.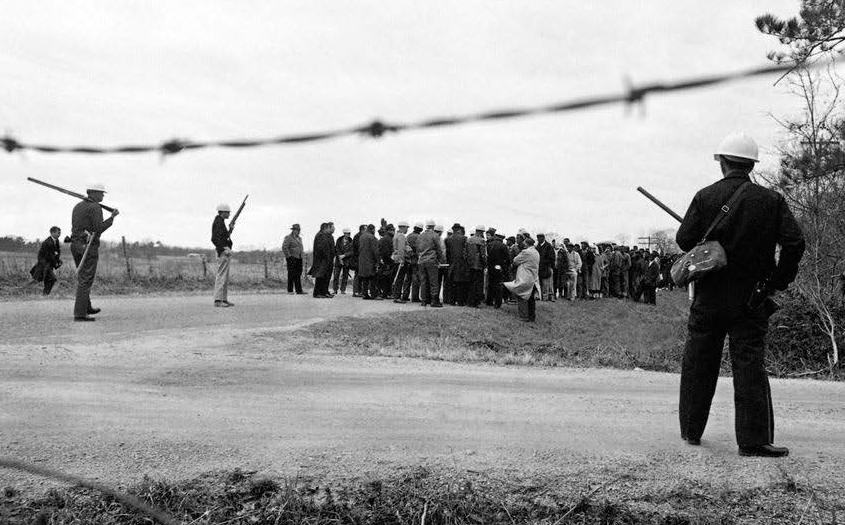 Voting-rights marchers in Wilcox County blocked from entering town to protest at the courthouse.
Pick 'em up and lay 'em down...
All the way from Selma town.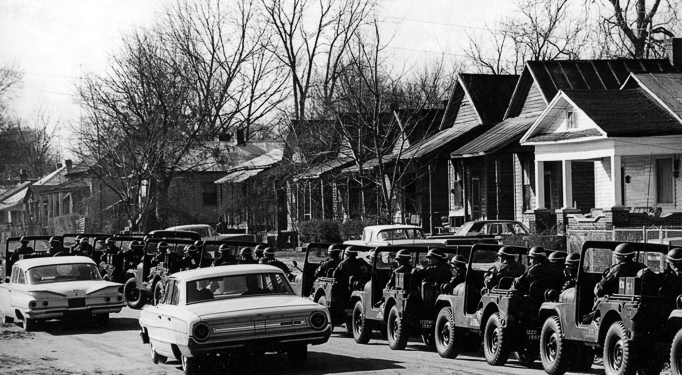 March 21st, 1965.
Soldiers in jeeps ready for the march to commence.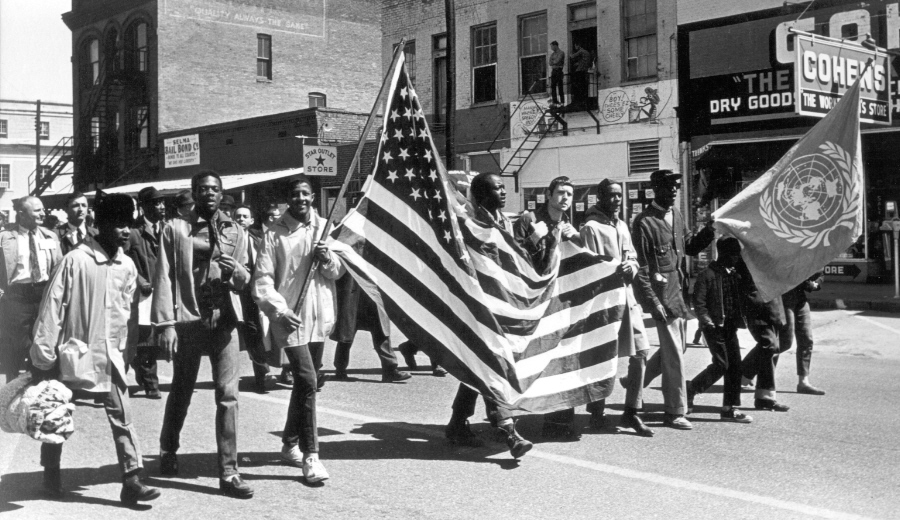 Marching out of Selma on the road to Montgomery.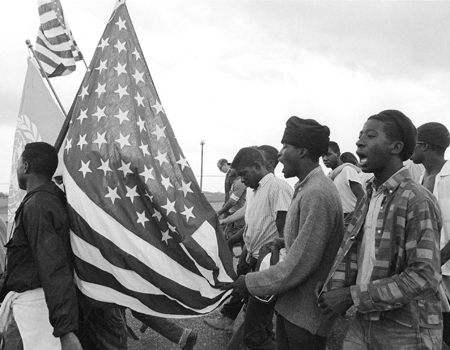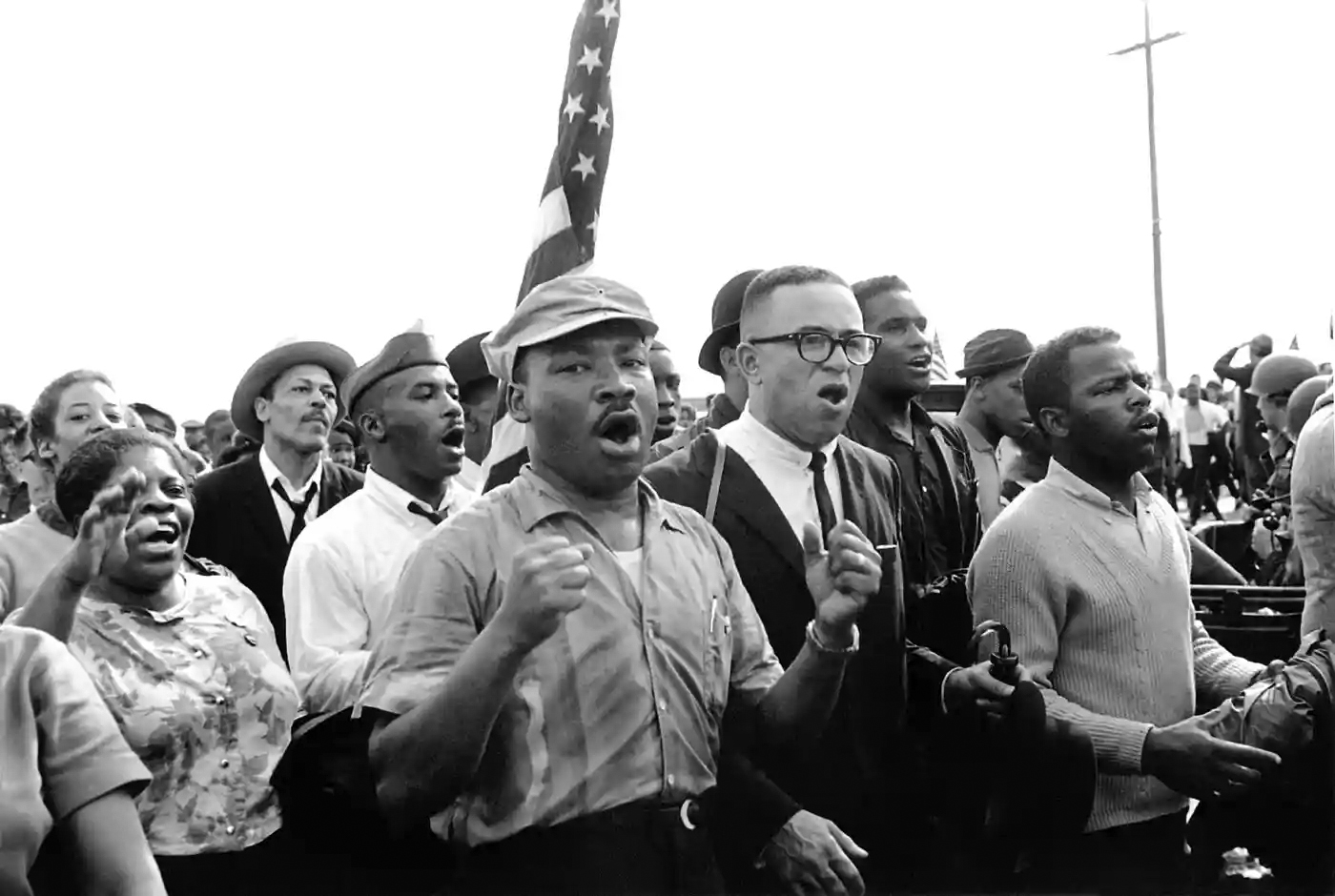 Martin Luther King (center), John Lewis (right).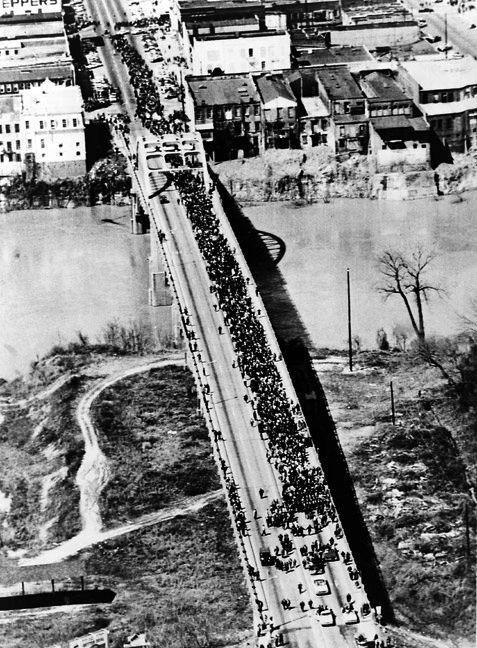 Thousands strong, the march crosses over the Edmund Pettus Bridge.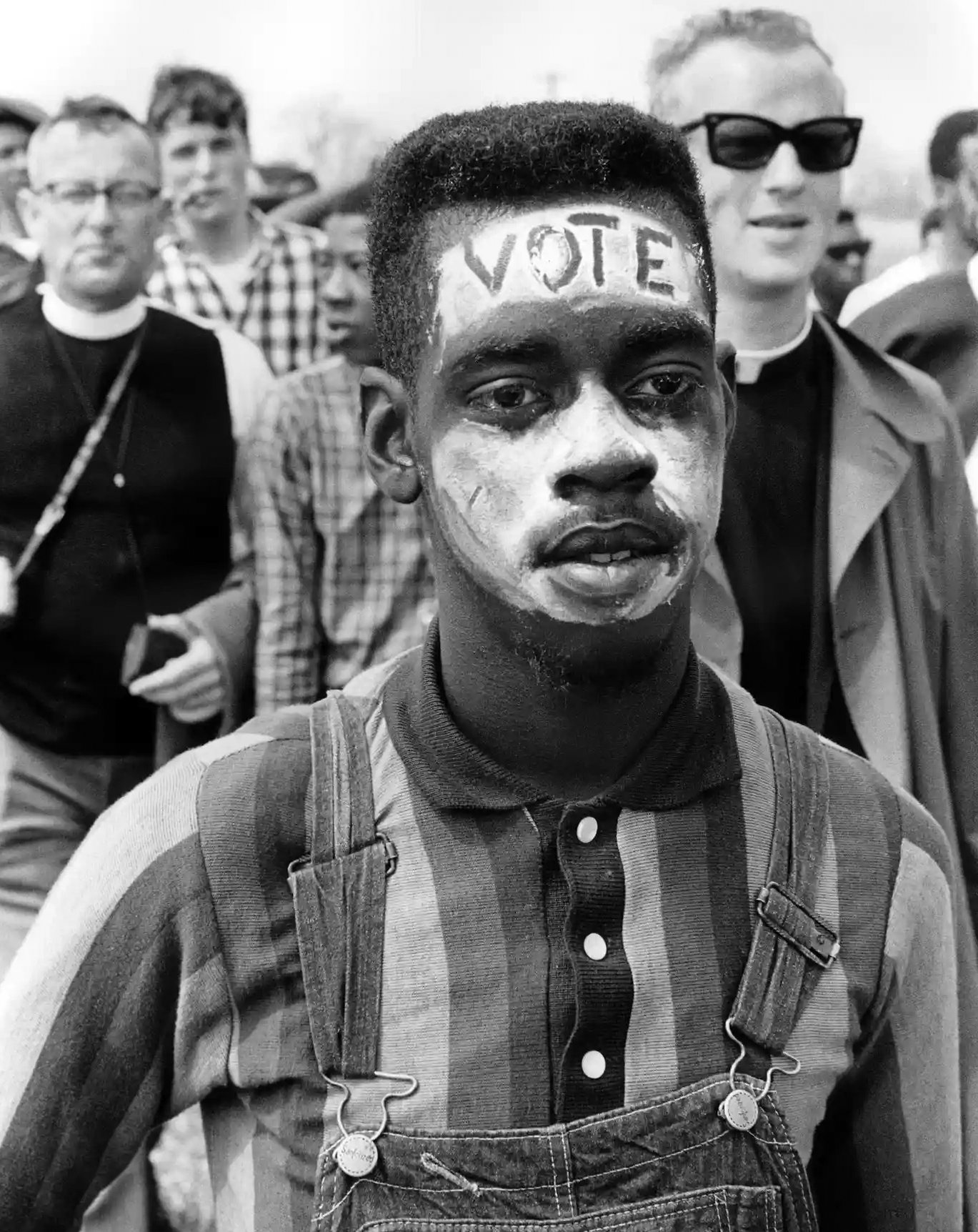 Bobby Simmons on the March to Montgomery.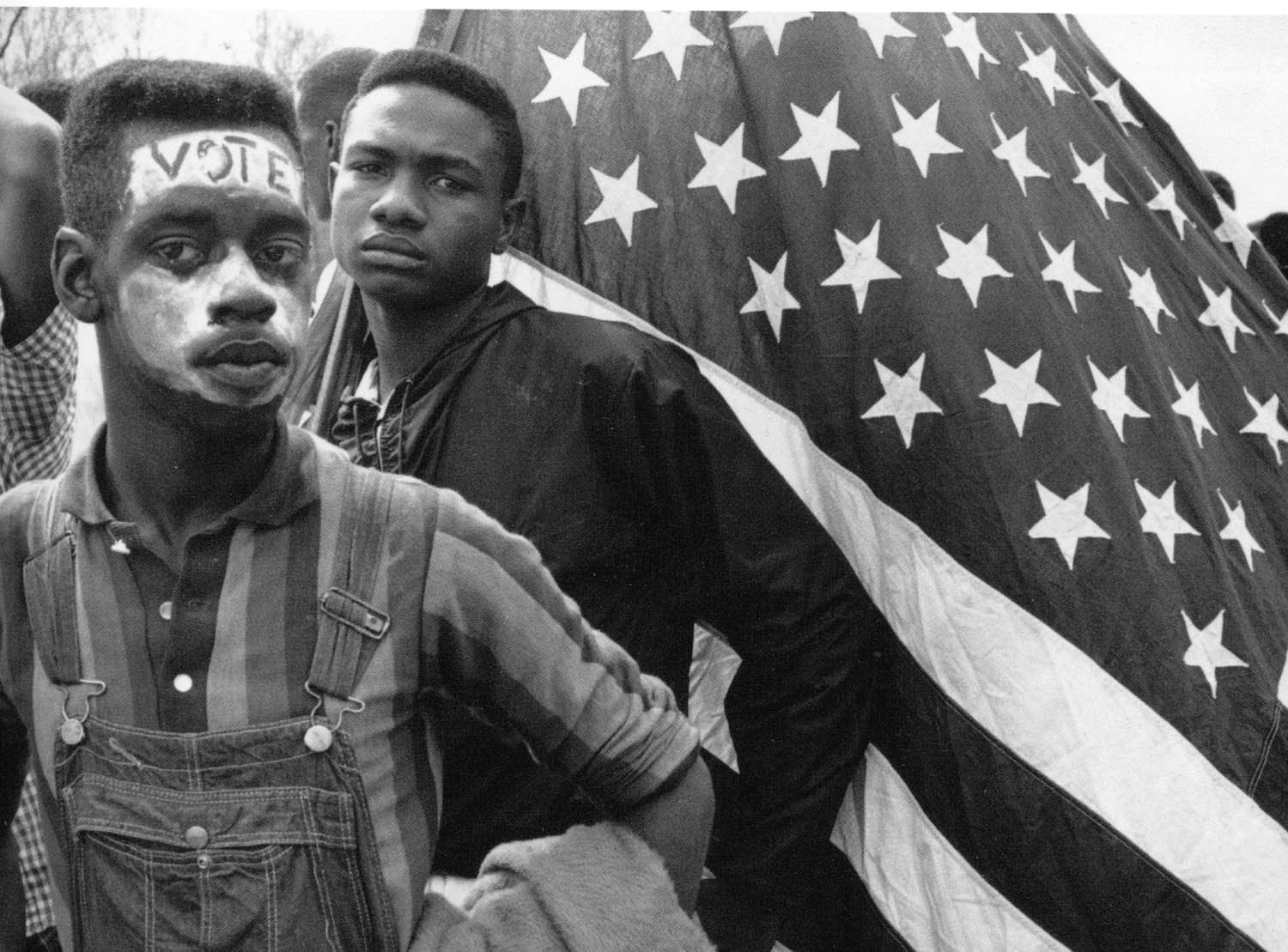 The March crosses Lowndes County, a stronghold of the Ku Klux Klan.
Population: 81% Black, 19% white.
Voter registration: Blacks 0, whites 2240 (118%)
Lowndes County, Hiway-80 from Selma to Montgomery.




65 year old Nannie Washburn of Georgia is third from left.

Aching feet need a little rest.

Dr. June Finer attends to the blistered feet of Wilcox County marcher Doris Wilson while other doctors & nurses of the Medical Committee for Human Rights (MCHR) provide first aid to others.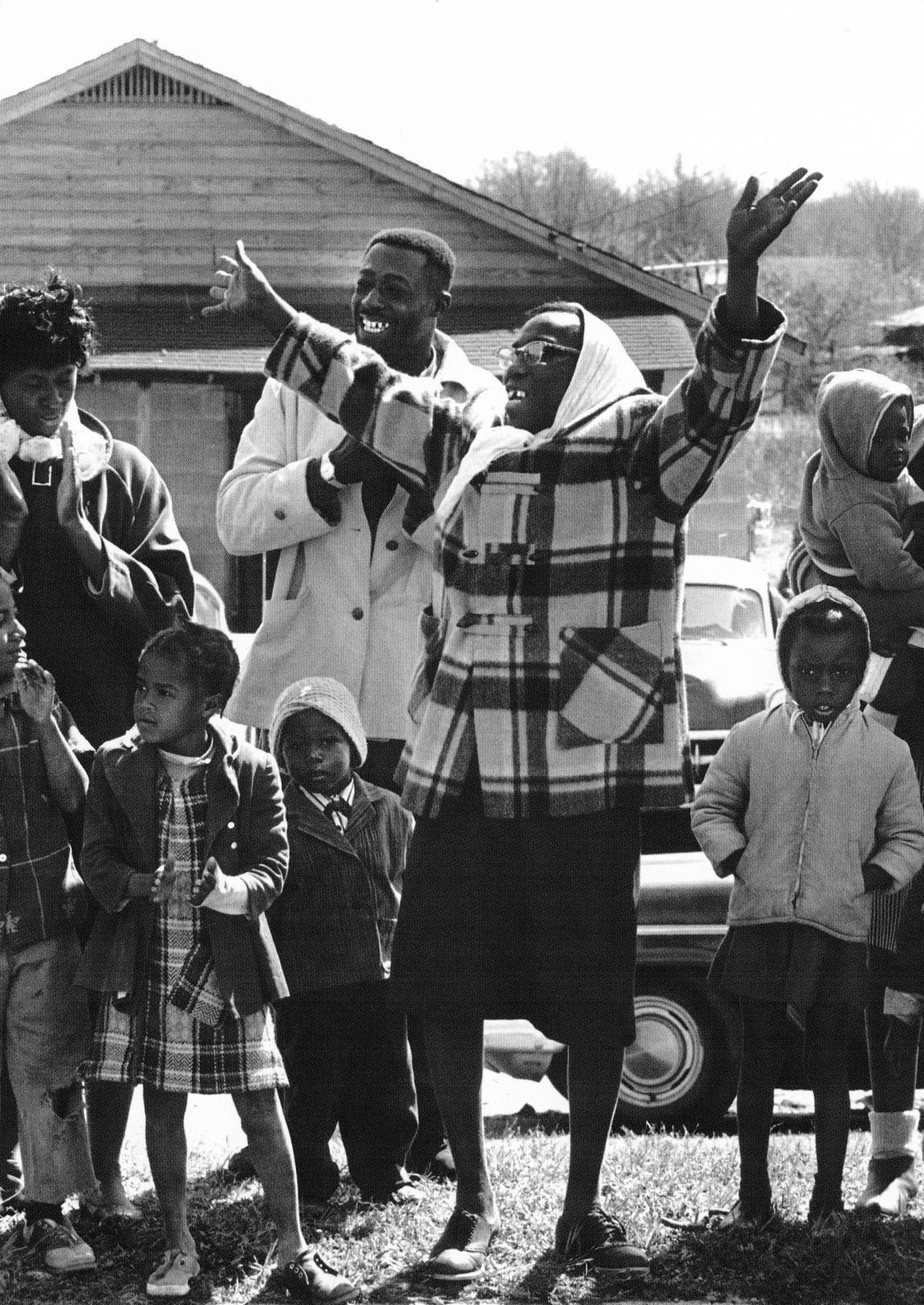 Watching the March pass by.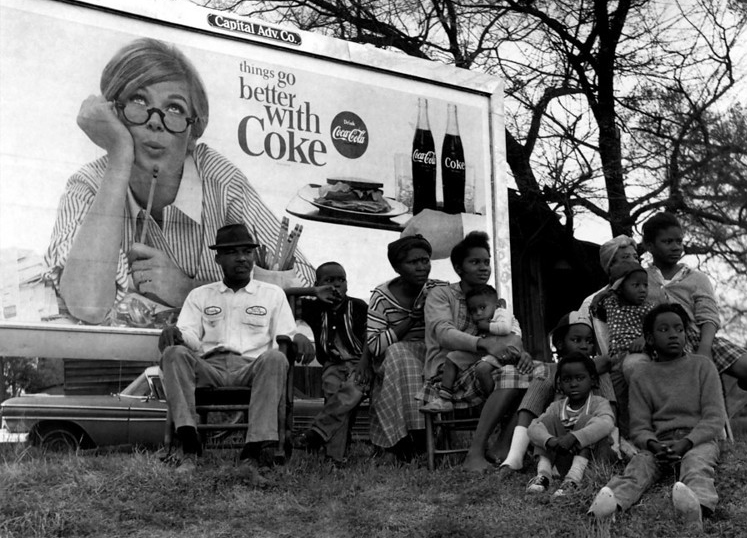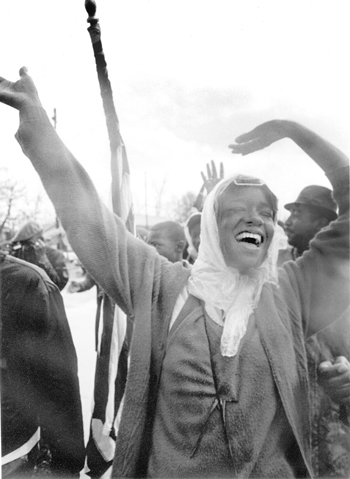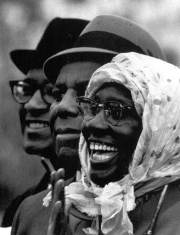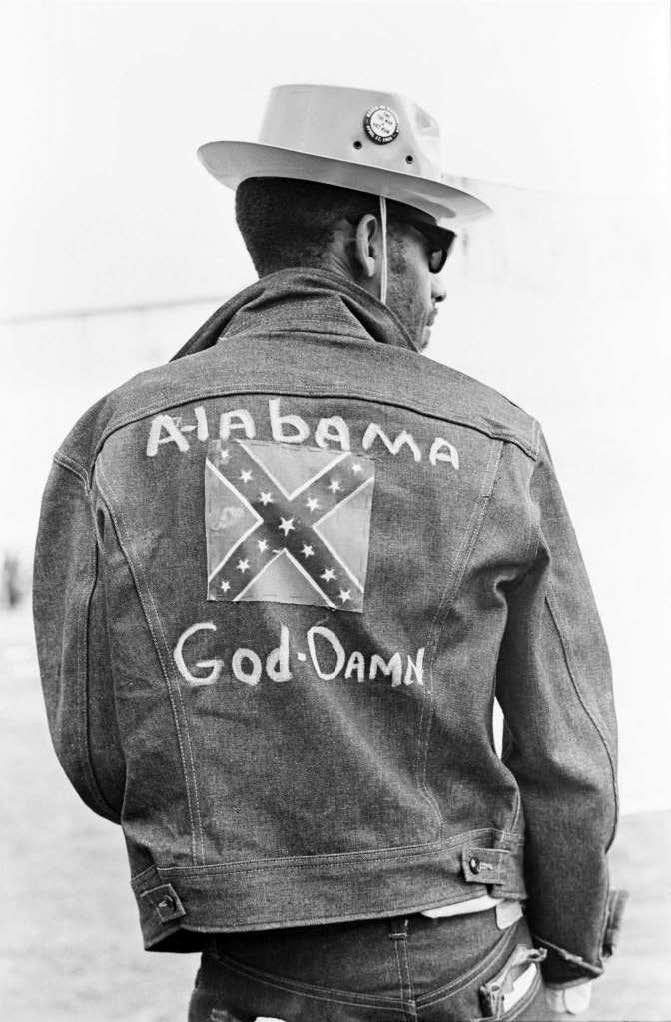 A marcher's jacket references Nina Simone's "Mississippi Goddam"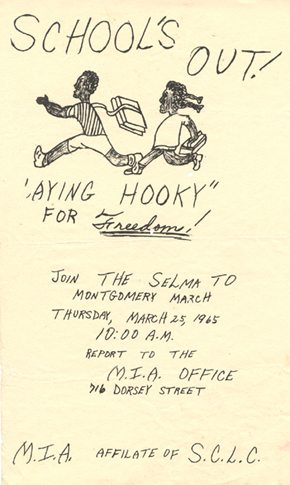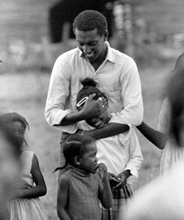 Through drenching rain and freezing cold...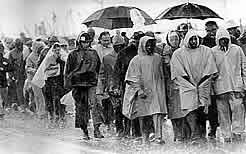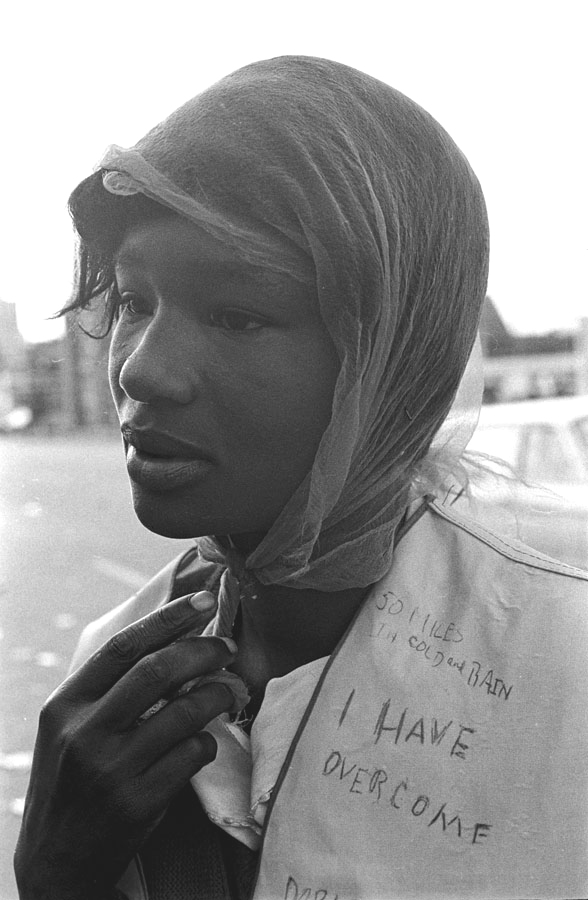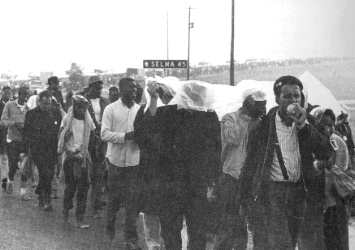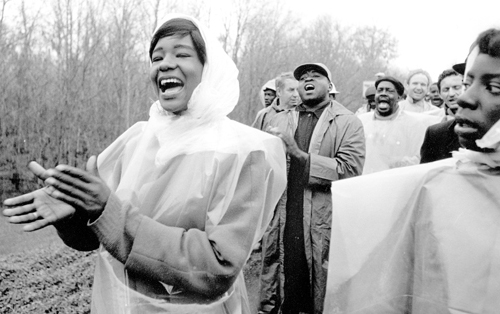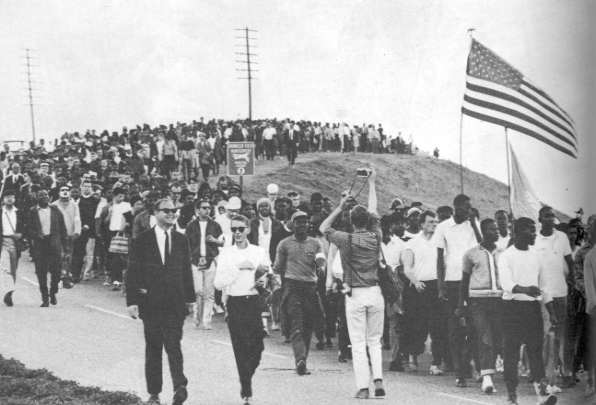 On the Jefferson Davis highway (US-80), approaching Montgomery.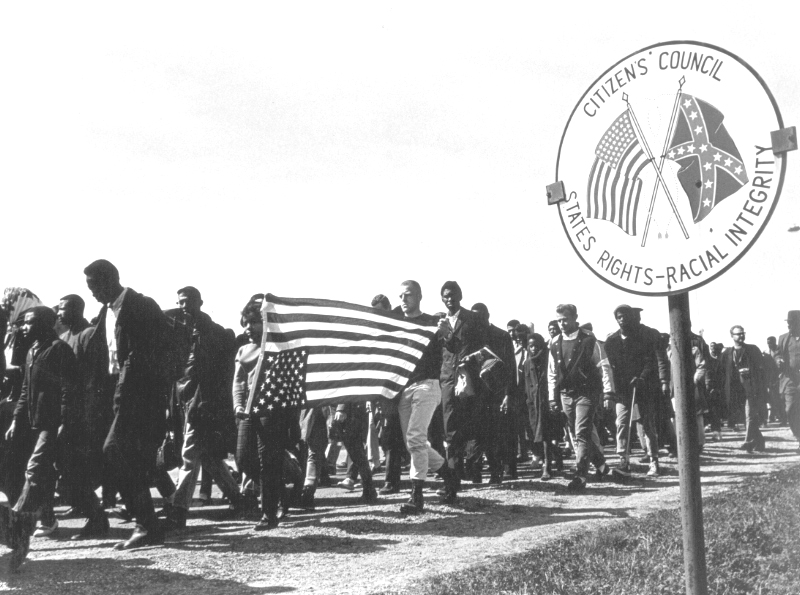 Welcoming the March into Montgomery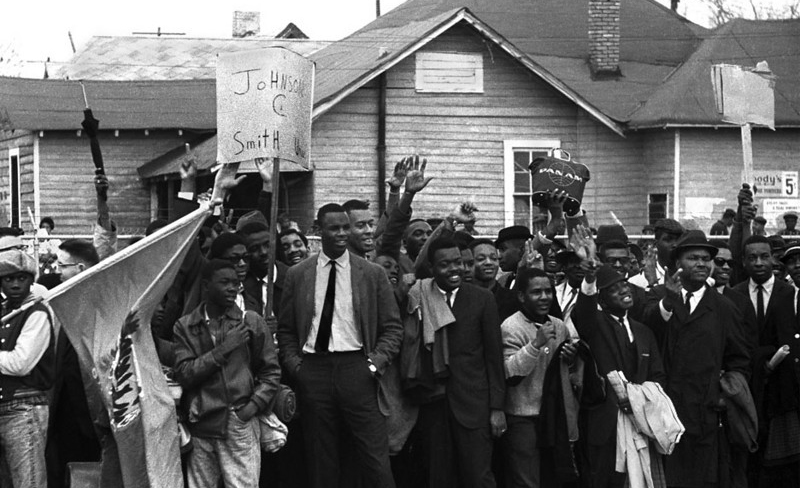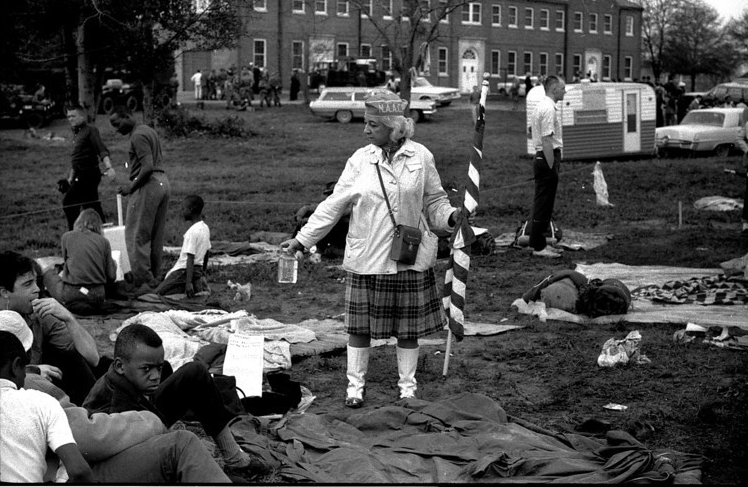 Break of Dawn at the Last Campsite, City of St. Jude School, Montgomery, Alabama.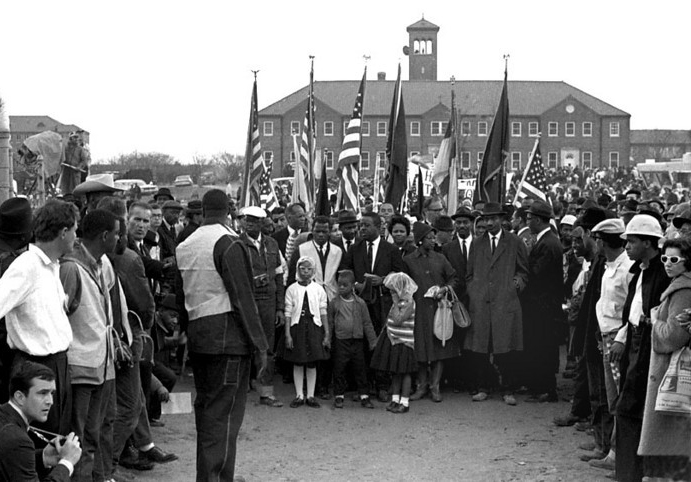 The March Forms Up at St. Jude for the final push to the Alabama State Capitol, Morning, March 25, 1965.
Left front folded arms: Rev. Arthur Matott Presbyterian Minister, Perth Amboy, NJ
2nd left: John Lewis, Head of SNCC
3rd left, front: Sister Mary Leoline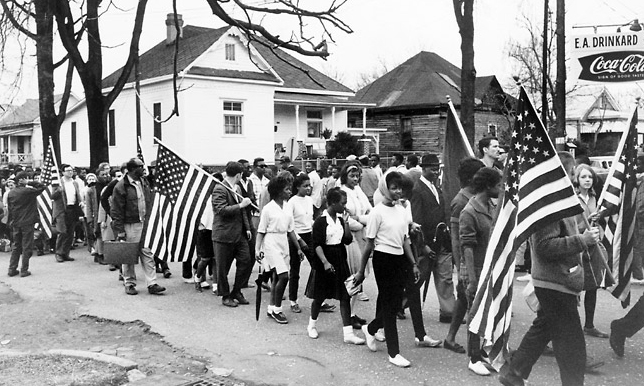 High school students flood out of class to welcome and then join the marchers.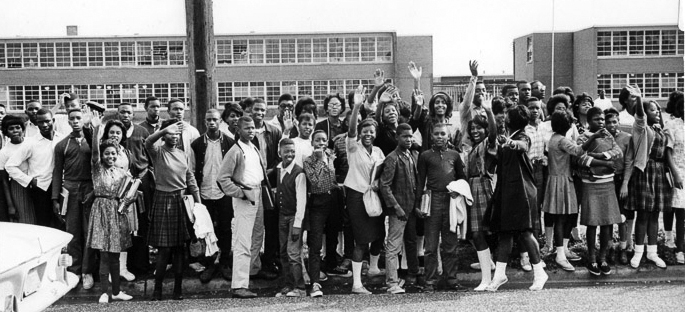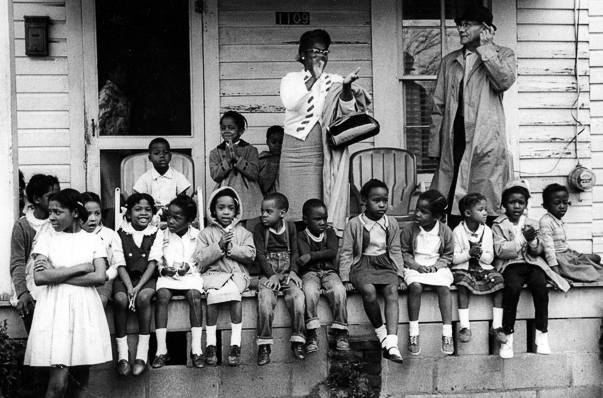 Children from a day care center near watch the passing marchers.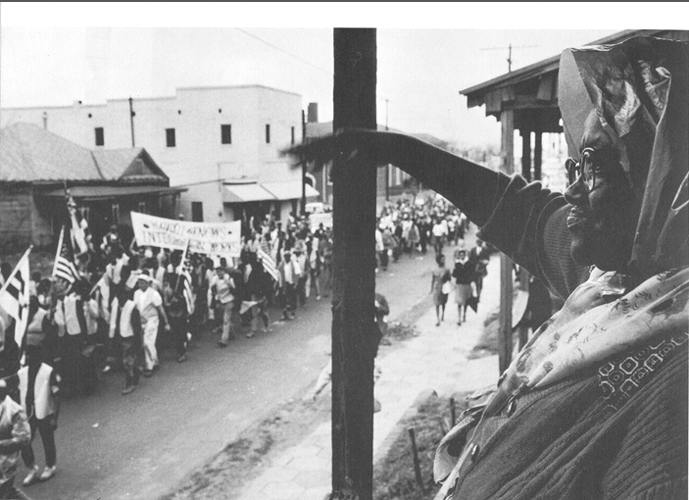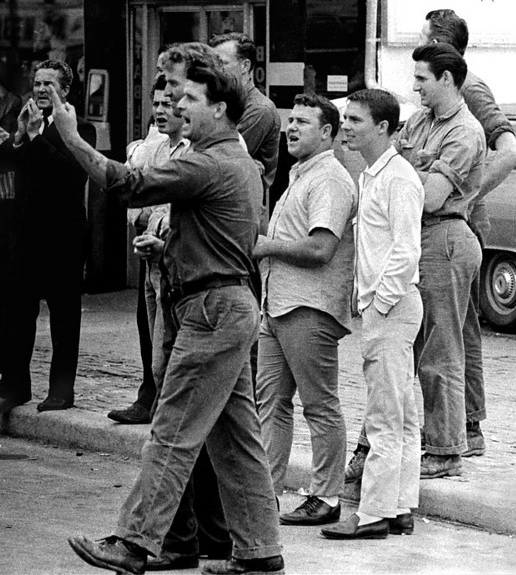 The marchers are not universally welcomed by all.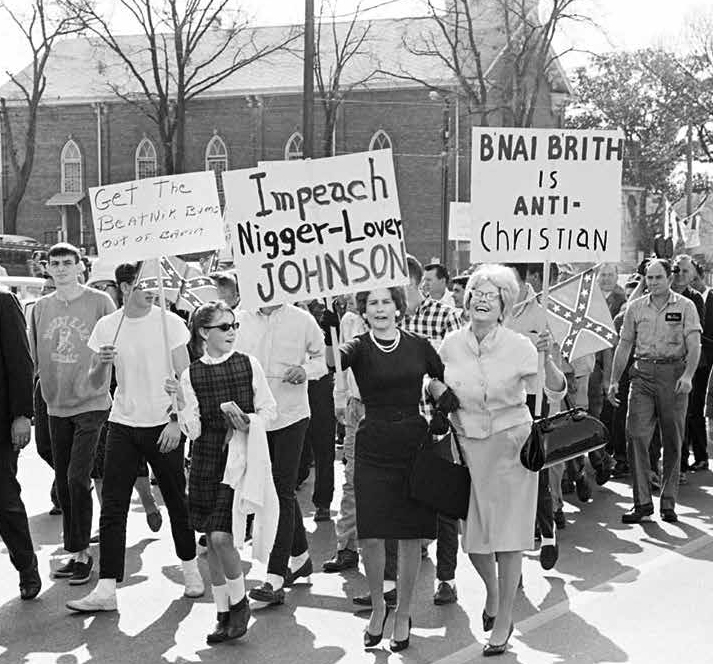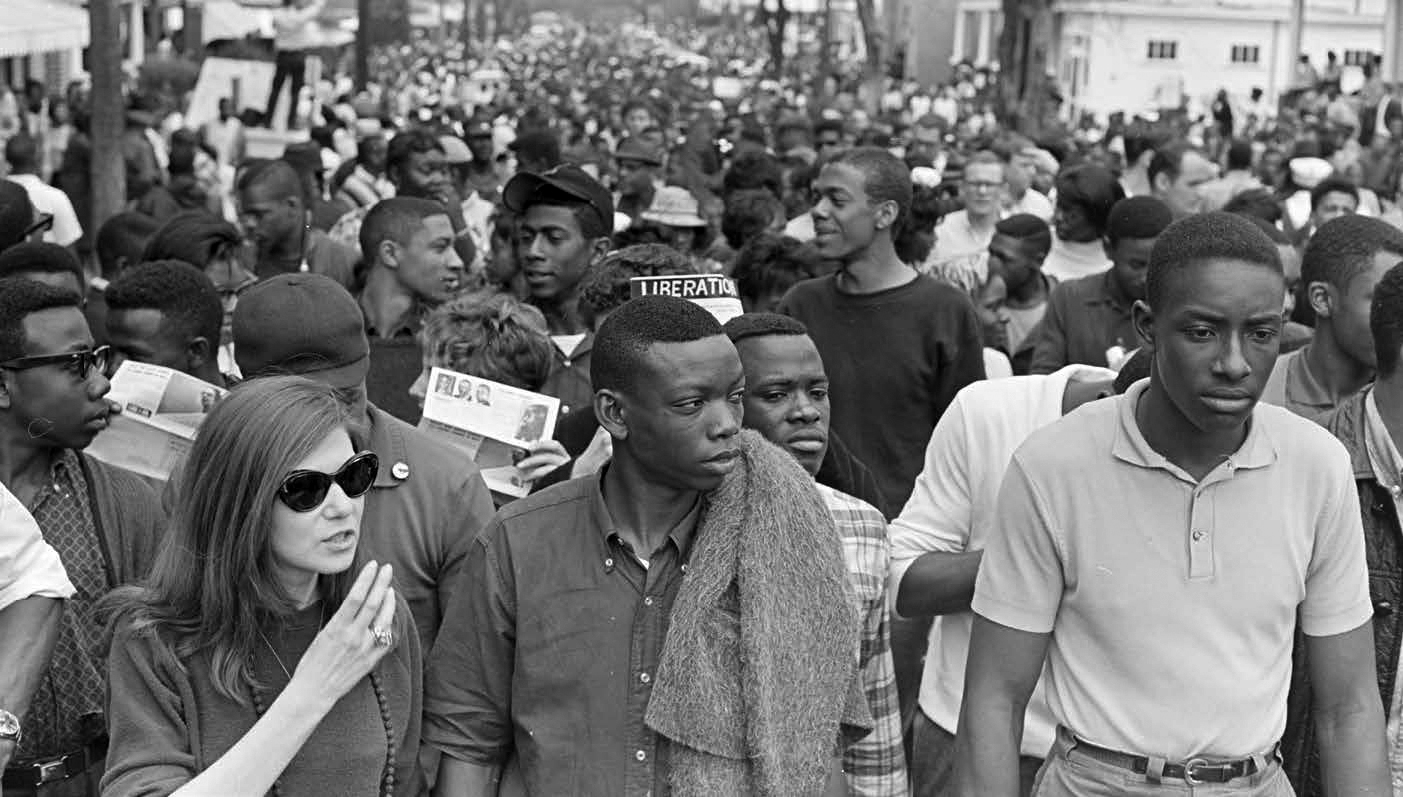 The march nears it's destination at
the Alabama state capitol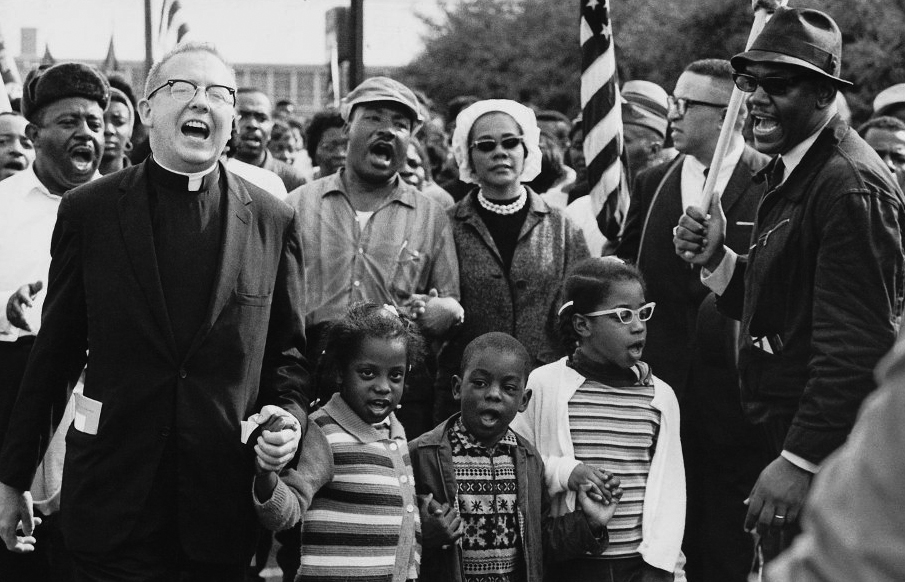 25,000 strong, the March advances towards the Capitol building in Montgomery.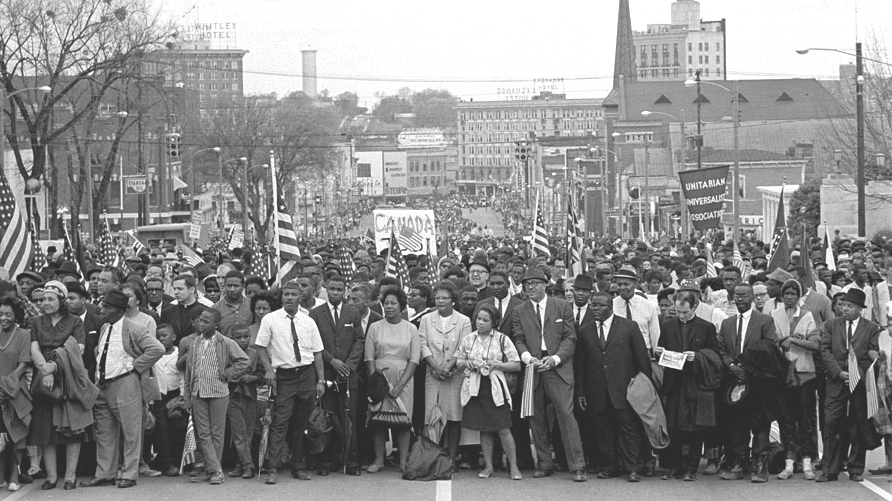 Copyrights © to these photographs belong to the photographers. Commercial use of these pictures is prohibited without the express written permission of the photographer. To identify the photographer (if known), simply let your cursor hover over the image to display the photographer's name, or view the image metadata.
---
© Copyright
Webspinner: webmaster@crmvet.org
(Labor donated)