Civil Rights Movement Photographs
Mississippi — Into the Storm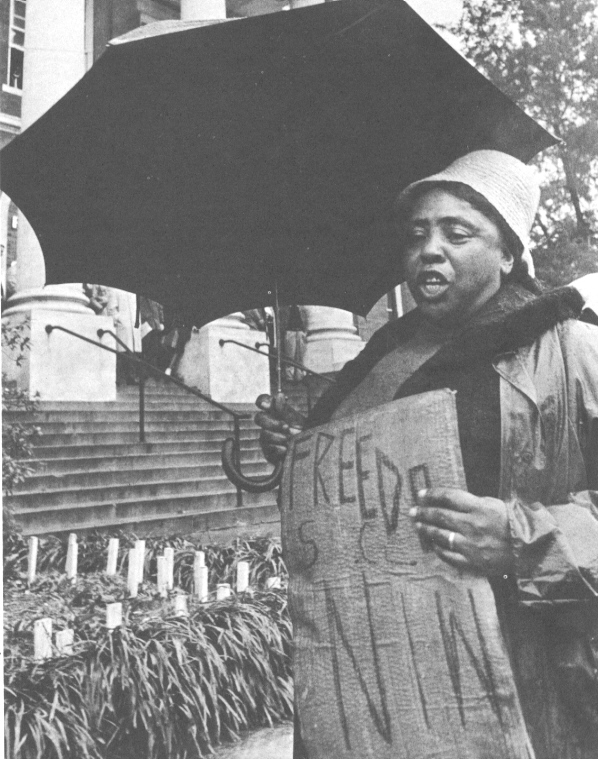 Fannie Lou Hamer, Freedom Day in Hattiesburg MS. January, 1964.
"Sometimes it seem like to tell the truth today is to run the risk of being killed. But if I fall, I'll fall five feet four inches forward in the fight for freedom. I'm not backing off." ~ Fannie Lou Hamer

Been In the Storm All Our Lives
Before the Southern Freedom Movement burst into public consciousness, before the media discovered "civil rights workers," Black folk in the South endured unspeakable hardship and cruel oppression. But no matter how vicious the repression, the fires of their resistance were never completely extinguished. All over the South, — in ways both hidden and public, — some courageous individuals carried on the struggle for freedom and dignity. They were the first to step forward and take their stand. Today, most of them remain unknown to the public at-large; their stories are omitted from the history books, and their deeds are absent from the monuments and visitor centers.
To stand in for all those unsung heroes, we present these three from Holmes County Mississippi who were exemplary — but not unique — in their awesome courage:
Hartman Turnbow, Mileston MS. Who along with Amzie Moore first invited SNCC to send organizers into Mississippi to fight for voting rights.
A farmer and fiery orator, the man spoke with dancing fingers, hands, and phrases. His words and acts inspired (and scared) many in Mileston and all over Holmes County during the first stages of its civil rights Movement.
In April '63 he stood up to and told the sheriff at the Courthouse door that he and the rest of the First 14 had come to register to vote. Firebombed by nightriders, he fired back and was arrested for arson of his own home.
— Sue [Lorenzi] Sojourner, from Some People of That Place exhibit.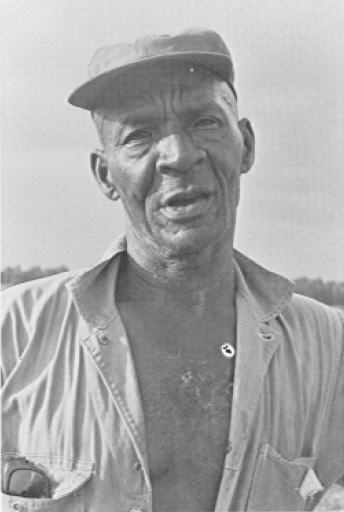 OZELL MITCHELL of Holmes Co., Mississippi independent farmer at Mileston was 58 in late '62, when he and farmer friend Ben Square drove the 30 miles to Greenwood in Leflore Co. where SNCC (Student Nonviolent Coordinating Committee) was holding Freedom Meetings. Theirs was a bold act. Danger increased when they invited the young SNCC organizers to set up a meeting at Mileston. In March '63 Mitchell and others hid and housed the outside workers, got a Mileston church (Sanctified) to allow meetings in their building. In April, Mitchell and 13 others took their first organized step together: the "First 14" drove to the Courthouse to attempt to "redish" (register to vote).
— Sue [Lorenzi] Sojourner, from Some People of That Place exhibit. Place
ALMA MITCHELL CARNEGIE of Holmes Co., Mississippi was a 66-yr-old intensely fired spirit at Mileston in 1963 when she and her 76-yr-old husband Charlie were the oldest of the First 14 — Holmes's first to take an organized, dangerous step together: to go to the Courthouse to try to register to vote.
For decades she'd gone to semi-clandestine Movement meetings around Mississippi and had hidden 1930s farm worker organizers and 1960s SNCC (Student Nonviolent Coordinating Committee) workers in her home. Important as a conscience, often too idealistic for others, she didn't try to lead as much as to follow the right path.
— Sue [Lorenzi] Sojourner, from Some People of That Place exhibit.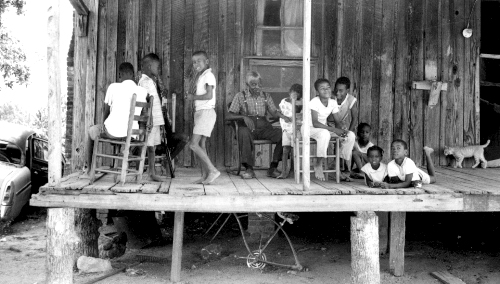 In 1961, from east, north, and west, the Freedom Riders come rolling through Mississippi to Jackson. All are jailed in Jackson, and then sent to the notorious Parchman Prison Farm.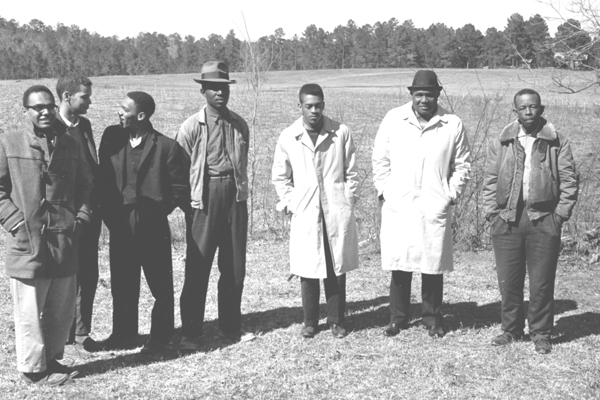 A few months later, local Movement leaders like Amzie Moore, Hartman Turnbow, and others ask SNCC to send in organizers. Their task to register voters — their mission to create a social revolution that will transform the "closed society" and bring it into the 20th Century.
Left to right: Bob Moses, Julian Bond, Curtis Hayes, unidientified, Hollis Watkins, Amzie Moore, and E.W. Steptoe. 1963.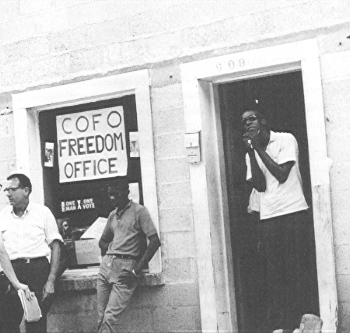 CORE, NAACP, and SCLC field workers soon follow and the Movement unites in a coalition called "COFO" (Council of Federated Organizations).
The mixture of heroic local activists and dedicated young organizers is explosive, and the Movement erupts into public view; first in McComb, then Greenwood, Jackson, and Hattiesburg, and then in towns and hamlets across the state. Resistance from the cops, the Klan, and the Citizen Councils is fierce. But beatings, arrests, firebombs, and murders cannot stop the Freedom Movement.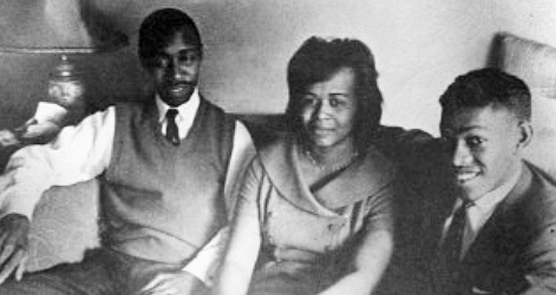 Hattiesburg movement leader Klyde Kenner, student activist Dorie Ladner, and SNCC worker Jimmie Travis, undated photo (possibly 1962)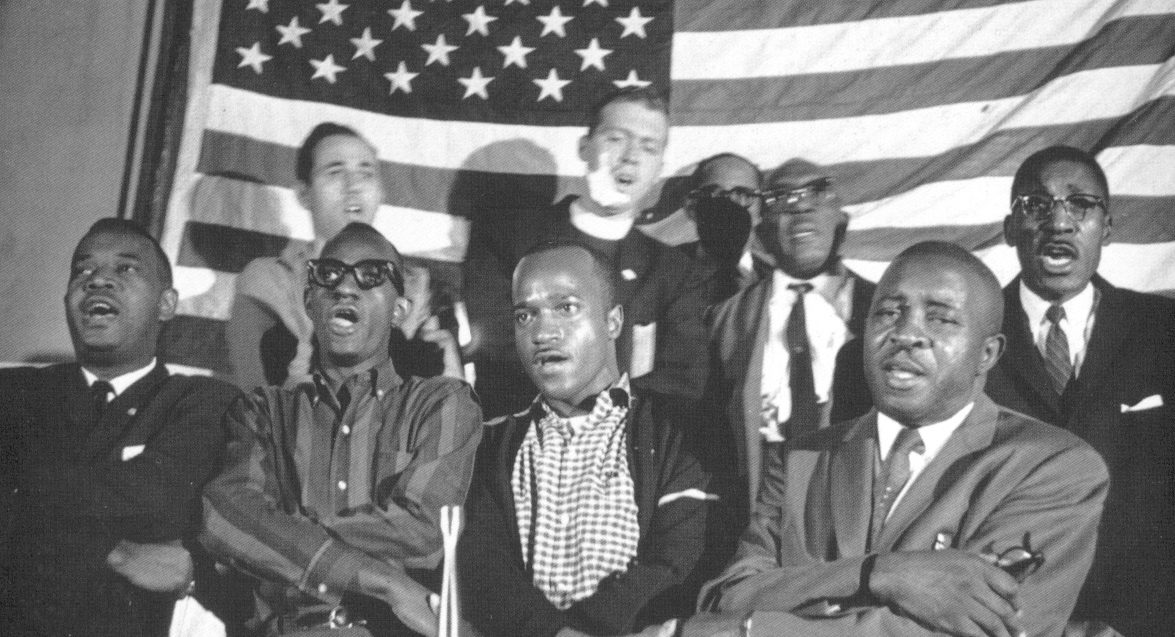 Rally for the Freedom Vote, Hinds County, 1963. Front row from left: NAACP leader Aaron Henry, SNCC organizers Sam Block and Willie Peacock, unidentified. Back row, Rev. Ed King with bandage on face.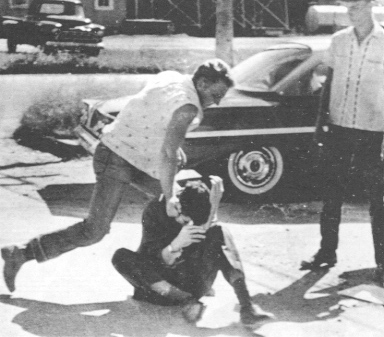 White thugs pull civil rights workers Paul Potter and Tom Hayden from a stopped car and beat them on a downtown street in McComb, October, 1961, during a protest walkout by Burgland High School students.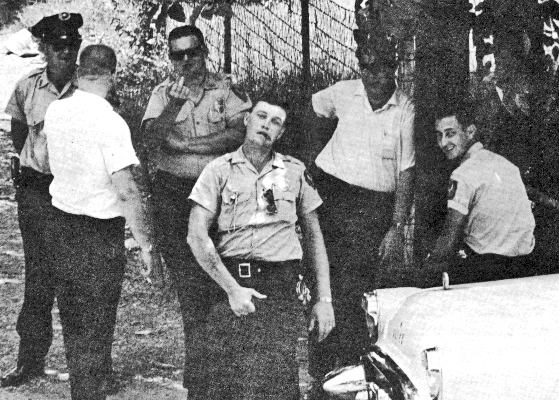 Cops lurking outside a Clarksdale civil rights meeting make their sentiments clear.

NAACP leader Aaron Henry's drugstore, Clarksdale MS.
Canton Mississippi, date unknown.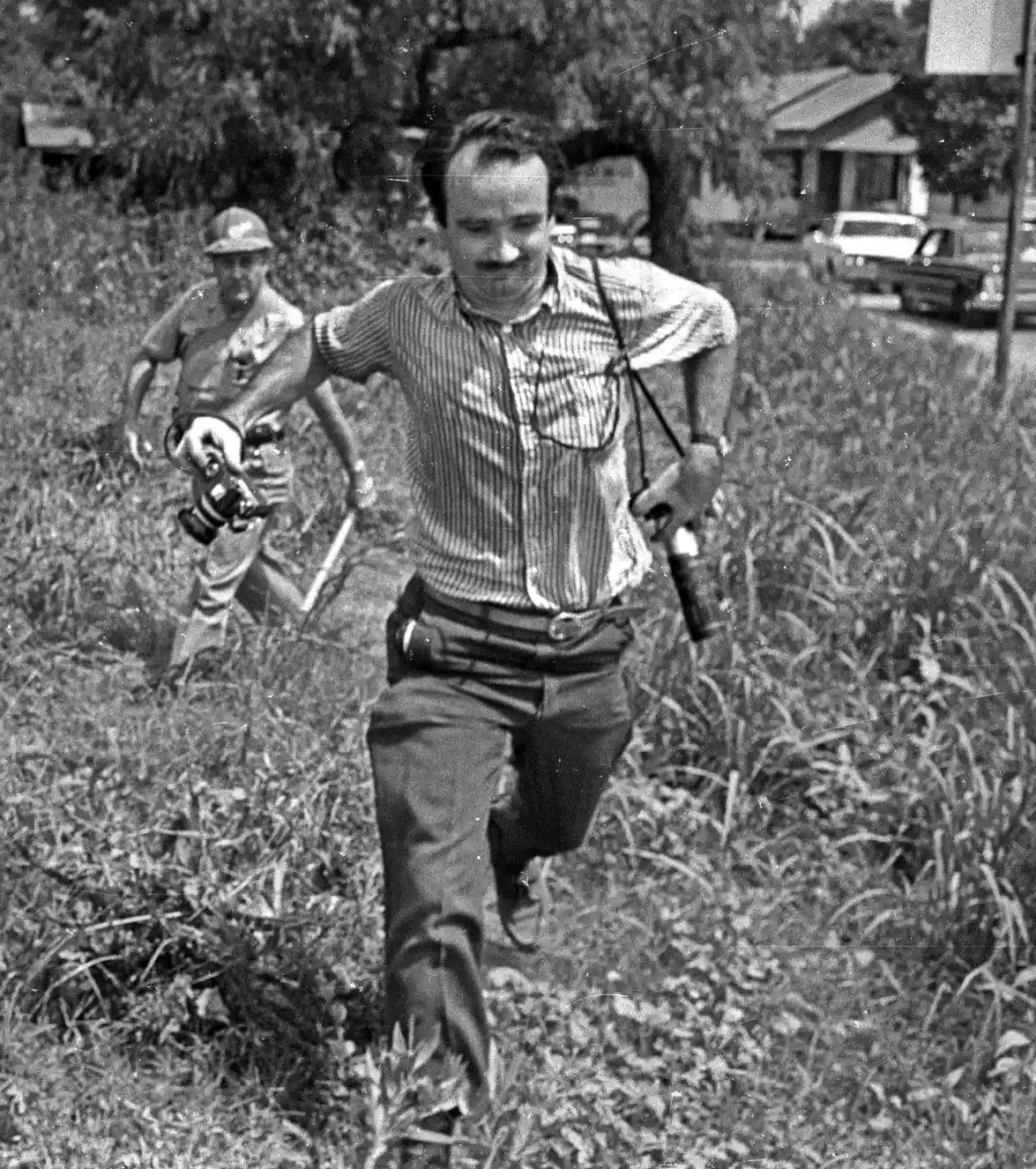 SNCC photographer Matt Herron evading deputy sheriff, date & location unknown.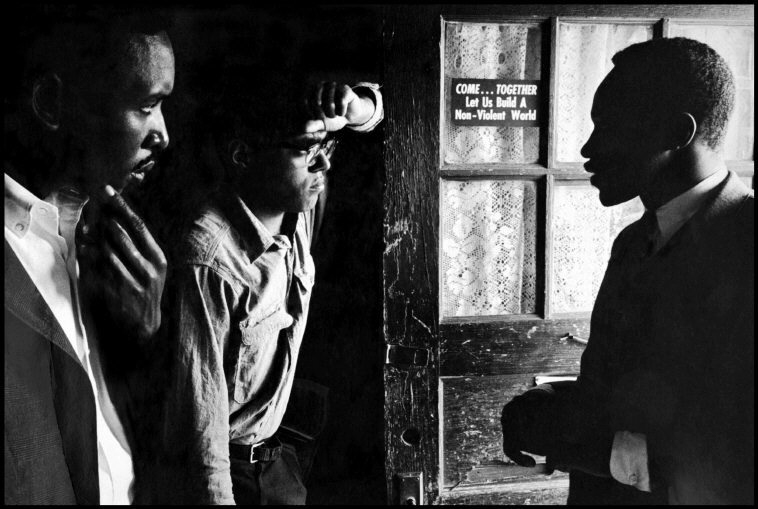 Frank Smith, Bob Moses, Willie (Wazir) Peacock, Greenwood SNCC office, 1963.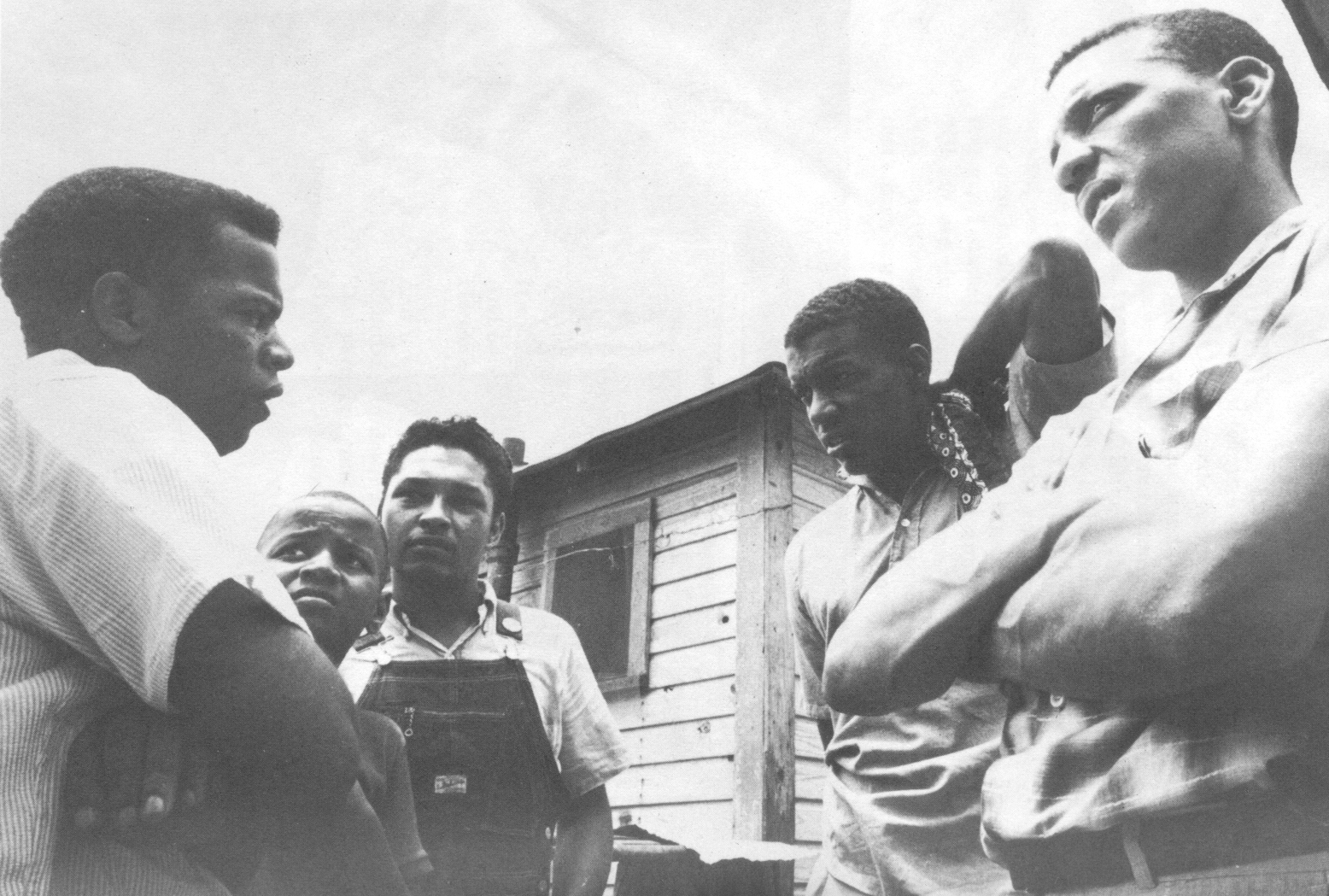 Morning strategy session, Greenwood. From left: John Lewis (SNCC), unidentified boy, Mateo "Flukie" Suarez (CORE), Jerome Smith (CORE), Dave Dennis (CORE).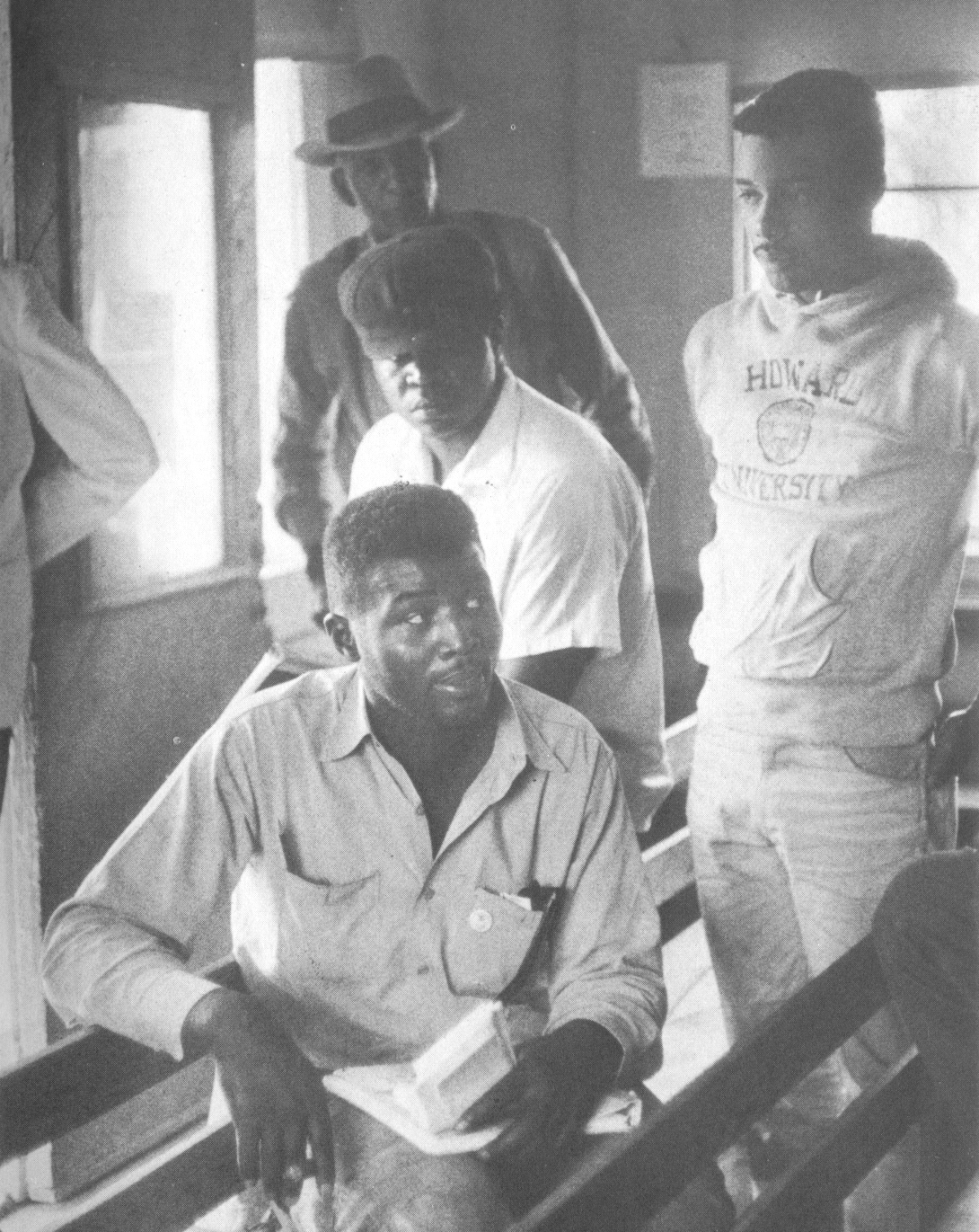 SNCC organizers, Greenwood.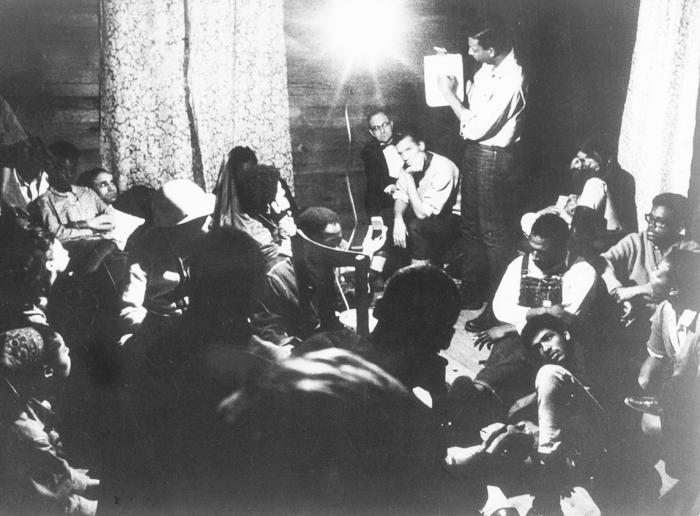 SNCC staff meeting, Mississippi Delta, date unknown.

Willy James Earl ("Freedom"), leading a meeting in song, Greenwood MS.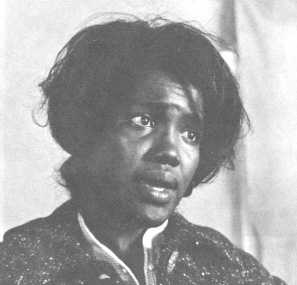 "The SNCC office in Greenwood is like a front company headquarters during war-time. ...I was greeted by Annell Ponder, whose younger sister I taught at Spelman College. ...The Ponder girls are all tall, black-skinned and beautiful. Annell has been in Greenwood this past year handling SCLC's part of the voter registration project. She has been beaten by police in Winona, Mississippi. When friends went to the jail one day, they found her sitting there, her face swollen and marked, barely able to speak. She looked up at them, and just managed to whisper one word: 'Freedom." — Howard Zinn, The Movement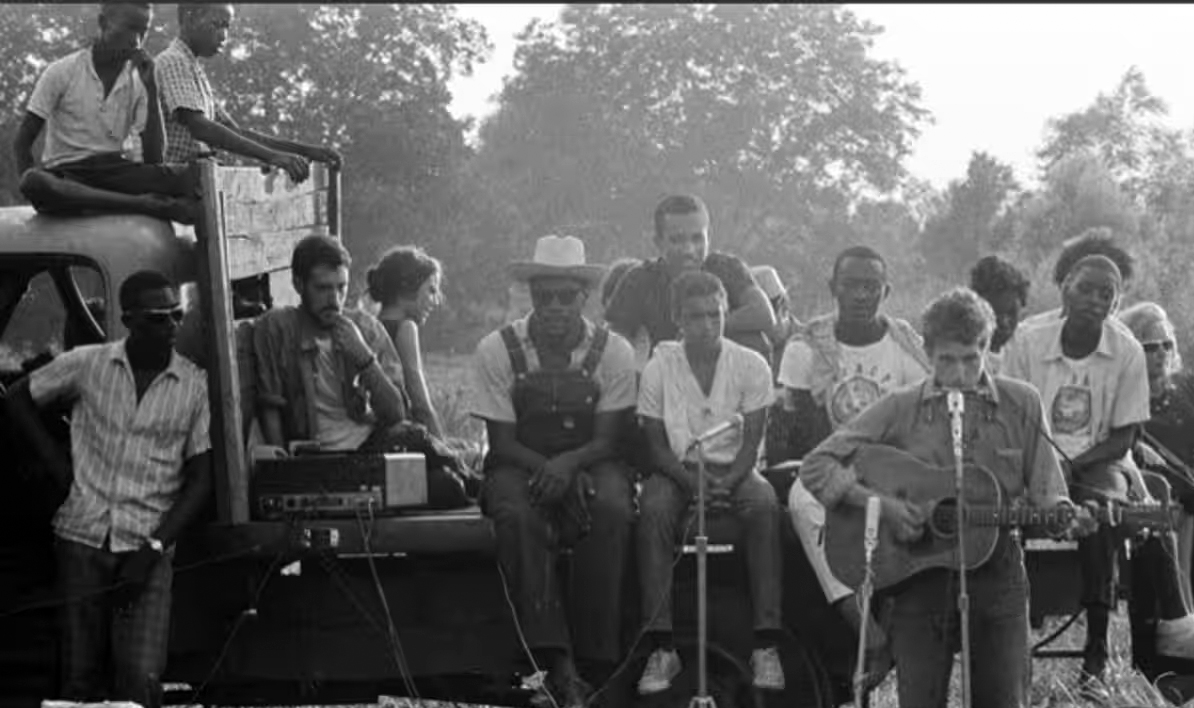 Bob Dylan performing outside of Greenwood, 1963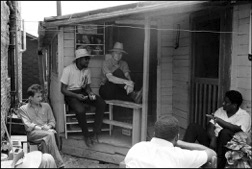 Bob Dylan, Courtland Cox, Pete Seeger, unidentified, and James Forman, Greenwood SNCC office. 1963.
Studying the Mississippi voter application before going down to the courthouse to try to register.

Greenwood, 1963. Attempting to vote. Note cop (left) and White Citizens Council operative (right) with cameras. The photos are used to convince employers and landlords to fire and evict any Black who dares try to vote.

SNCC leader John Lewis speaking in Greenwood, 1963.

Volunteer Ella Edwards stacking cans of donated food for people fired and evicted for trying to register to vote.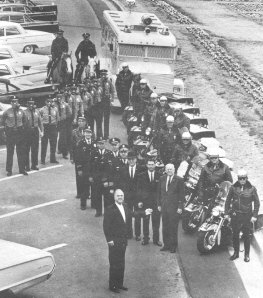 "We've got a larger than usual police force," brags Allen Thompson, the Mayor of Jackson. "Its twice as big as any city of our size. They won't have a chance."
His force is built up to suppress civil rights and voter-registration. (Note the armored tank in the background along with a small portion of the total force.)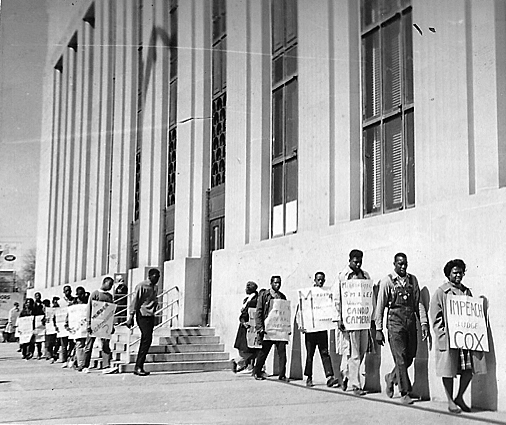 SNCC picket line protesting the racist federal judge William Harold Cox.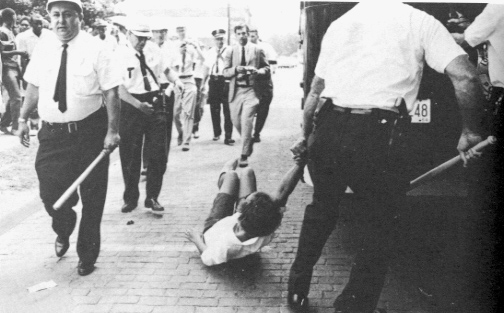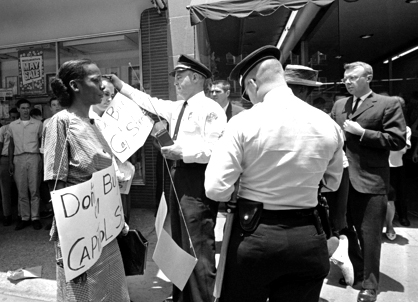 NAACP Chair Doris Allison arrested for leading boycott pickets. Jackson MS, 1963.
Whose flag is it?
An enraged law enforcement officer wrestles an American flag out of the hands of Anthony Quin (5) in Jackson, MS. His mother, McComb MS moverment leader Aylene Quin, stands behind him holding a sign opposing police brutality. Dr. June Finer of the Medical Committee for Human Rights (MCHR) is sitting next to Anthony.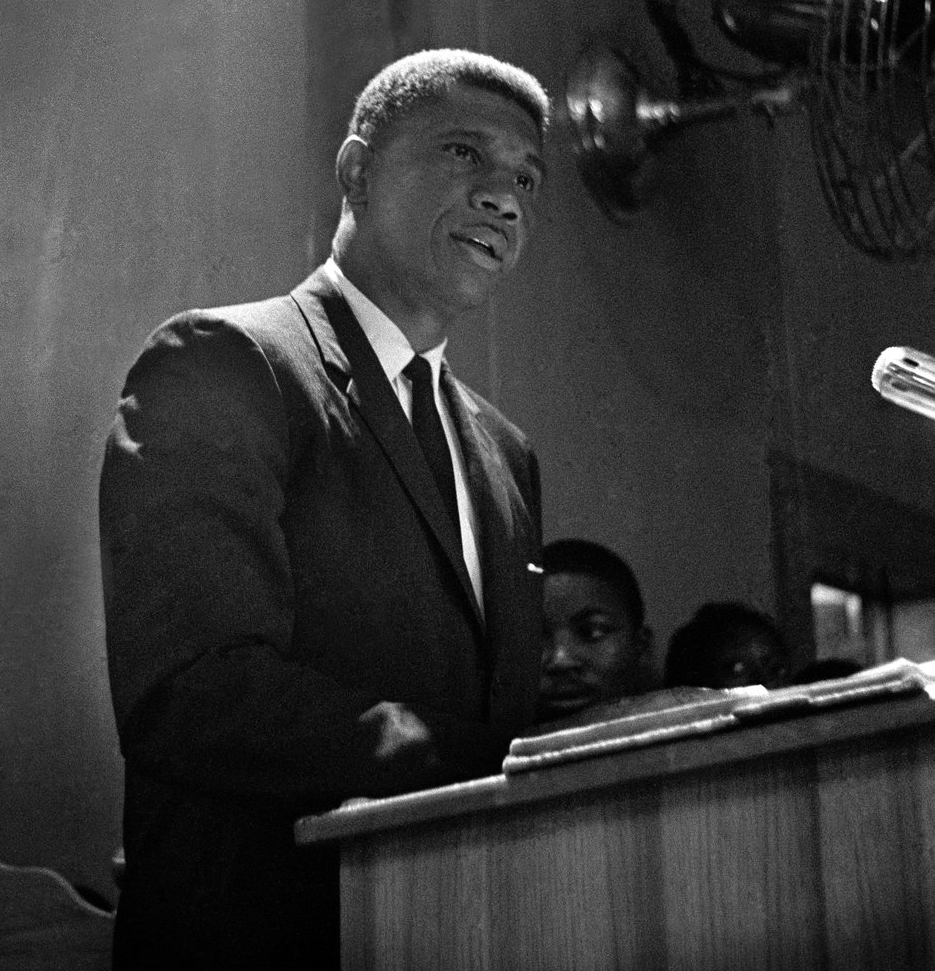 Medgar Evers addressing a meeting three months before being assassinated by a white racist.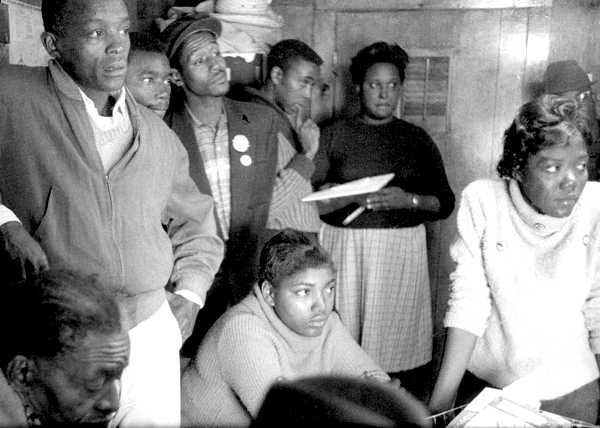 SNCC workers being briefed before entering dangerous Belzoni MS in the Fall of 1963 to organize the Freedom Ballot.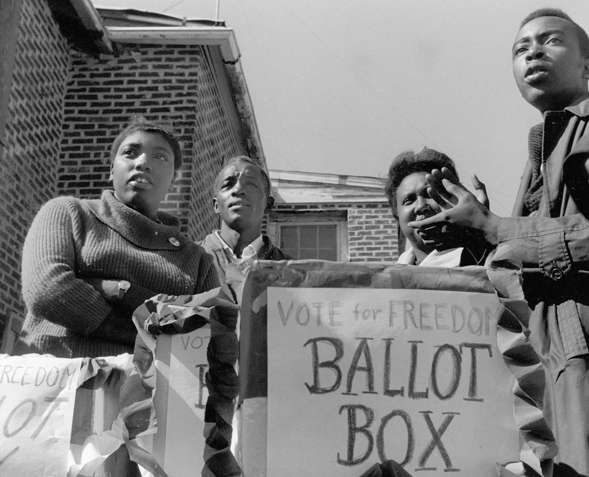 Martha Prescod, Mike Miller, and Bob Moses do voter registration work in the countryside.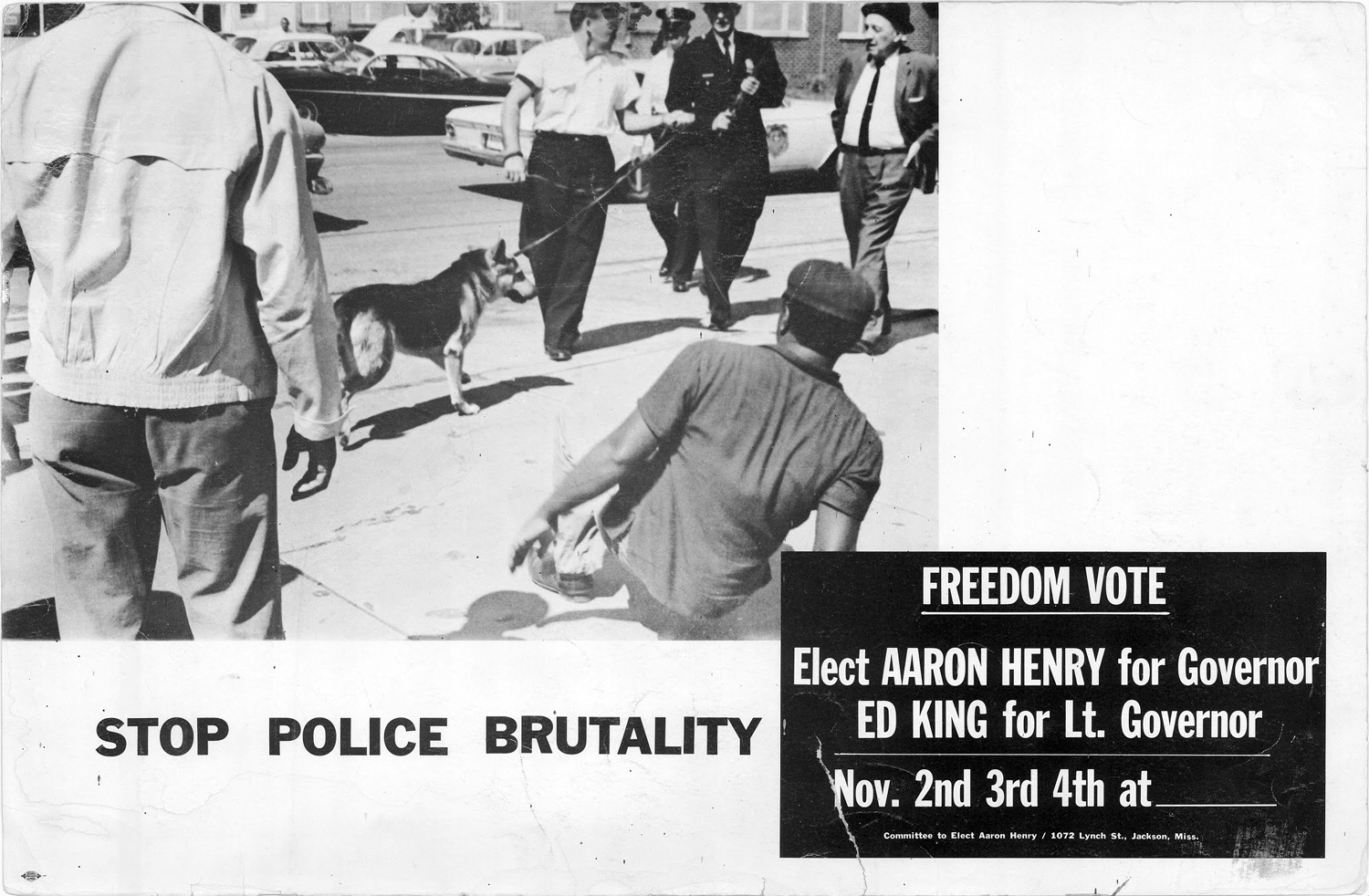 Freedom ballot election poster, COFO, Fall 1963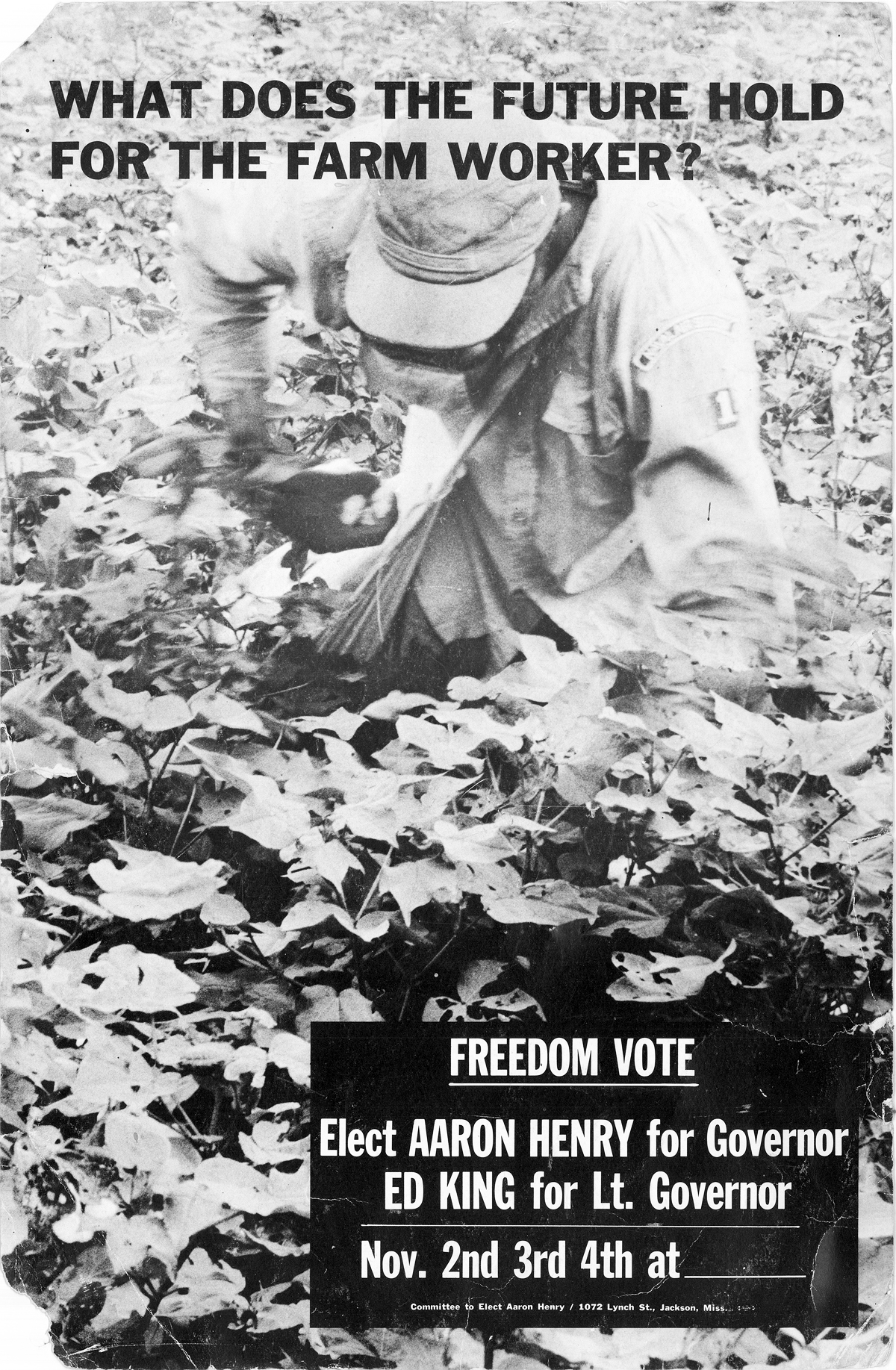 Greenville MS mass meeting, date unknown.
Mrs. Snowden Jones speaking from the floor.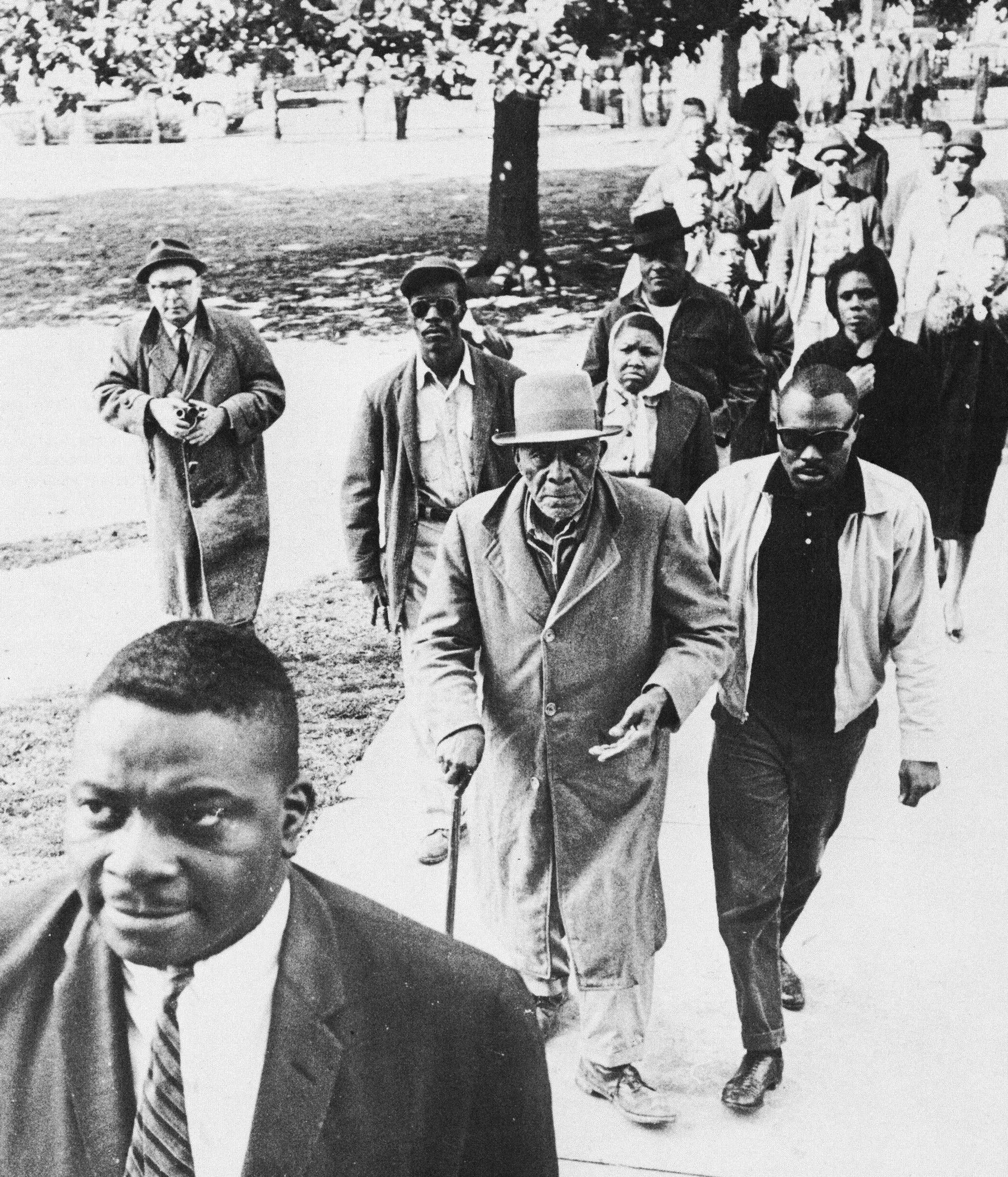 Freedom Day in Canton.
February, 1964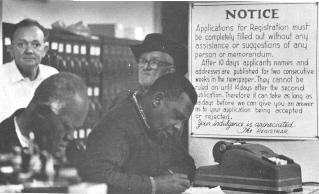 Hattiesburg, MS. Trying to register (click here for text of the notice on wall).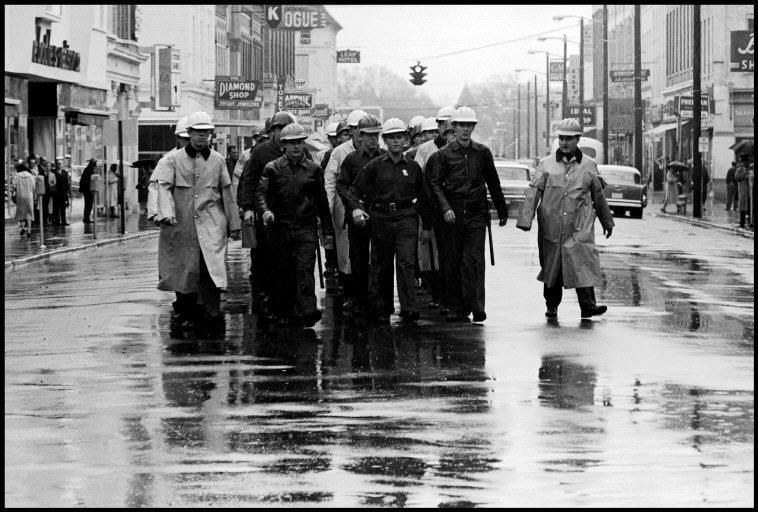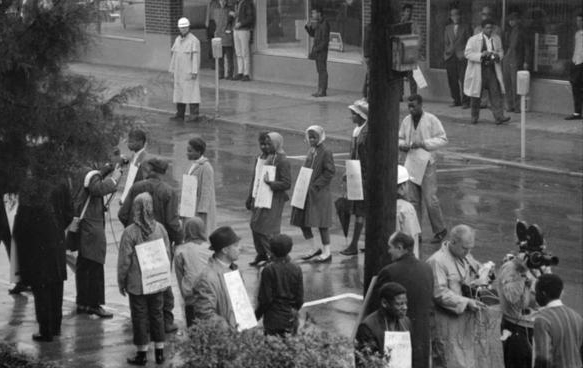 Picketing the Forrest County Courthouse.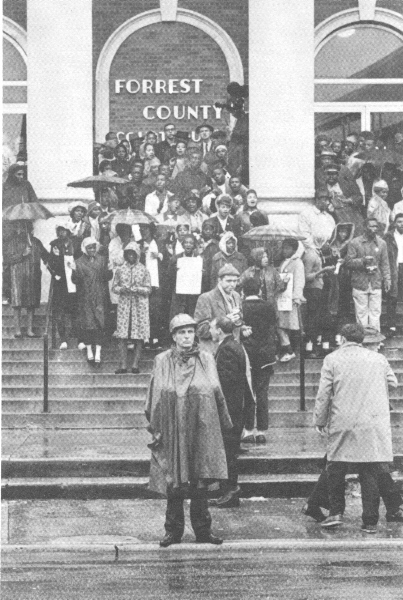 And always working hand-in-hand with the cops are the Ku Klux Klan and White Citizens Council (who today call themselves the "Council of Conservative Citizens")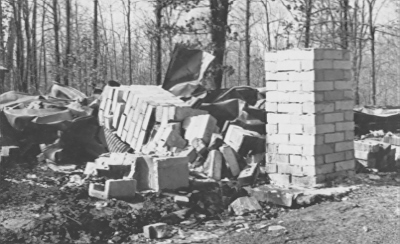 St. Joseph's Church, Marshall County, Fire-bombed by racists in retaliation for hosting voter-education meetings.
Copyrights © to these photographs belong to the photographers. Commercial use of these pictures is prohibited without the express written permission of the photographer. To identify the photographer (if known), simply let your cursor hover over the image to display the photographer's name, or view the image metadata.
---
© Copyright
Webspinner: webmaster@crmvet.org
(Labor donated)