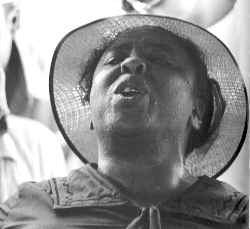 "What could be more natural?
After sorrow, comes joy."
Fannie Lou Hamer on the Meredith March Against Fear, Mississippi, 1966.

Guy Carawan leads singing at mass meeting, Fisk University, April, 1960.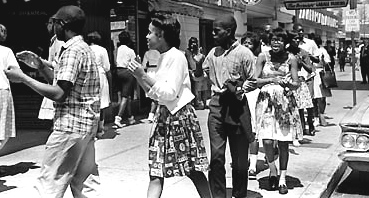 High-school students picketing a segregated restaurant, Nashville TN, 1960.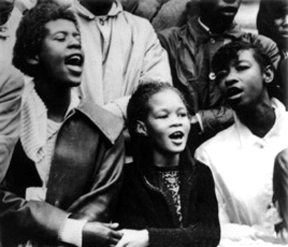 Oh, freedom over me...
Albany GA, 1961 or 1962.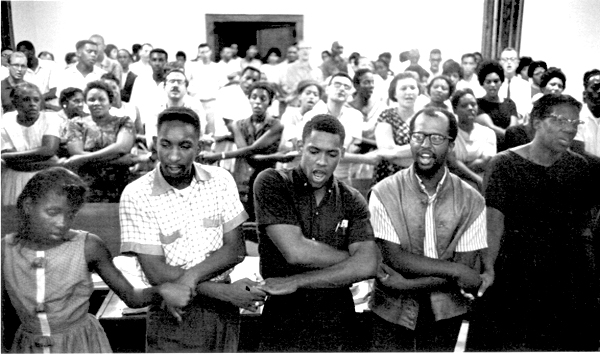 McComb MS, 1962.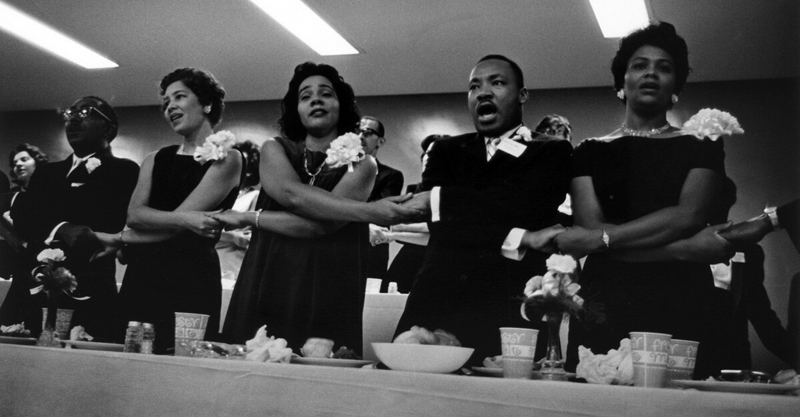 c1962, location unknown.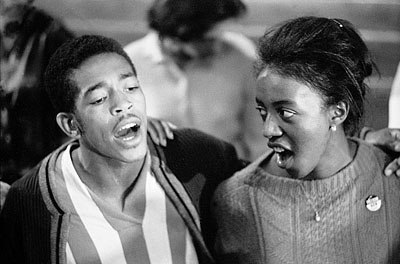 Hollis Watkins & Arvenna Hall of SNCC, after being released from jail. Jackson, MS, 1963.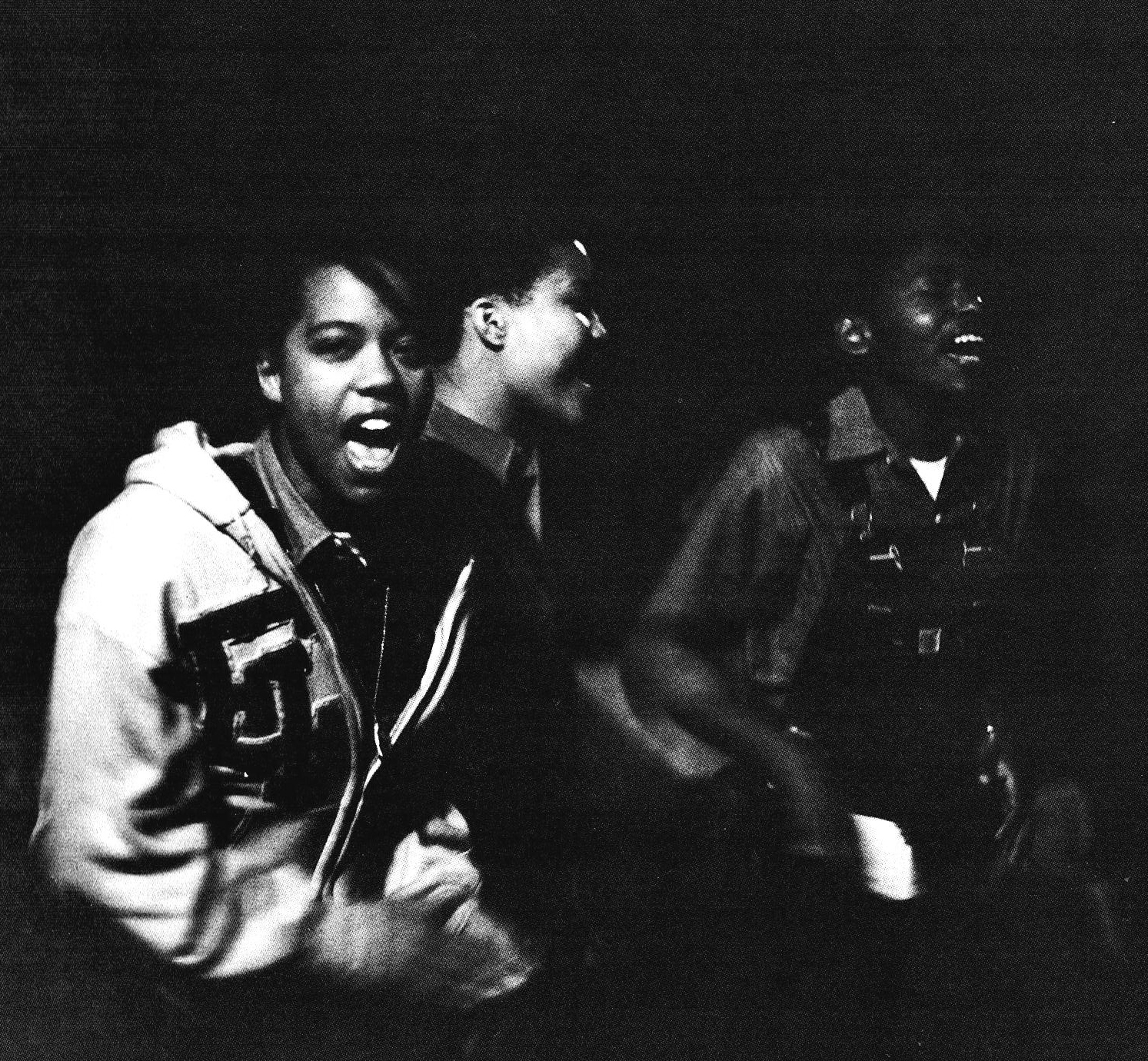 SNCC organizers Donna Richards, Euvester Simpson & Gwen Gillion
Greenwood MS. 1963.
Mass meeting, Savannah GA. 1963.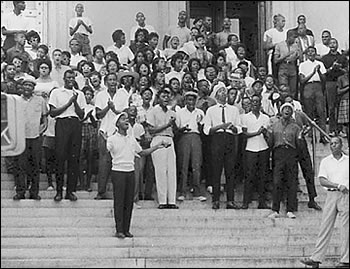 Protesters singing on the Danville VA City Hall steps. 1963.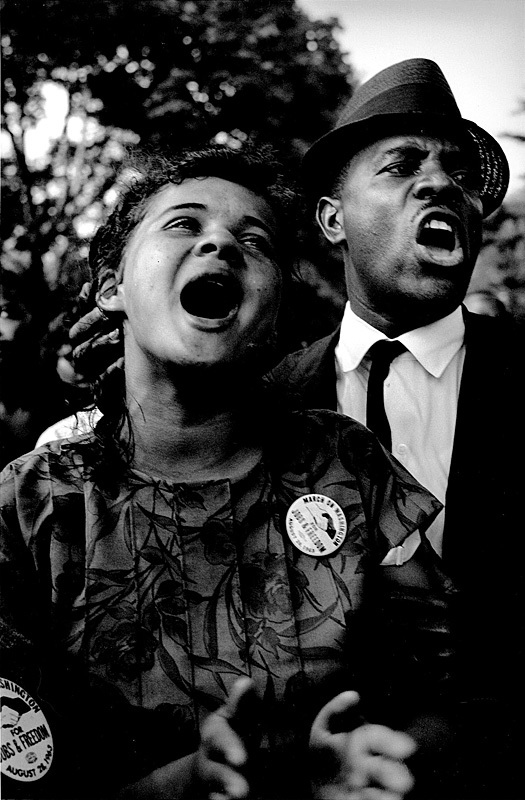 March on Washington, 1963.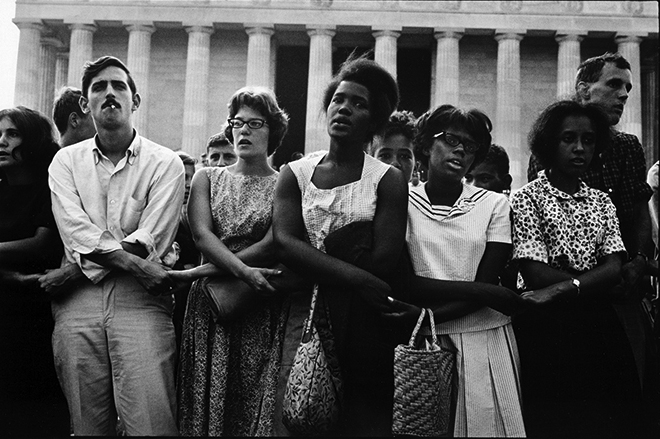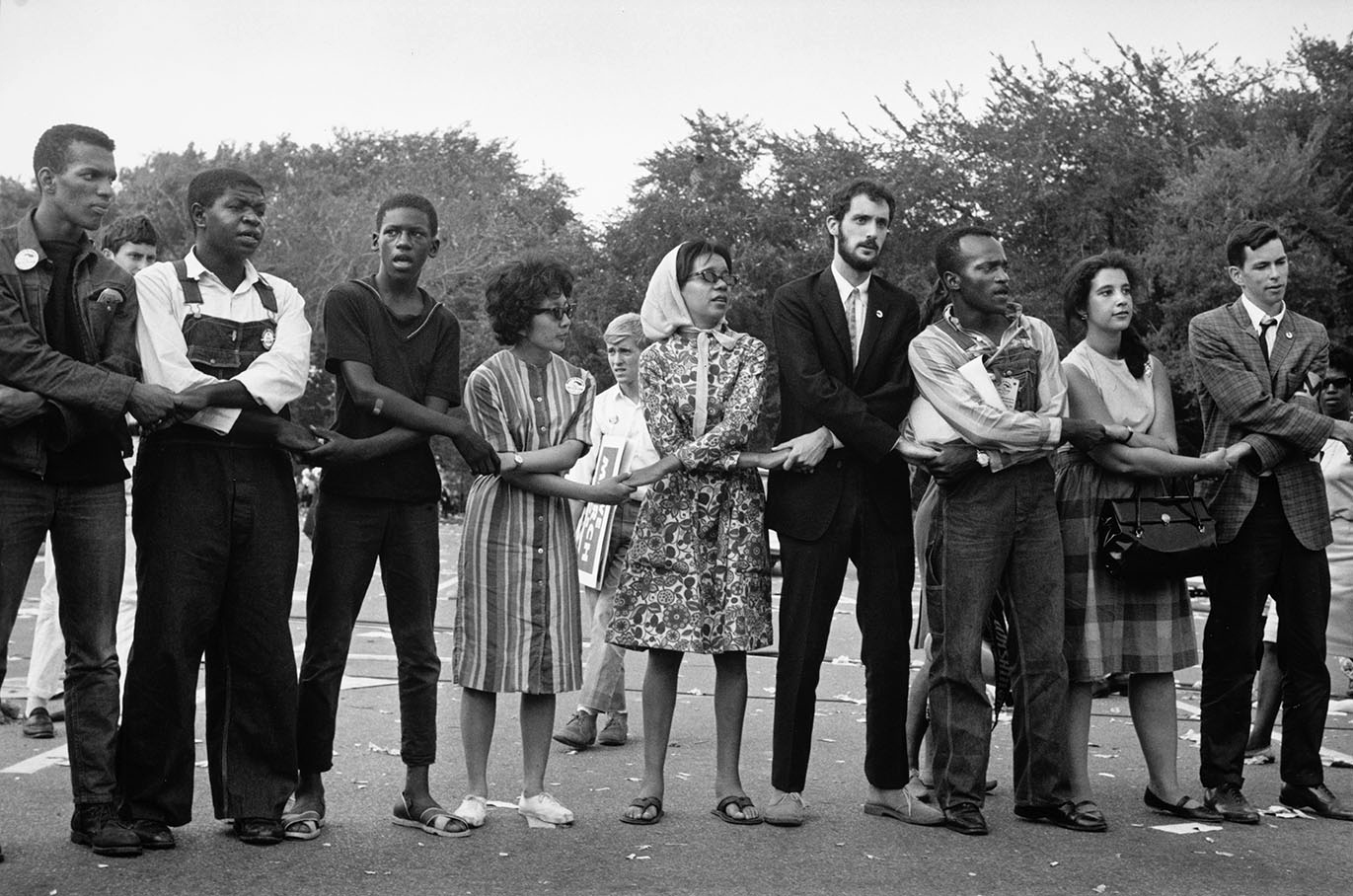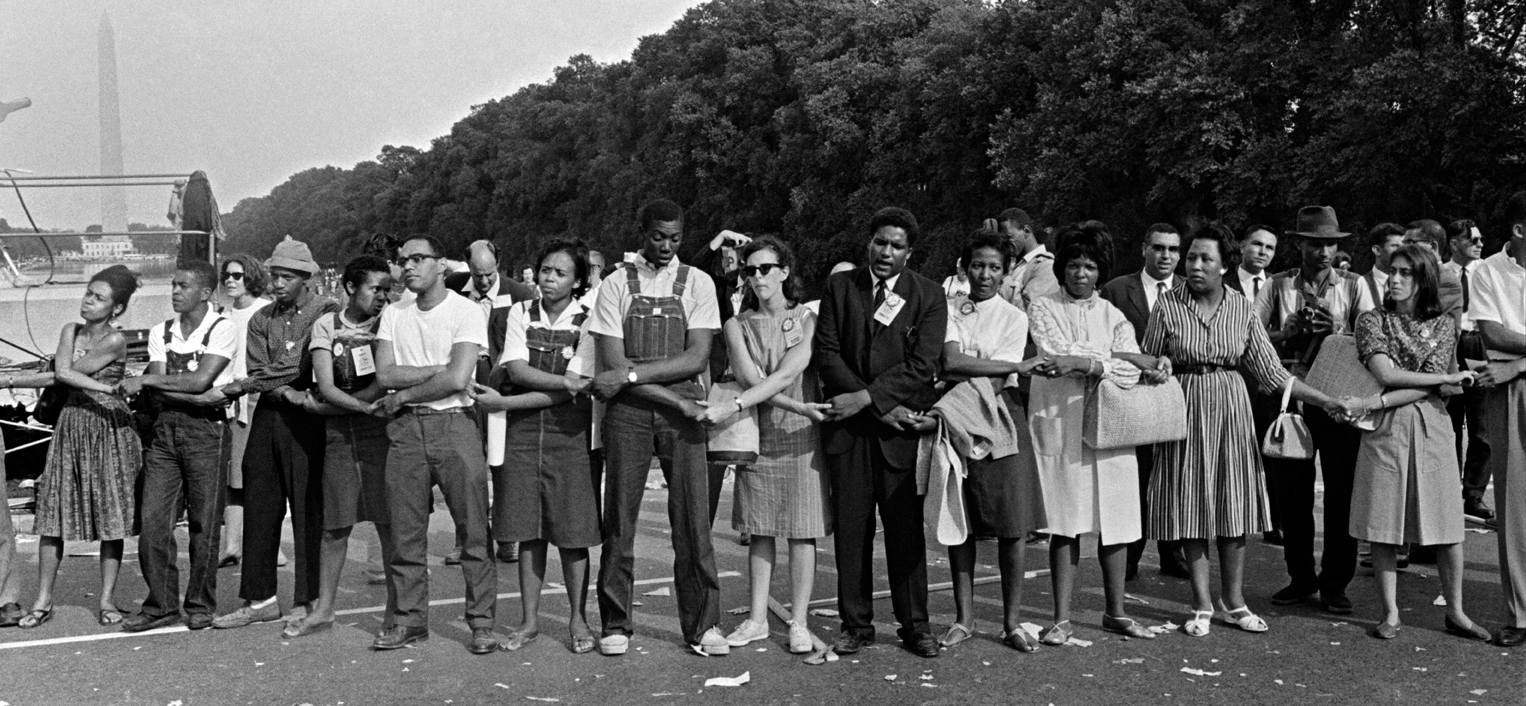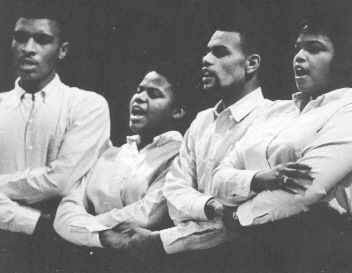 SNCC Freedom Singers from Albany GA in performance.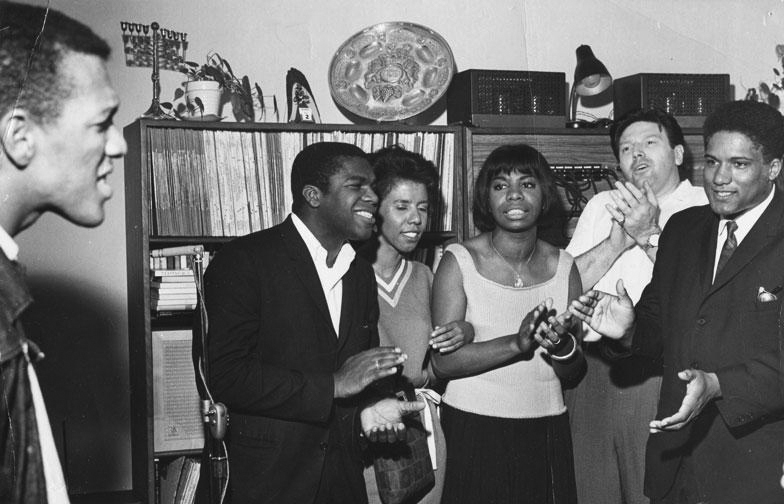 Ivanhoe Donaldson (SNCC), Chuck McDew (SNCC), Loraine Hansberry, Nina Simone, Theodore Bikel, James Forman (SNCC) in Bickel's New York home. Date unknown.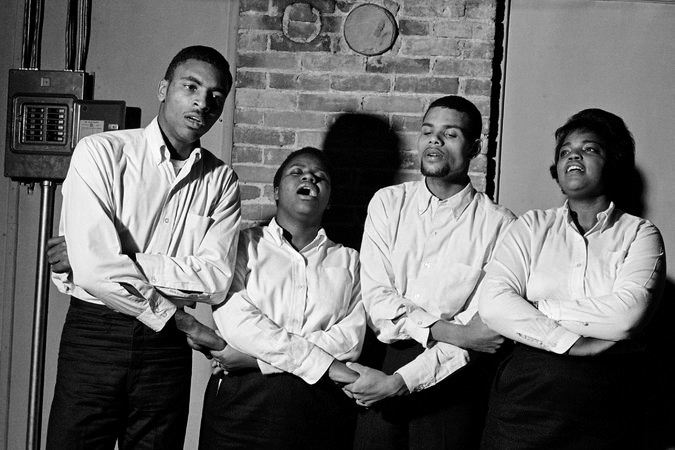 SNCC Freedom Singers, Charles Neblett, Bernice. Reagon, Cordell Reagon, and Rutha Harris.

Teenagers lead freedom singing in Tabernacle Baptist Church, Selma AL. 1963.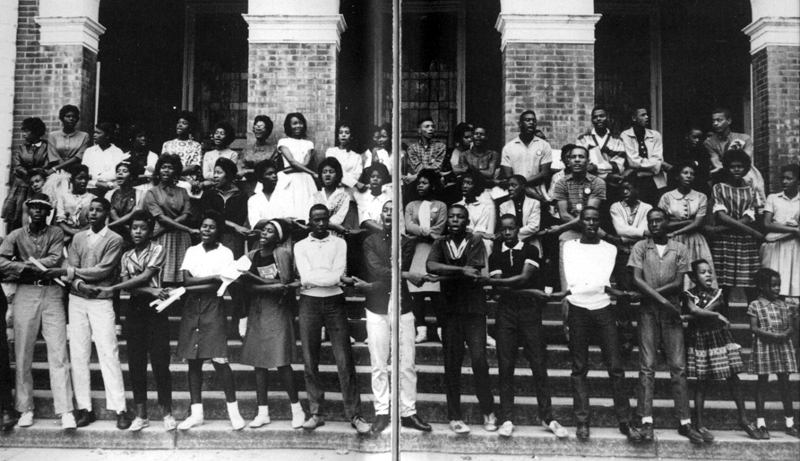 Selma students sing freedom songs on the steps of Brown Chapel in defiance of the cops. 1963.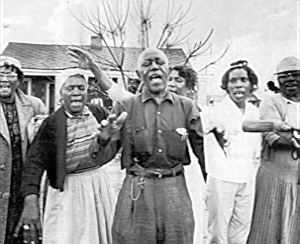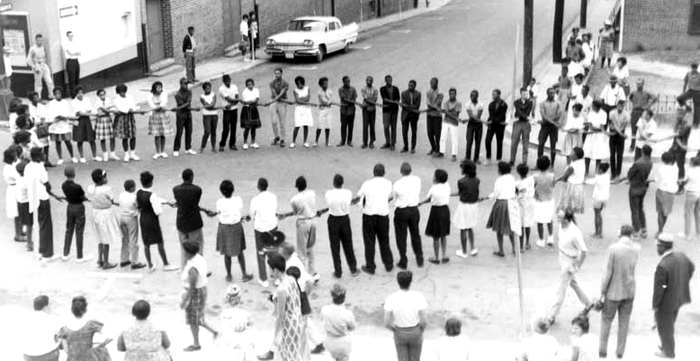 Protesting segregation in the streets of Farmville, VA. 1963.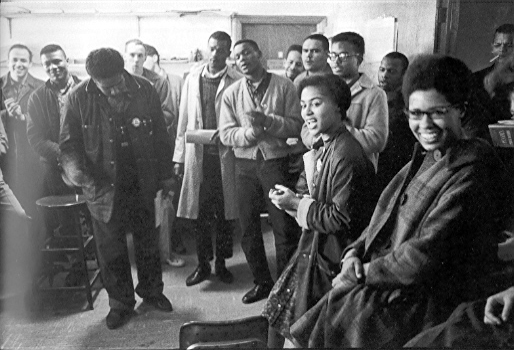 SNCC staff in the Raymond Street office, Atlanta 1963 or 1964. (From left) Mike Sayer, McArthur Cotton, James Forman, Marion Barry, Lester MacKinney, Mike Thelwell, Lawrence Guyot, Judy Richardson, John Lewis, Jean Wheeler, and Julian Bond.
Willy James Earl ("Freedom"), leading a meeting in song, Greenwood MS.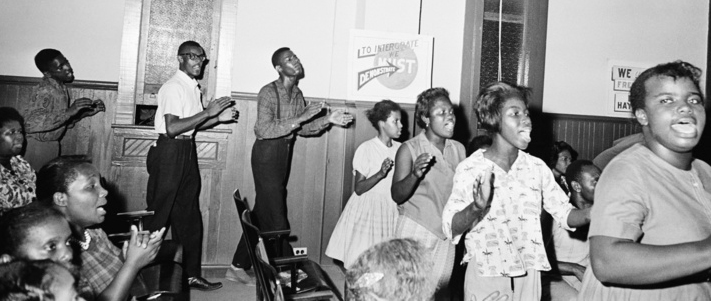 Protesters return to church after defying a Klan mob.
St. Augustine FL, 1963 or 1964.
Still singing their freedom songs, arrested protesters come out of paddy-wagon on way to the makeshift, outdoor "chicken-coop" prison. St.Augustine, FL. 1963 or 1964.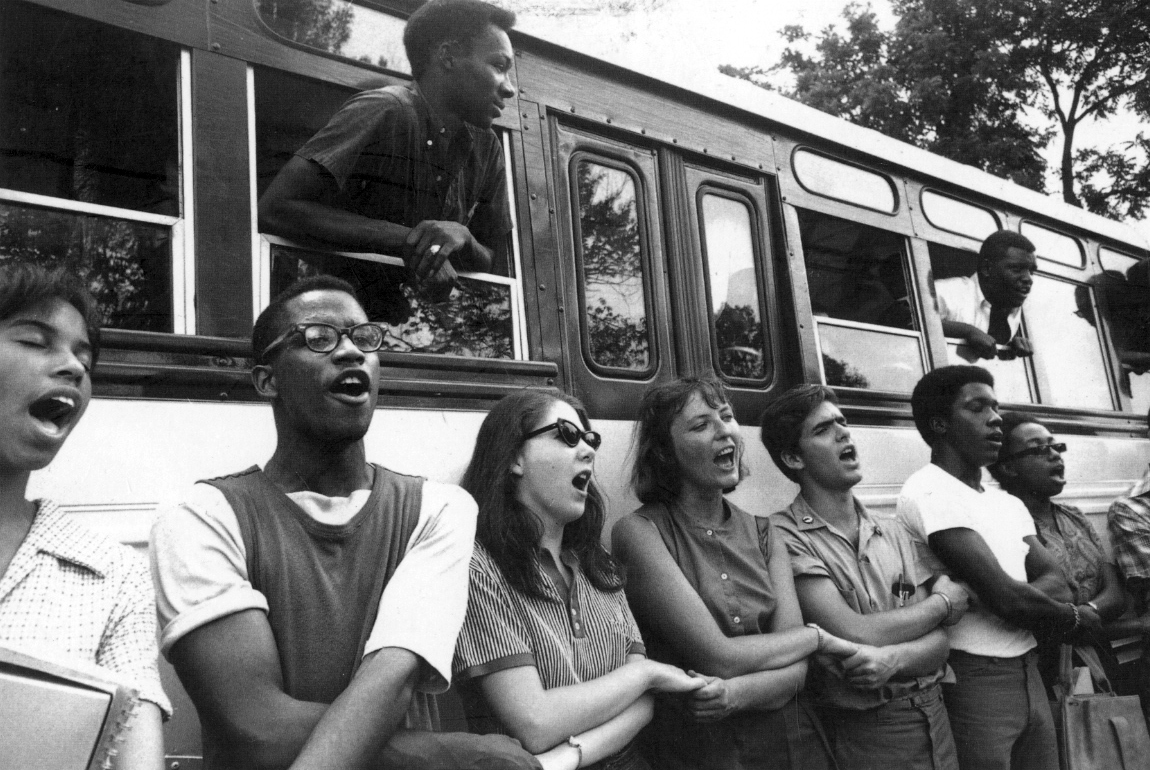 Freedom Summer volunteers boarding the bus to Mississippi, 1964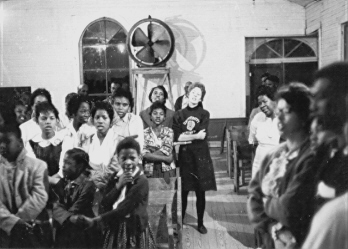 "We Shall Overcome" at the end of a mass meeting in rural Benton County, MS, 1964.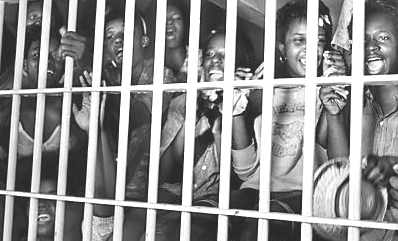 Under arrest for the crime of defying segregation in Tuscaloosa AL, 1964.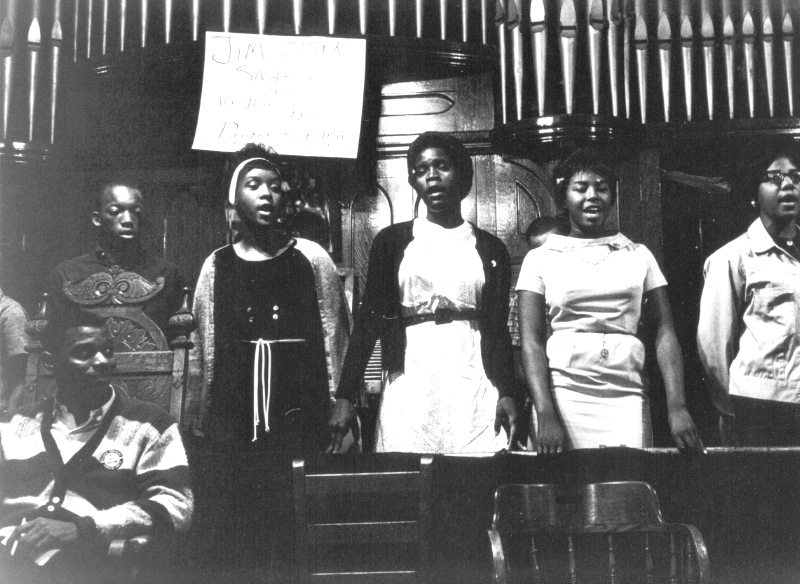 High school students leading freedom songs at a mass meeting in Brown Chapel.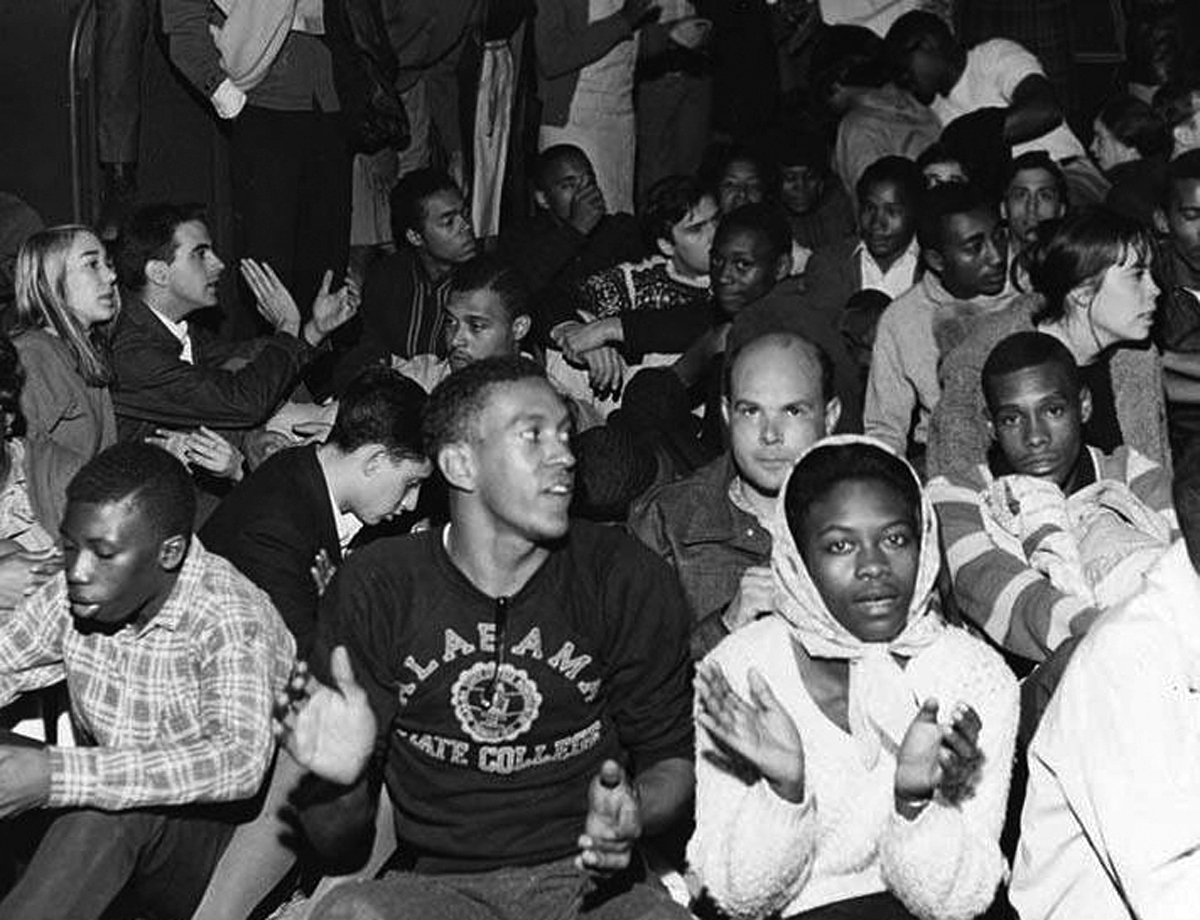 Voting rights protesters, Mongtomery AL
March 1965.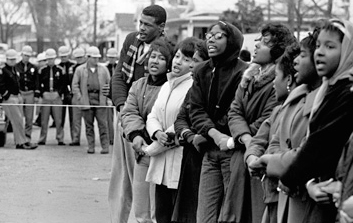 We're gonna stand here 'till it falls,
Till it falls,
Till it falls,
We're gonna stand here 'till it falls
In Selma, Alabama!
1965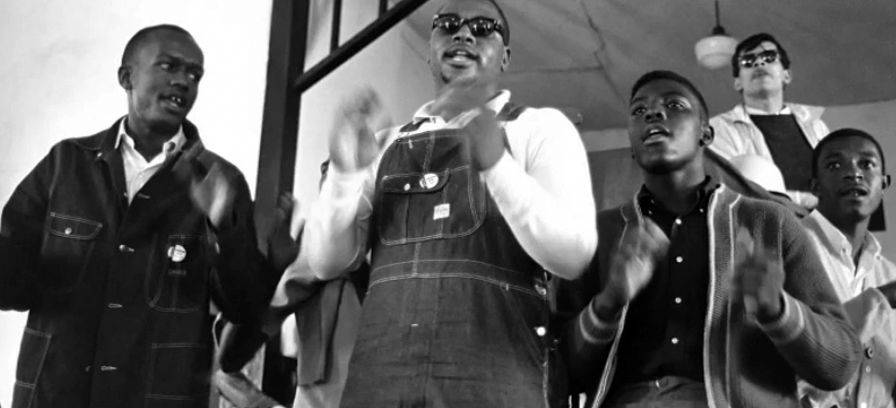 Song leaders, Montgomery AL mass meeting, 1965
Montgomery AL, 1965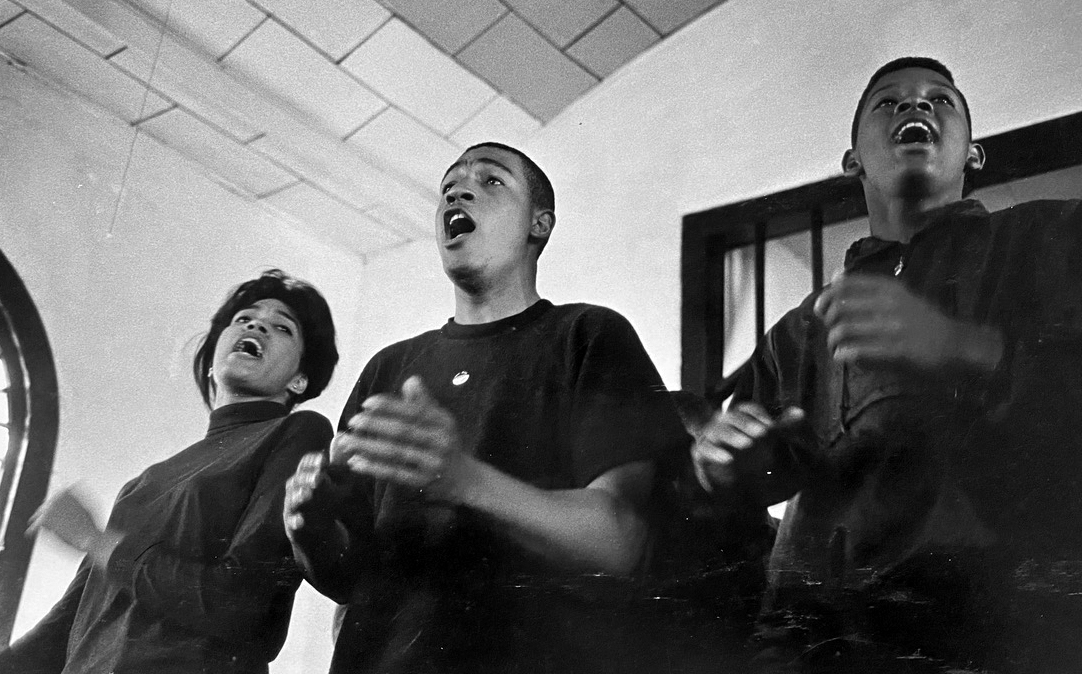 SNCC & SCLC staff and community leaders gathering their courage for the march over the Edmund Pettus bridge on "Bloody Sunday." Selma, Alabama. 1965.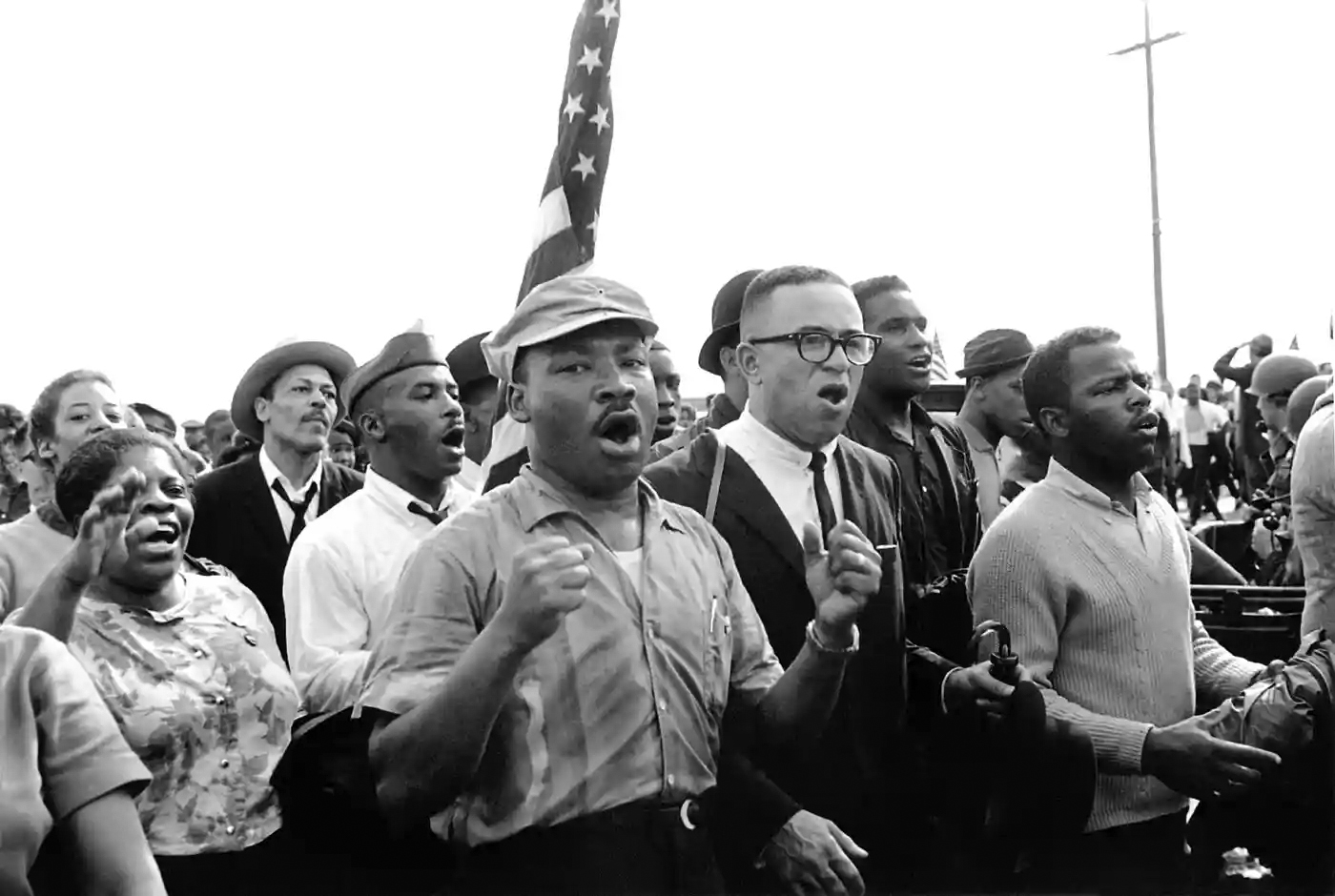 Martin Luther King (center), John Lewis (right). 1965
SCLC Freedom House, Selma AL.
From left: unidentified, SCLC Alabama Director
Albert Turner, Bruce Hartford,
Rev. Richard Boone,
Chuck Fager, 1965.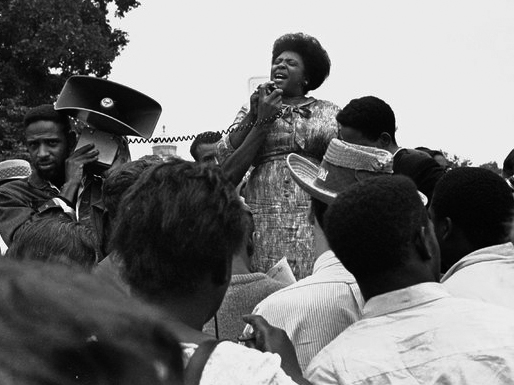 Mrs. Hamer addressing a support rally for the MFDP Congressional Challenge in Washington DC, September 1965.

Solidarity circle in front of school board.
Madison Co. FL, 1965.
SCLC "Freedom Singers," Bill Harris, Joe Green, and Emory Harris, August 1966. (Not shown, Alphonso ("The Bear") Harris.)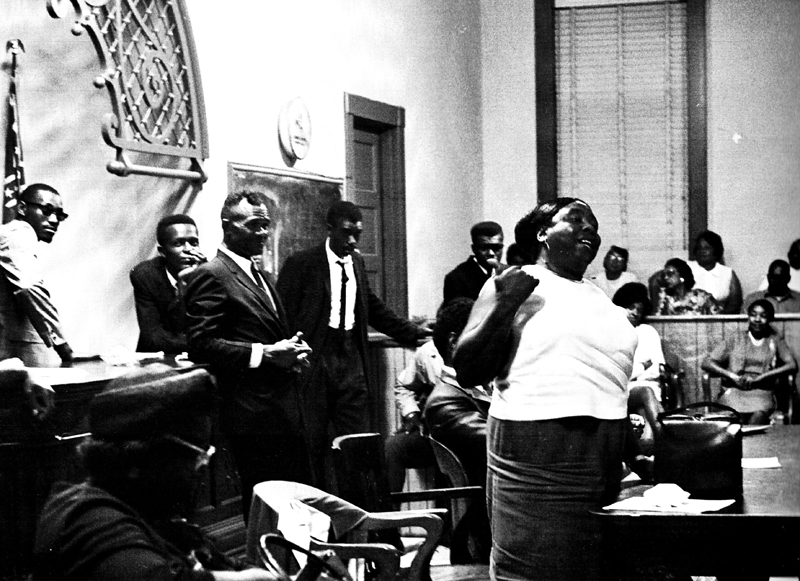 Mrs. Hamer leads singing at 1969 MFDP rally in Holmes County courthouse.
The first time since Reconstruction that Blacks are allowed to use it for a political meeting.
Copyrights © to these photographs belong to the photographers. Commercial use of these pictures is prohibited without the express written permission of the photographer. To identify the photographer (if known), simply let your cursor hover over the image to display the photographer's name, or view the image metadata.