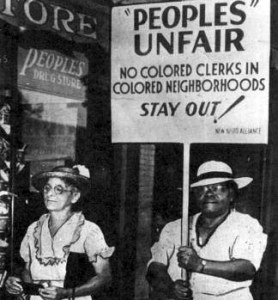 Mary McLeod Bethune NCNW
picketing Peoples drugstore, 1940s.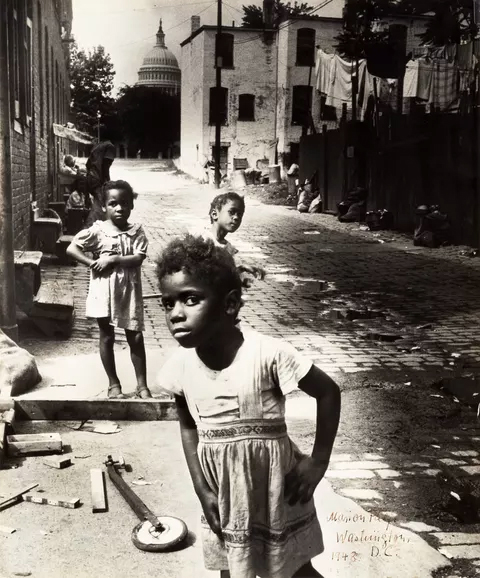 In the Shadow of the Capitol
Paul Robeson and Civil Rights Congress supporters present the "We Charge Genocide" petition to the United Nations, December 17, 1951.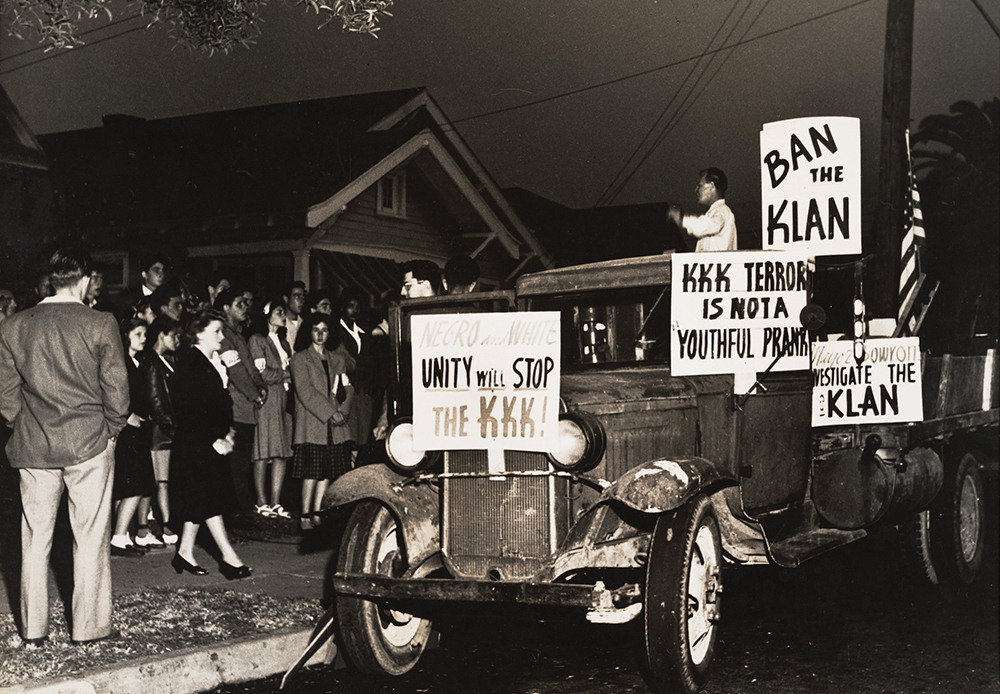 Ban the Klan!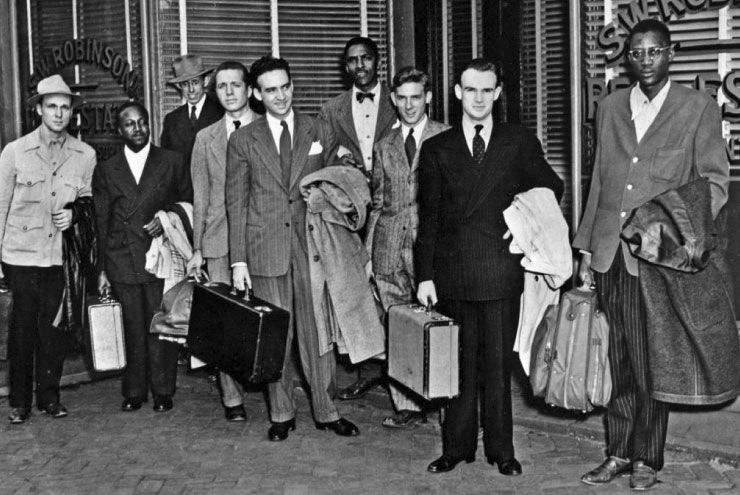 Starting out on the Journey of Reconciliation, April 1947
L-R: Worth Randle, Wallace Nelson, Ernest Bromley, James Peck, Igal Roodenko,
Bayard Rustin, Joseph Felmet, George Houser, and Andrew Johnson.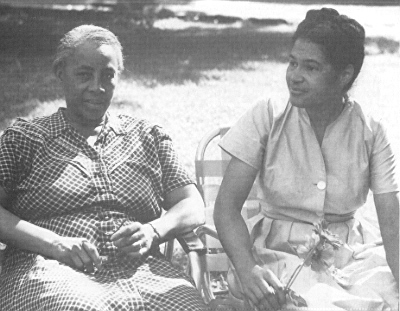 Septima Clark and Rosa Parks at Highlander Folk School just before the Montgomery Bus Boycott, 1955.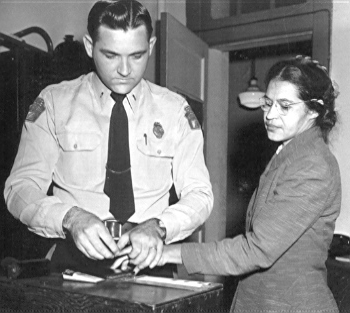 Rosa Parks, arrested for refusing to give up her seat on a Montgomery bus, December, 1955.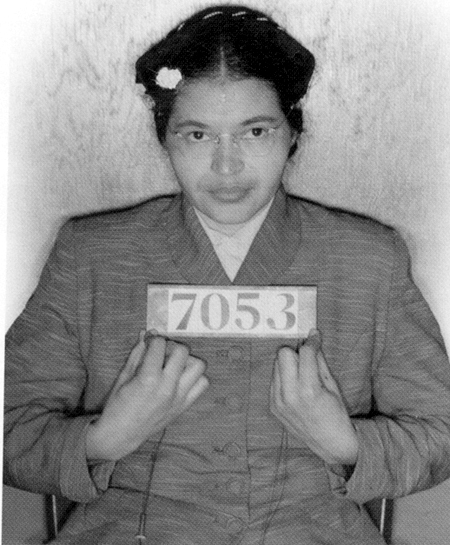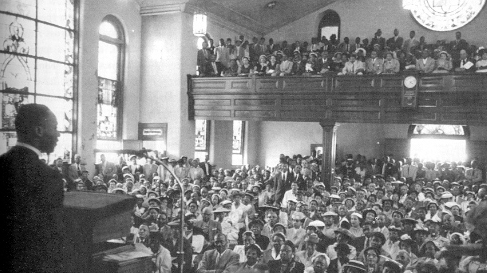 Mass meeting at Holt Street Baptist Church calls for a bus boycott, December, 1955.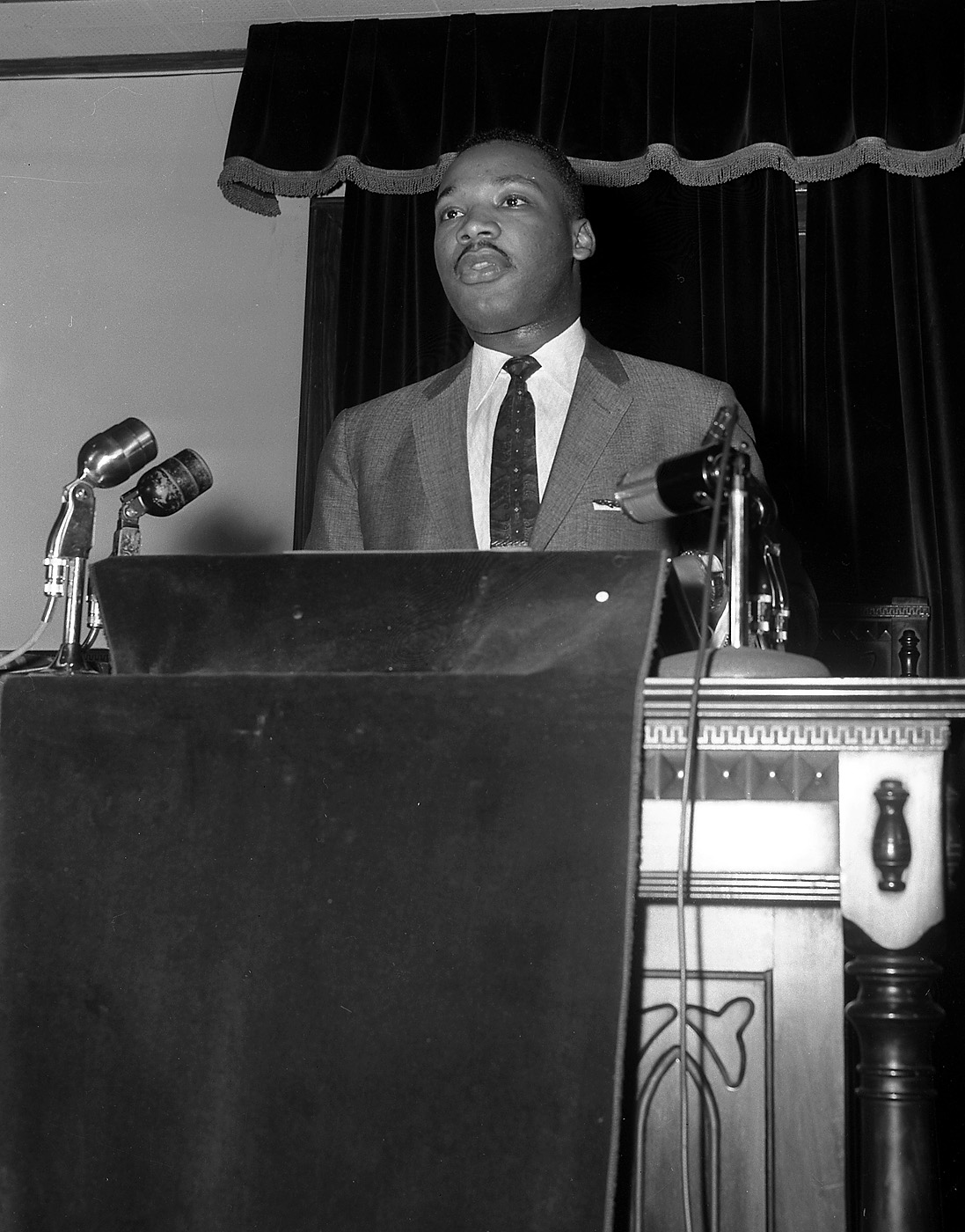 Marin Luther King Addressing the Holt Mass Meeting
(His first civil rights speech.)
Walking for freedom.
Waiting for rides at a carpool pickup point.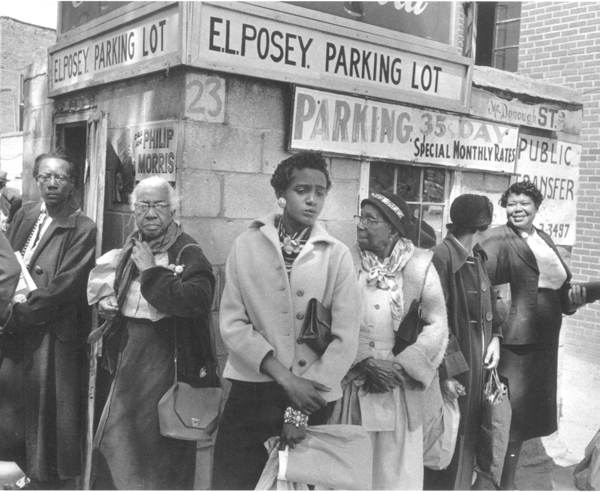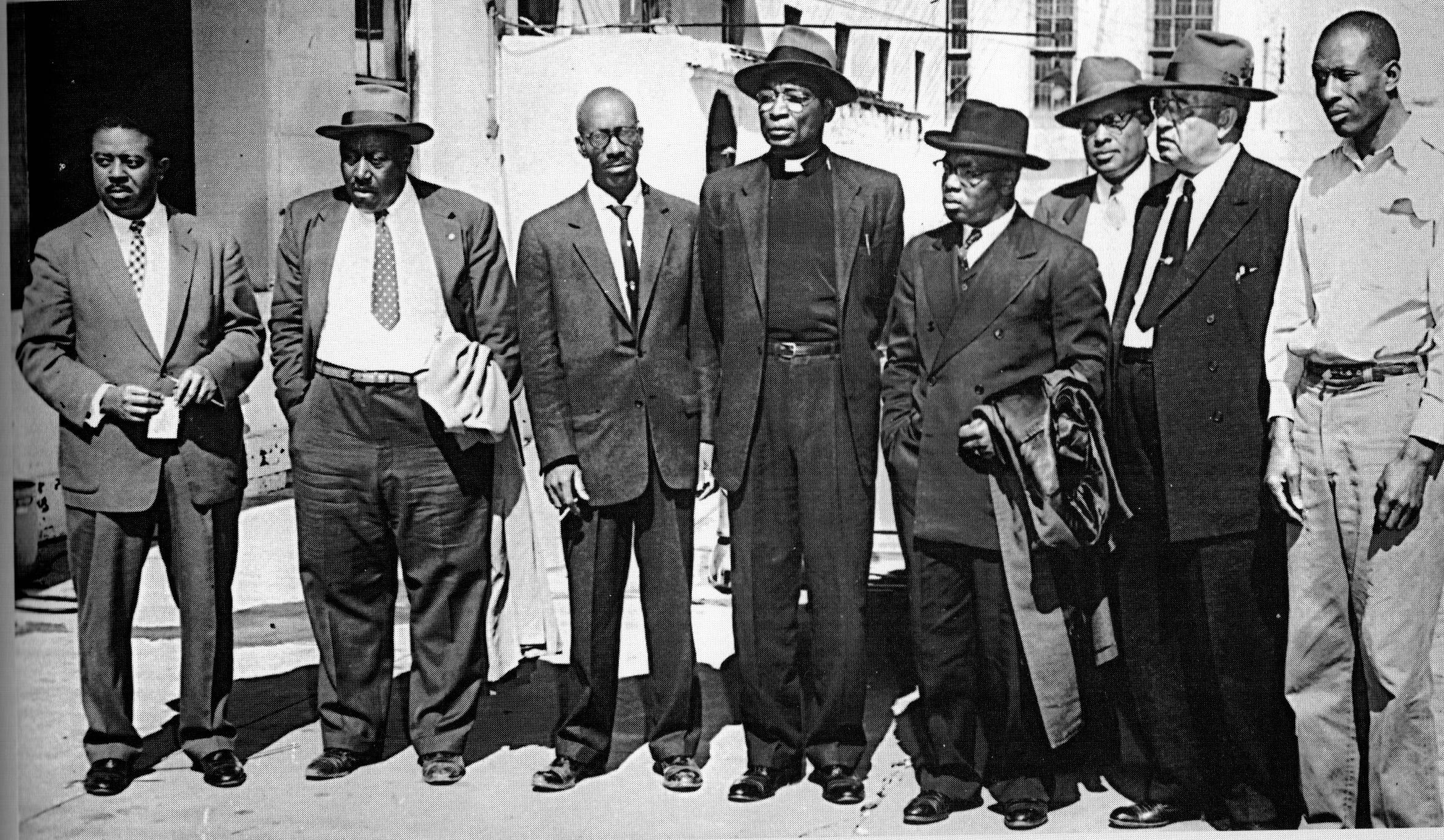 Ministers & leaders arrested for boycotting (l-r):
Rev. Ralph Abernathy, 1st Baptist; Rev. Garer; Rufus Lewis, Citizens Committee; Rev. Leroy Bennett, Interdenominational Council; Rev. W.F. Alford, Beulah Baptist; Rev. J.H. Cherry, Jericho AME; Rev. H.H. Herbert, Bethel Baptist; Unidentified.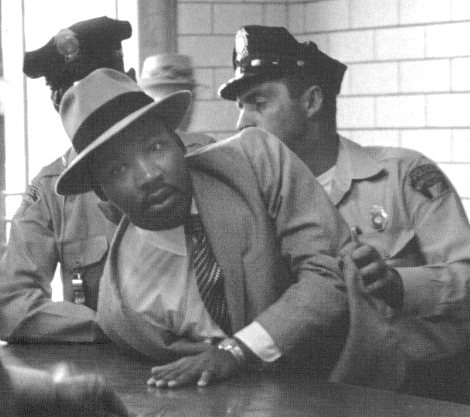 Dr. King arrested for boycotting the busses, Montgomery, 1956.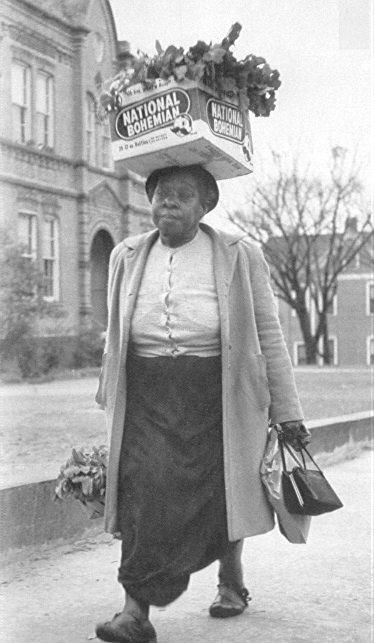 My feet is tired, but my soul is rested.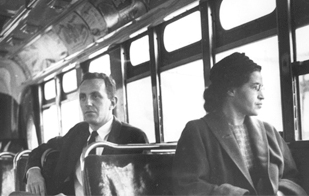 Rosa Parks sitting at the front of desegregated bus, Montgomery, 1956. (John Seigenthaler seated behind her.)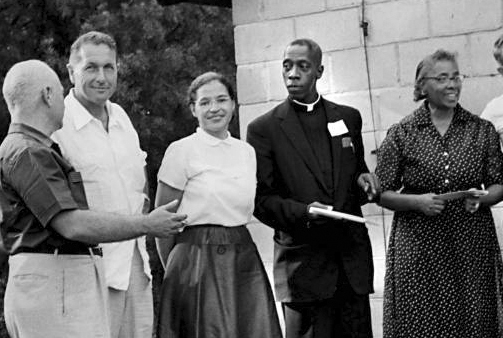 Reunion at Highlander after the boycott. From left: Ralph Helstein, Myles Horton, Rosa Parks, unidentified, Septima Clark.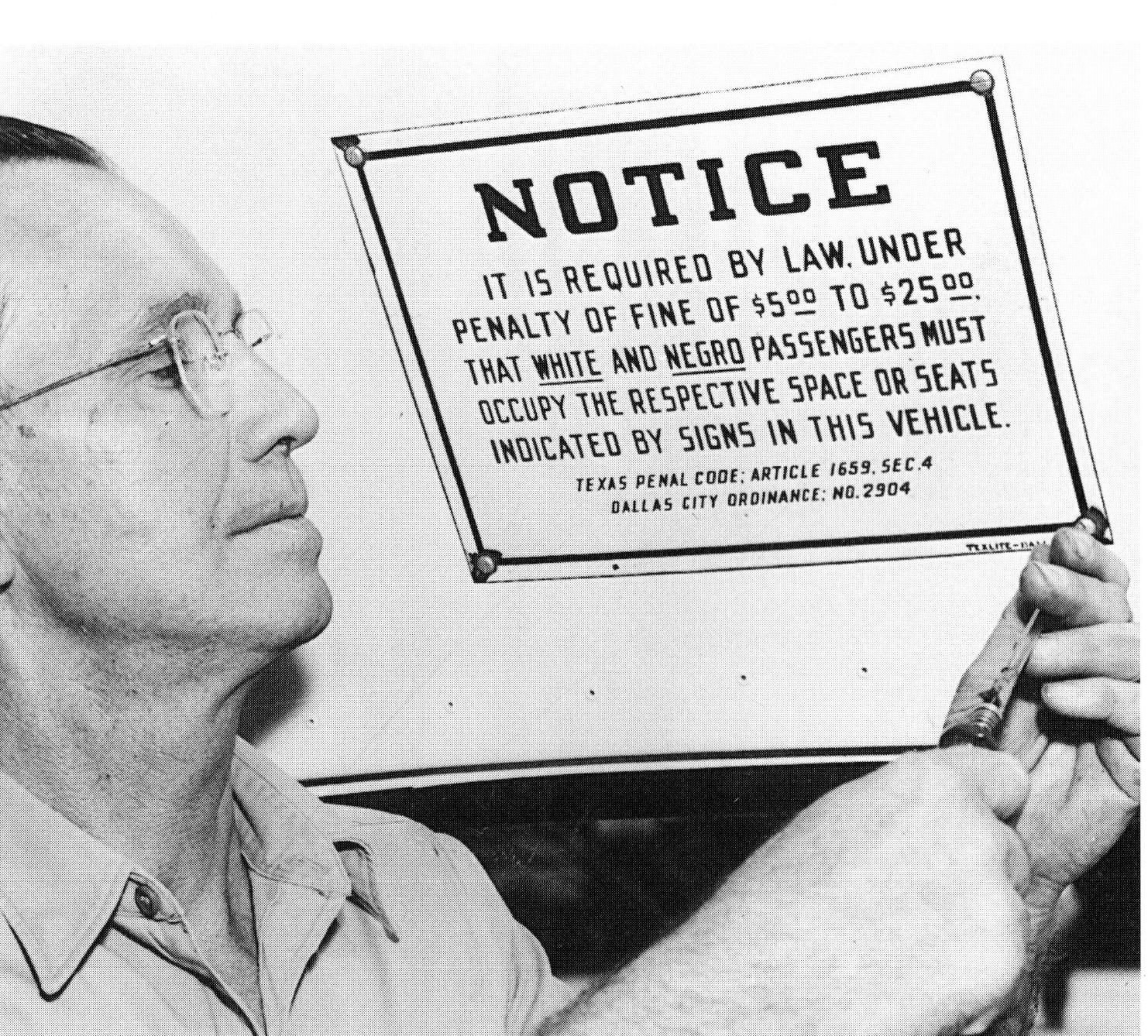 Removing bus segregation notices after Supreme Court victory, 1956.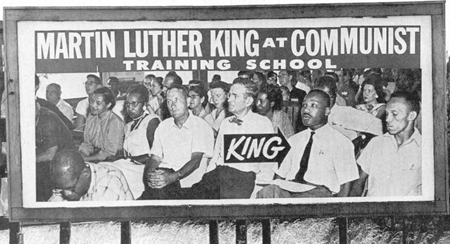 Billboards showing Dr. King and Rosa Parks attending an integrated event at the Highlander Folk School in 1957 are erected across the South. To the white power structure, integration is a "Communist plot" against the "Southern way of life." Therefore, anyone attending an integrated event is — by definition — a "Communist."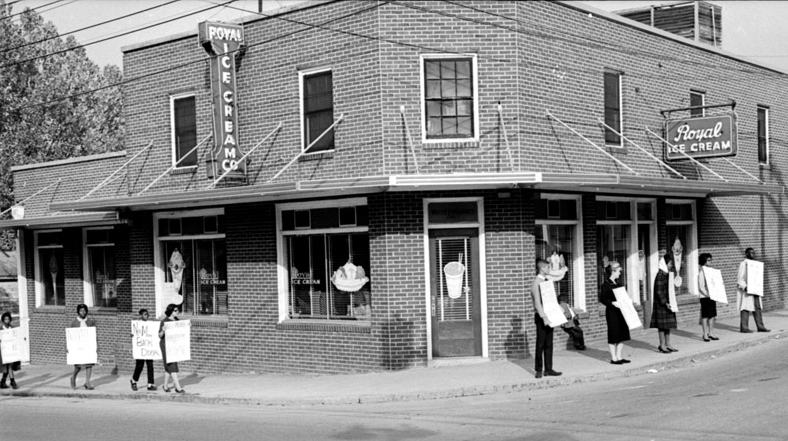 Picketing the Royal Ice Cream parlor, Durham, NC. 1957. See Royal Ice Cream Sit-in for background.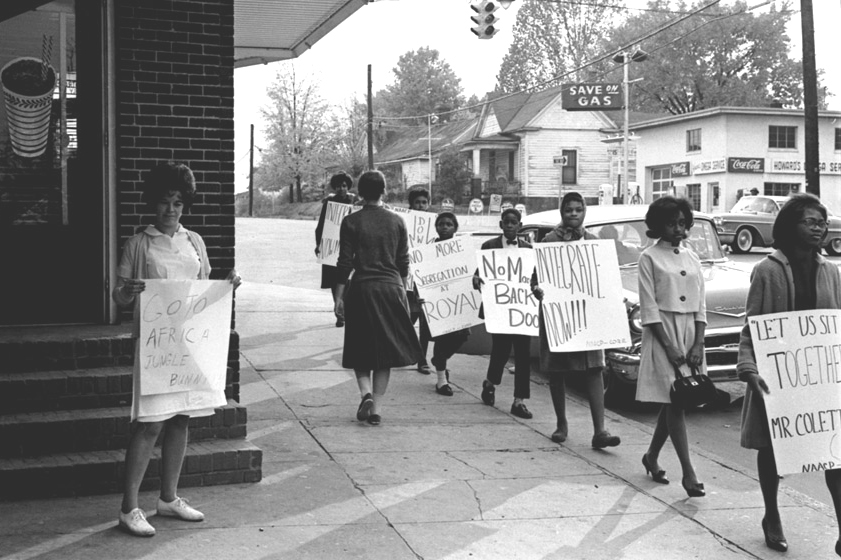 A lone counter-picket tries to stem the freedom tide.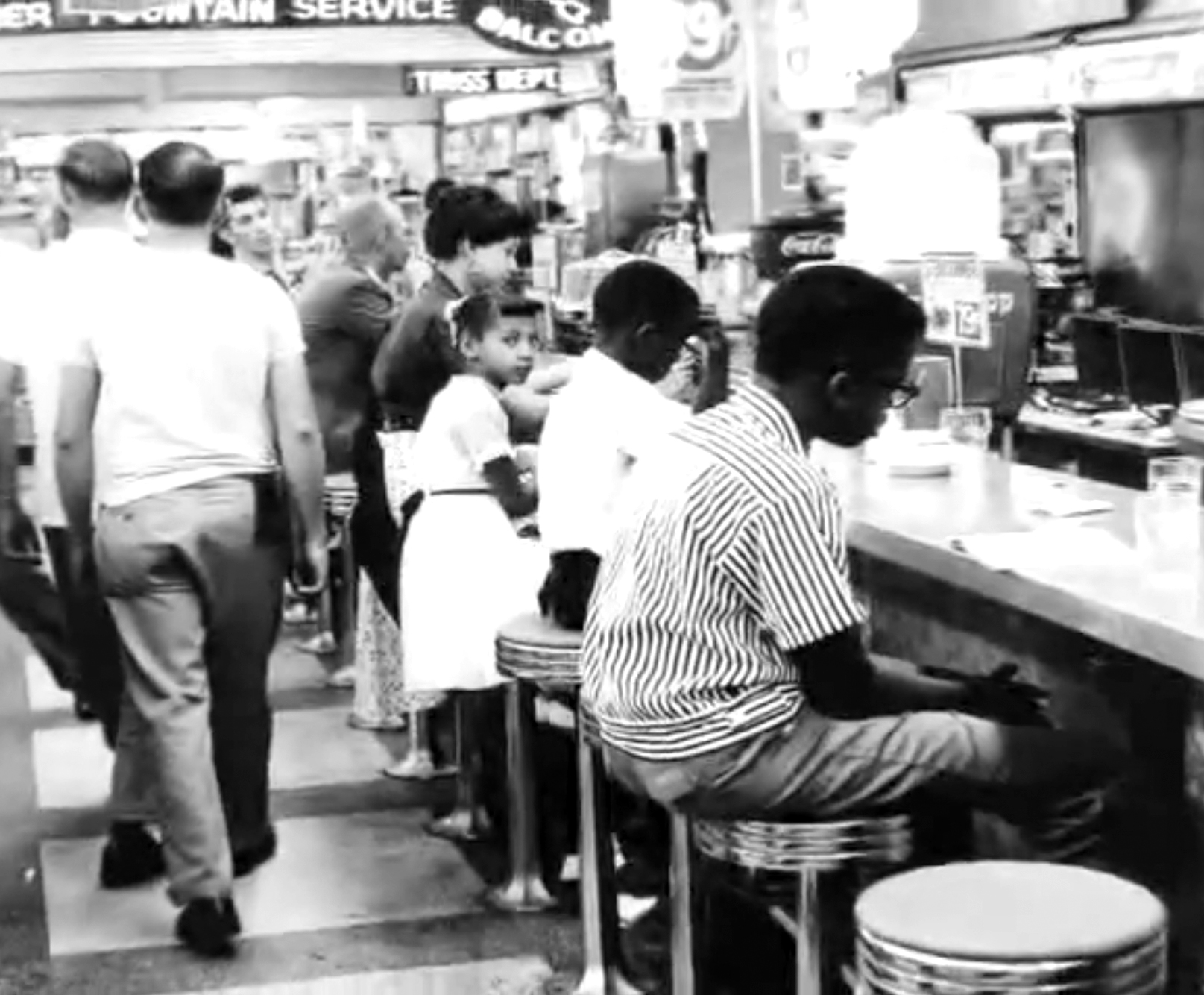 First Oklahomna sit-in, at Katz Drugstore, 1958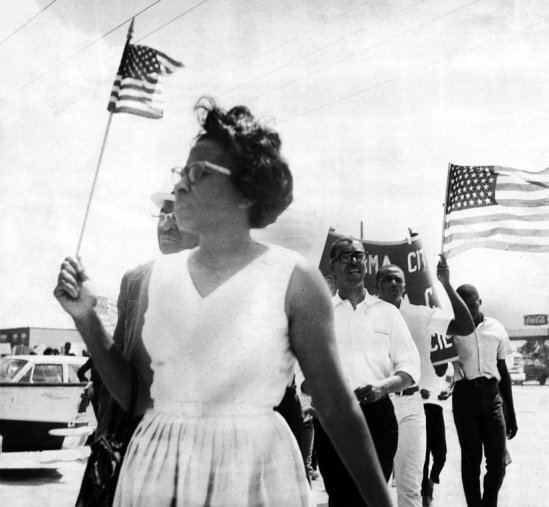 Clara Luper, Oklahoma NAACP and sit-in leader.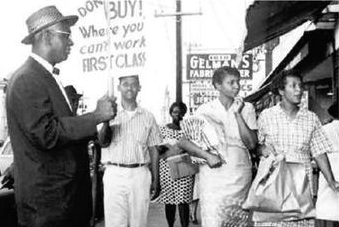 Boycotting white-owned stores on Dryades Street, New Orleans. 1959
Fayette County Tennessee, tent city for Black farmers thrown off their land for trying to register to vote (1959-1963).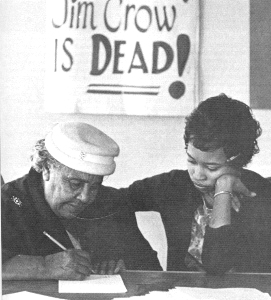 Teaching, training, educating, organizing, — the hard work behind the headlines.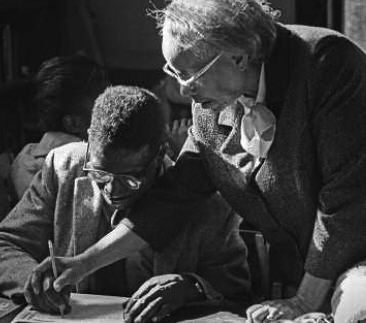 Citzenship program founder Septima Clark teaches a man how to write his name, Camden Alabama, 1966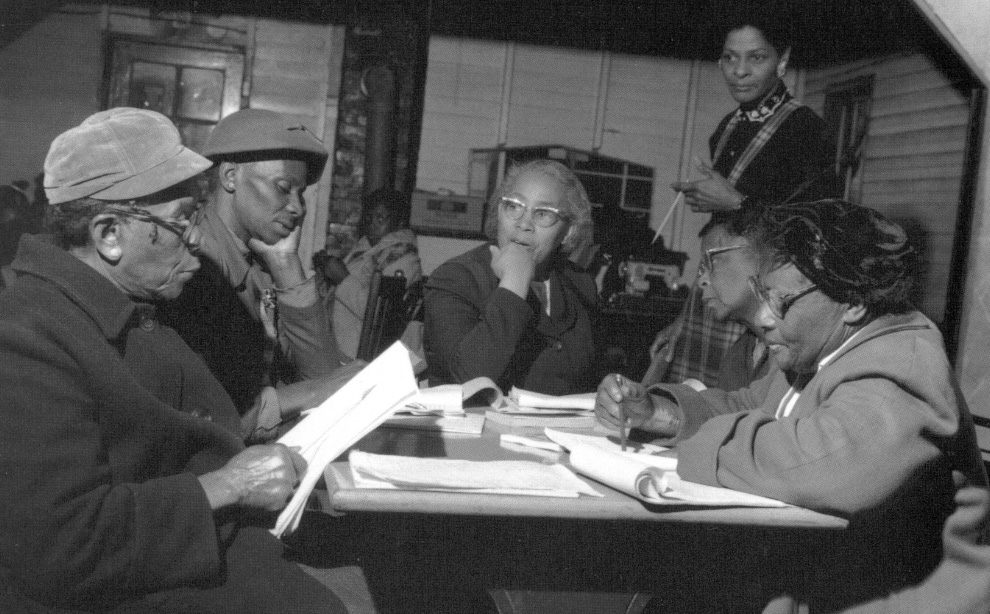 Septima Clark teaching reading, writing, voter registration, and social revolution at a Citizenship School in the South Carolina Sea Islands (date of photo unknown). Standing in the background is Citizenship School teacher and dedicated organizer Bernice Robinson.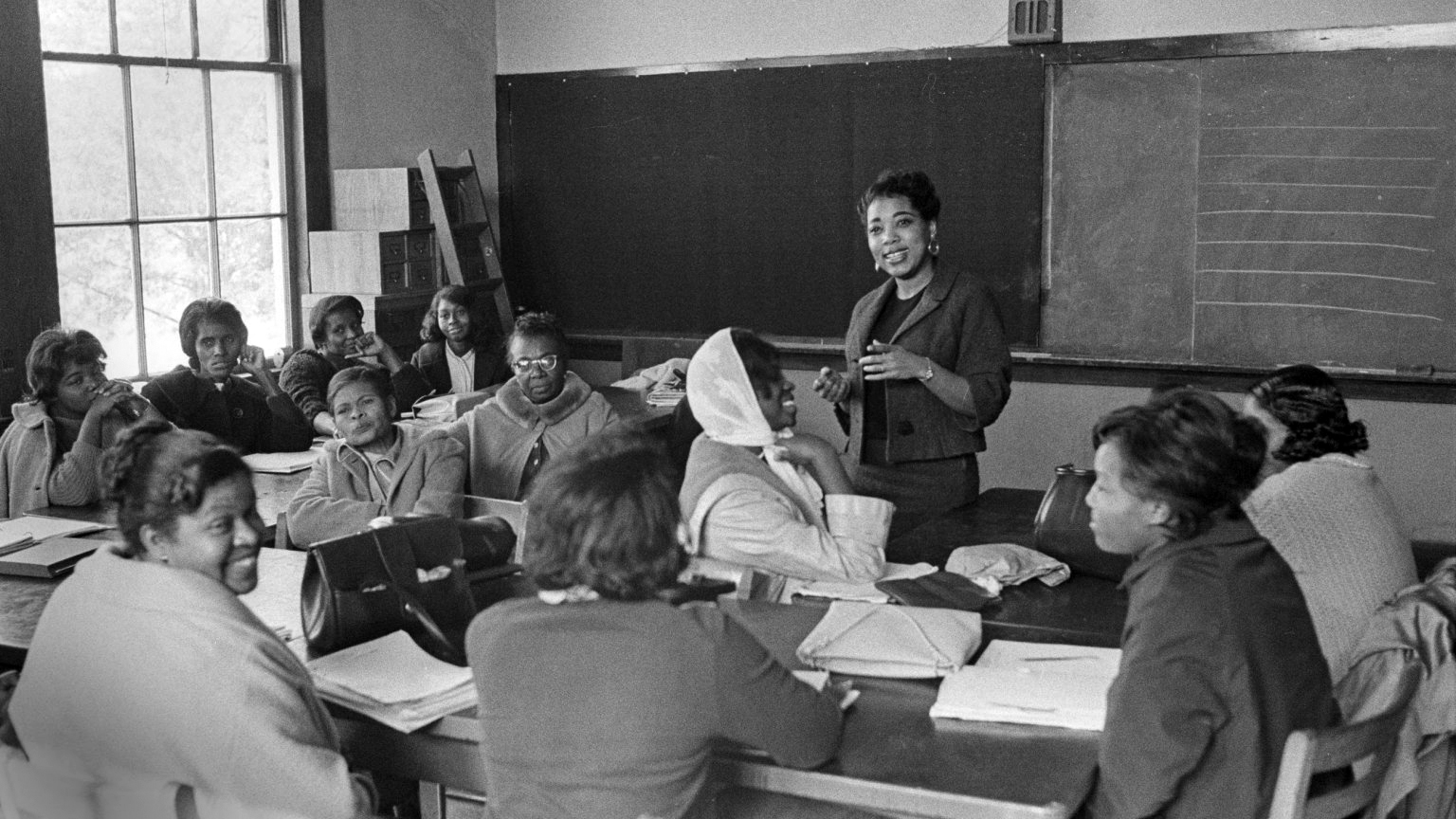 SCLC Education Director, Dorothy Cotton teaching women in Camden AL, 1966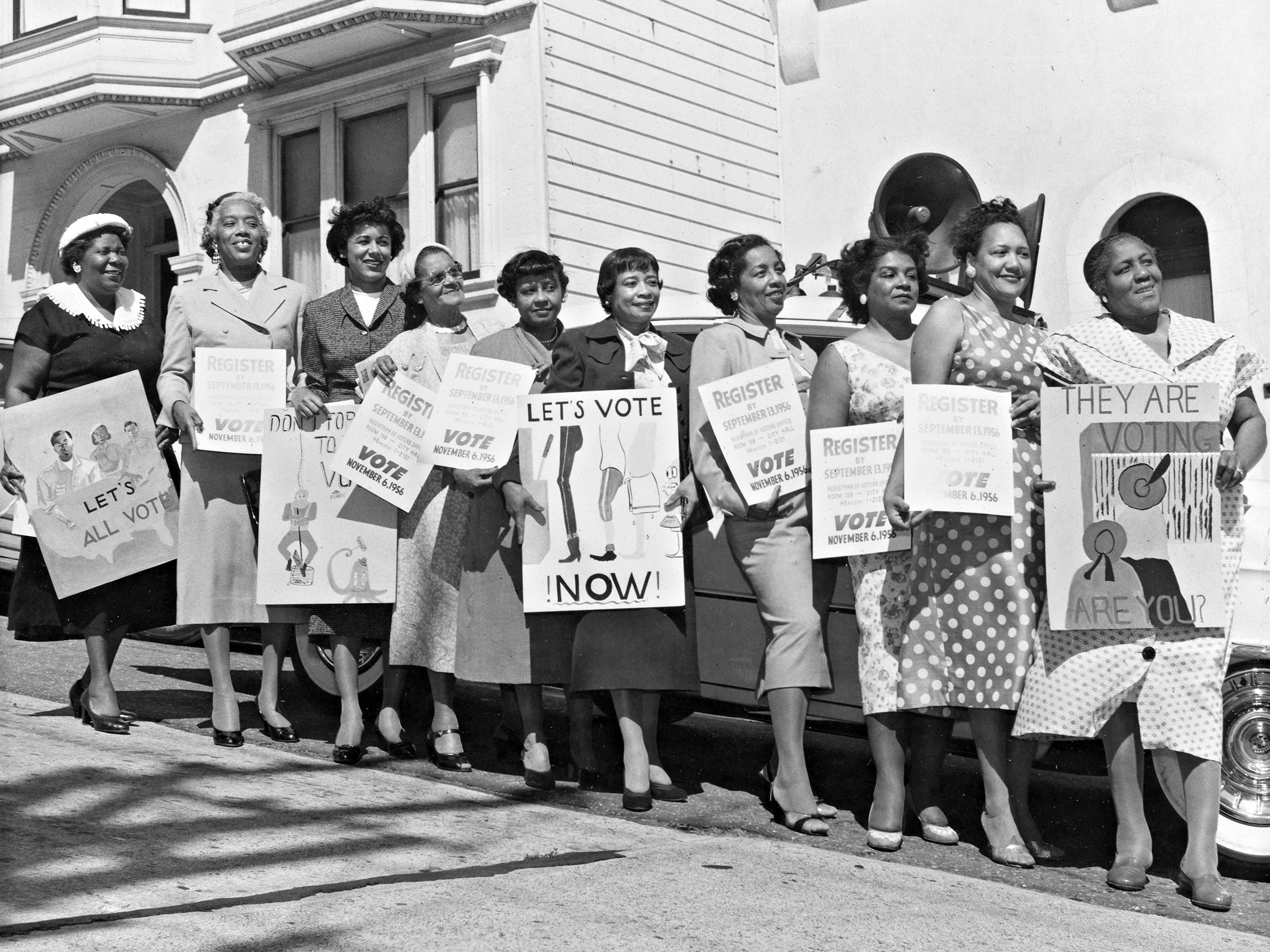 National Council of Negro Women (NCNW)
San Francisco chapter (1950s?)
Copyrights © to these photographs belong to the photographers. Commercial use of these pictures is prohibited without the express written permission of the photographer. To identify the photographer (if known), simply let your cursor hover over the image to display the photographer's name, or view the image metadata.