Building and Transferring Informational Wealth:
The SNCC Digital Gateway
— May 2018
Authors:
Courtland Cox (SNCC Legacy Project - SLP)
Karlyn Forner (project manager)
John Gartrell (Duke University Libraries - DUL)
Wesley Hogan (Duke Center for Documentary Studies - CDS)
Jennifer Lawson (SLP)
Naomi Nelson (DUL)
People's understanding of what's important in history is driven more by what is left out than by biased history writing. This is true not only for consumers of history, but also for historians. We only write about what we can find evidence of — what we can find through archives, oral histories, and big data.
Sometimes this means a massive loss of information. The Student Nonviolent Coordinating Committee, or SNCC ("Snick"), dismantled large parts of legalized segregation in just eight years, between 1960-68. They were young activists — most Black, some not — who took action in the very places in which segregation was most deeply rooted — Mississippi, Alabama, Arkansas, Tennessee, and Georgia. Despite ferocious violence from white supremacists — beatings, whippings, burnings, rapes, tortures, killings — they themselves acted nonviolently. Routinely, observers were stunned. Then impressed. And, often, won over. Here were young people who defied all odds, who attempted the seemingly impossible. They not only questioned terrible, yet deeply ingrained, assumptions. They went out to challenge them.
Between 1960-1968, SNCC was the only national, southern-based civil rights organization begun and led primarily by young people, with most younger than twenty-five years old. Its full-time student workers, "field secretaries," worked with local Black activists, sharecroppers, teachers, ministers and day laborers to generate new community organizations and to create a radically inclusive democracy that valued all of its citizens. As SNCC activist and SLP member, Charles Cobb, explained:
At a deeper level than the immediate political concern with voter registration, SNCC's work was also about cultivating new local leadership and reinforcing existing local leadership. SNCC field secretaries did not see themselves as community leaders but as community organizers, a distinction that empowered local participants by reinforcing the idea at the heart of SNCC's work in every project that "local people" could and should take control of their own lives.
And yet, fifty years later, at a reunion in 2010, SNCC veterans realized that very few of the nation's school children, or citizens, knew anything about their work. It was as if the entire team that made possible the first successful moon landing, Apollo 11, was simply dismissed after the mission landing. As if nobody from NASA debriefed them. Nobody asked what they had learned. Nobody asked their advice for future space trips. Imagine how peculiar — and dangerous to future missions — it would be if the hard-won experiential knowledge of these astronauts and their support team had been ignored.
That's where SNCC veterans found themselves in 2010. Few people knew of their work to further the nation's democratic promise. They formed a nonprofit organization, the SNCC Legacy Project (SLP) to preserve and share this history.
By 2013, SLP joined together with Duke University's Center for Documentary Studies (CDS), and Duke University Libraries (DUL). The aim of the partnership: to build an archive chronicling SNCC's historic struggles for voting rights and to develop ongoing programs that contributed to a more civil and inclusive democracy in the 21st century.
The partnership seeks to tell the history of SNCC from the perspective of the activists themselves and pass on the essential "how-to's" of the freedom movement to subsequent generations. In 2013 the SLP-Duke collaboration began work on its first initiative, a pilot website entitled, One Person, One Vote: The Legacy of SNCC and the Fight for Voting Rights (OPOV). The "documentary website" used documents, photographs, and audiovisual material held at archives across the country to portray SNCC's fight for voting rights in anticipation of the 50th anniversary of the Voting Rights Act in 2015.
The website was the first and primary focus of what partners from SLP and CDS originally envisioned as a four-part collaborative project. The components include:
A SNCC Digital Gateway (documentary website) about SNCC's history authored by SNCC veterans

A conference connecting SNCC veterans and young(er) activists together around the theme of voting rights (September 2015)

Critical oral history sessions exploring SNCC's thinking, strategies, actions, and innovations (2016 and 2018)

A kindergarten through 12th grade (K12) project that shares the above knowledge with those who teach Movement history to the vast majority of young people (ongoing workshops since 2017)
The collaboration seeks to change the normative story of the Civil Rights Movement. The goal is to tell the story of SNCC's organizing from the bottom up and inside out, exploring how affected people organized to change history, while also making SNCC materials more widely accessible to students, teachers, activists, and citizens. While activists and historical participants appear as subjects in more traditional archival activities, they rarely get to shape and interpret the story in a way that accurately reflects their experiences and understandings. SLP and Duke sought to create a replicable model for partnerships between activists and scholars in which the former would have the primary voice in assembling archival materials and shaping the historical narrative.
The collaborative effort launched One Person, One Vote in March 2015, coinciding with the 50th anniversary of Selma's Bloody Sunday. Throughout the first two years of the project, SNCC veterans came to Duke's campus as Visiting Activist Scholars, working with students, archivists, and project staff to engage SNCC's documentary legacy and contextualize its history of organizing for Black empowerment and democracy.
In April 2015 the collaboration received a three-year grant from the Andrew W. Mellon Foundation, a private philanthropic organization, to expand the work of the pilot project into the SNCC Digital Gateway (SDG). The SDG unveils the inner workings of SNCC as an organization, examining how it coordinated sit- ins and freedom schools, voter registration and economic cooperatives, anti- draft protests and international solidarity struggles. Most importantly, the SNCC partners themselves continue to shape the vision and framework of the website. They work collaboratively with historians of the Movement, archivists, and students to weave together grassroots stories, using digitized primary source materials to create new multimedia productions that illuminated this history for new generations.
II.
Although we live in a time of unprecedented document production, an era of "democratized documentation" where everyone with access to a smart phone can create and save millions of pieces of information about their lives, it remains challenging to develop institutional practices to guide the gathering, contextualization, and distribution of archival material from people who do not habitually frequent or donate their documents to archival centers. If universities do not develop a rich and vibrant set of such practices in our archives, they will remain very good repositories for people who want to tell stories of the powerful and may remain adequate for telling stories about those on the margins of power and wealth. That is to say, scholars and students will be able to tell stories from the outside-in, using archival sources. But we will continue to deny future generations the stories from people at the margins that are told by the majority of Americans — that is, stories told from the inside out.
Why is this essential? Because without such perspectives, we have only a very limited and truncated view of our cultural and political history. And in fact, we sometimes put material in the archive that is not only single-sided, but inaccurate in itself. Oral historians have had indisputable proof of this for almost a century. In the 1930s, as black and white interviewers from the Federal Writers Project (FWP) traveled around the South to document the experiences of freed-people who had experienced slavery, two federal employees interviewed Susan Hamlin. In an example that has become iconic in oral history seminars throughout the US, Hamlin was first interviewed by an African American man from the FWP, Augustus Ladson. Subsequently, Hamlin was interviewed by a white woman, Jessie Butler. Butler left some doubt in Hamlin's mind: was she interviewing Hamlin for history's sake, or as part of an investigation by the local welfare office? At any rate, though both the white woman (Butler) and the black man (Ladson) worked from a common set of Federal Writers Project questions that included the freed-person's personal history, work experiences, education, diet, and the slave-to-"owner" relationship, look at how the response of Hamlin differs: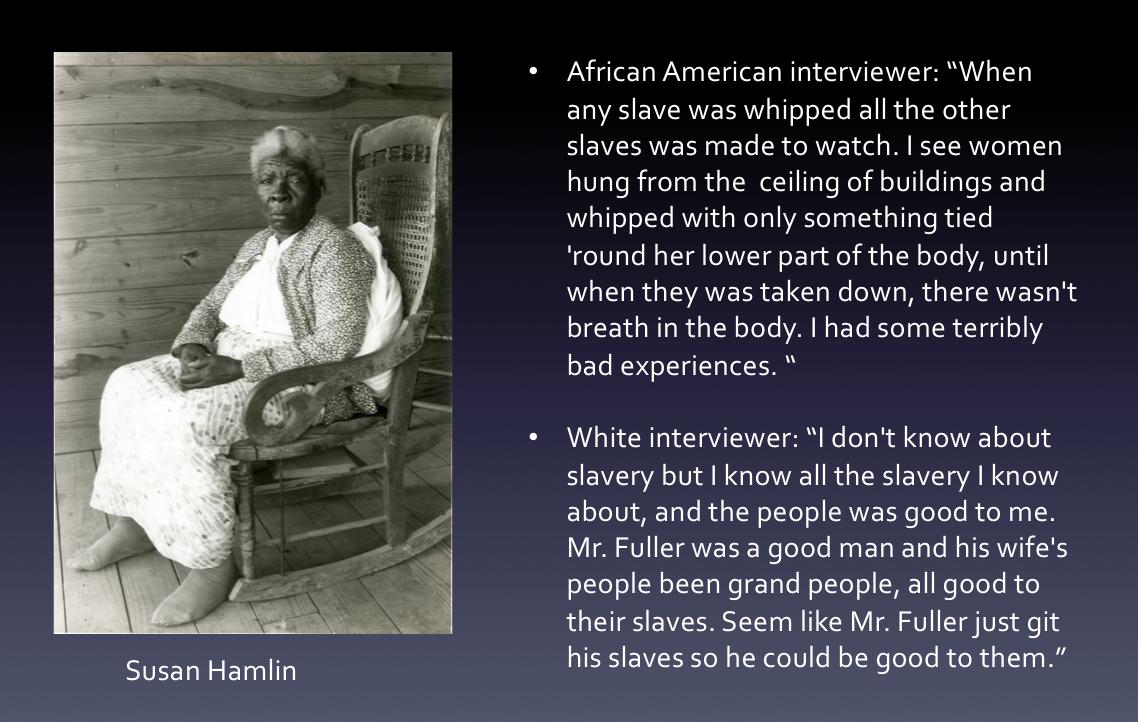 This is a reality of information collection that remains no less powerful if archivists and historians ignore it. Plenty do. It is a reality that not only limits our understanding of slavery and US white supremacy, but one can easily extrapolate and imagine how similar dynamics cut off our ability to document (much less write about, teach about, or understand) the experiences of anyone on the margins: colonized people, women of all backgrounds, religious minorities, children, undocumented immigrants, trauma survivors, military veterans, indigenous people, members of the GLBTQ communities, and people with multiple intersecting marginalized identities.
The American majority who are on the margins of power and wealth need to tell stories on their own terms, and make the key decisions about how those stories are collected, archived, contextualized and disseminated to the public. If the American majority is not at the center of the decision-making, the knowledge base of our lives is dramatically limited.
Yet as many archivists and historians know, this almost never happens. The reasons, more often than not, are quite practical. It is not straightforward to work with people on the margins of power and wealth. These are often people who have been taught that both their lives and their stories are of no value, therefore the concept of documenting and recording their stories seems irrelevant, much like a waste of time and energy. Additionally, the formalities and requirements of the academic and institutional world seem burdensome and unnecessary and the balance of power in the negotiations feels unequal.
This results in a conflict between two worlds. The academy may find it difficult to find people willing to tell their stories. People may participate in a project, and then move, making it difficult for institutions to track them down for permissions and/or further decision-making. They may be impatient about archival processes, or not have the time to catalog and contextualize their materials. Above all, they are often justifiably suspicious of the extractive processes used by institutions who want their papers, interviews, and ephemera and use them for purposes not their own. This reality leads globally to a gross imbalance: that there are many more cubic feet of papers in the world's archives that document centrist and conservative political activity, compared to the tiny number of archives that document small-d democratic movements.
The SNCC veterans were somewhat unique because they had worked with those who existed on the margins of power and wealth and they understood the need to document the historical narrative of the struggle for civil and human rights waged by these very people. The SNCC veterans knew that if they did not tell the stories from the bottom up, those who made the history would once again be ignored. Therefore, the SLP came to the table in 2013 willing to do all of the work of staying with the project from conceptualization, through fundraising, and carrying out of the work itself as full partners with Duke.
SLP put two non-negotiable requests on the table: make sure the site had no paywall, and could be accessed by anyone, at any time; and that the intellectual property — both original papers and new material created over the course of the project — was shared. After negotiating with the Duke legal team, the head of Duke's Rubenstein Rare Book & Manuscript Library was able to move forward with an agreement to make the material as open as possible via Creative Commons licenses and contract language prohibiting future paywalls or similar requirements. Copyrights for attributed new works created for the SNCC Digital Gateway would belong to the authors, while copyrights for unattributed new content would be owned by the SNCC Legacy Project. The authors and SLP then granted Duke non-exclusive, perpetual licenses to publish and provide access to the content using Creative Commons licenses. This creator-centric approach reflected SNCC values regarding the value of work and respecting the rights of the creators who do the work. It also helped answer an early and ever-present question among the partners: "Can I trust you as we walk into this process?"
The commitment to equitable participation helped build strong relationships among project partners and fostered a respectful way of working together in light of the reality that Duke's library would be the long-term site for the archive. Scholars, archivists, and project staff were dedicated to carrying out the SNCC partners' vision. As John Gartrell of Duke Libraries explained to the SNCC partners, "We're always accountable to you all." In recent months, as we presented the SNCC Digital Gateway to audiences in the US, Mexico, and Brazil, people reacted to this unusual way we worked together with encouragement and gratitude. In Rio de Janiero, activists and scholars remarked that perhaps we had found a way to apply Paolo Freire's popular education ideas to the archive.[1]
III.
In summary, the experiences of SNCC people in coaxing the US to live up to its mission statement of "liberty and justice for all" is too valuable not to find a way to archive permanently for future citizens. Courtland Cox noted recently that "Our youth have to have the benefit of our information, if not experiences, so they have a head start as they continue their struggle in America." He called this project a "critical transfer of informational wealth." The term stuck. SNCC activist Joyce Ladner rejoined: "If nothing else will save the most vulnerable of this generation, then informational wealth may be used to do so."
This informational transfer is taking place as young(er) activists use the SDG site and seek out SNCC veterans. For Phillip Agnew, co-founder of the Dream Defenders in Florida, the archival legacy of SNCC — its meeting notes, its minutes, its pictures — has helped Dream Defenders "have perspective about where we are, where we're going." The SNCC Digital Gateway, he explained, "provides a compass for organizers of today to really guide our work, guide our strategy, and begin to build on the legacy that SNCC has built." Agnew also praised SNCC's living legacy: the actual SNCC veterans who shepherded the Dream Defenders through trying times as an organization, "who were there as people to give advice, to provide counsel." "SNCC never died," he noted. "SNCC is very, very present in the DNA of what we're doing."
More information on how the project worked can be found at https://snccdigital.org/resources/lessons-learned/
Copyright © authors 2018
1. Alexandre Fortes of the Prs-Reitor de Pesquisa e Pss-Graduagco UFRRJ, and John French of Duke University invited us to present our work at the Coligio Brasileiro de Altos Estudos at UFRJ in February 2018. We are deeply indebted to them for this invitation, and for Fortes' initial insight that perhaps we had found one way to apply popular education ideas to the archive.
---
Copyright ©
Copyright to this web page, as a web page, belongs to this web site.
Copyright to the article above belongs to the author.
Webspinner: webmaster@crmvet.org
(Labor donated)