CRMVet Website Annual Report, January 1, 2013
Covering the Year 2012
Overall, 2012 was a good year for the CRMVet website. The number of articles, stories, letters and documents has increased significantly. Earlier this year we received an excellent review from TeachingHistory.Org.
Our growth in readership has been slow but steady:
Annual Number of Visits
2010
328,000 (est)
2011
332,559
2012
348,990
As you can see from the graph below, our traffic rises and falls with the school year as students (K-12 & college) use the site for homework, reports, research, etc. But even during the summer months we get 400-600 visitors per day.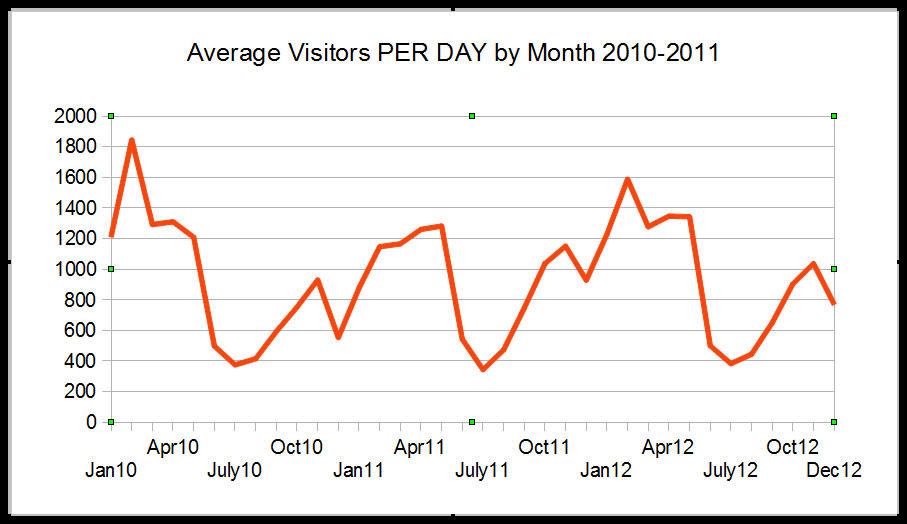 Total number of visits to the site in 2012 (includes multiple visits):
Roughly 85% U.S. — 15% Non-U.S.

348,948
Daily Number of Visitors on School-Days:
750-1,500
Top-10 Most Visited Sections:
Top-20 Most Viewed Pages (Excluding History & Timeline and Photo Album pages)
10 Most Visited History & Timeline Sections:
1.
2.
3.
4.
5.
6.
7.
8.
9.
10.

The Year 1961 — (Freedom Rides, Albany Movement, McComb MS, Baton Rouge, etc)
The Year 1960 — (Student Sit-ins, SNCC Founded, New Orleans Schools, etc)
The Year 1954 — (Brown v Board of Education & Massive Resistance, etc)
The Year 1963, January-June — (Birmingham, Greenwood, North Carolina, Medgar Evers, etc)
The Year 1963, July-December — (March on Washington, St. Augustine, etc)
1964 — Mississippi Freedom Summer Events
The Year 1957 — (Little Rock Nine, SCLC Founded, Robert Williams, etc)
The Year 1955 — (Montgomery Bus Boycott, Emmett Till, Baltimore Sit-Ins, etc,)
The Year 1964, January-June — (Civil Rights Act, St. Augustine, Hattiesburg, etc)
1965 — Selma & the March to Montgomery
---
Copyright © 2013
Webspinner: webmaster@crmvet.org
(Labor donated)