Betita Martinez
(Elizabeth Sutherland Martinez)
(1925–2021)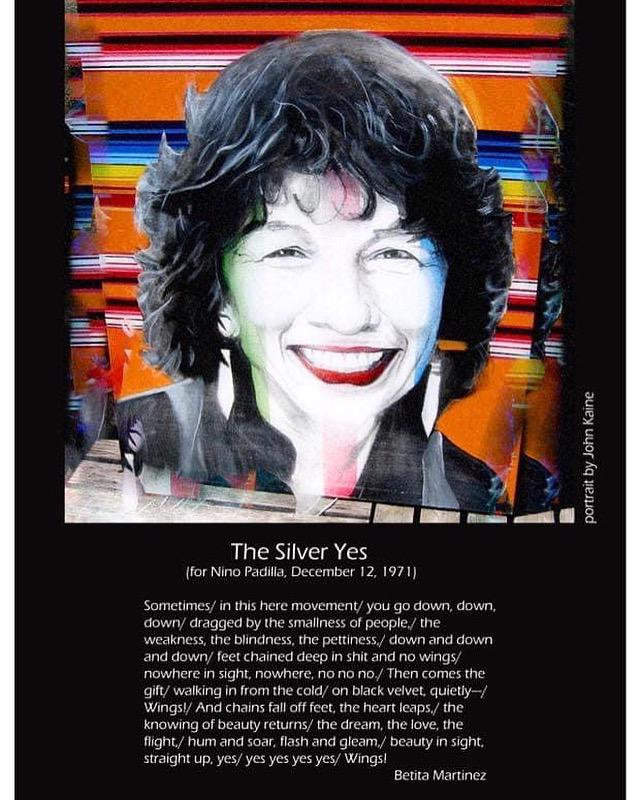 The Silver Yes by Betita Martinez for Nino Padilla
As remembered by Daphne Muse
June 29, 2021
So much sorrow on our hearts. She was fierce and leaves a legacy that I hope activists coming up the ranks will inherit.
Go well,
Daphne Muse
The Seasoned Elder
Writer, Poet, and Cultural Broker

As remembered by Zoharah Simmons
June 30, 2021
I lived with "Liz" when I first arrived in NY to work in the NY Friends of SNCC between my stint in Laurel & being sent to Atlanta! Jim Foreman arranged for her to take me in! You can imagine how me, "A Little Memphis Girl" arriving from Laurel to NYC! It was culture shock! She eased me through it!
Rest In Peace & Power, dear Bettina! Gwendolyn Zoharah Simmons, Ph.D.
Professor Emerita, African American Religions & Islamic Studies, University of Florida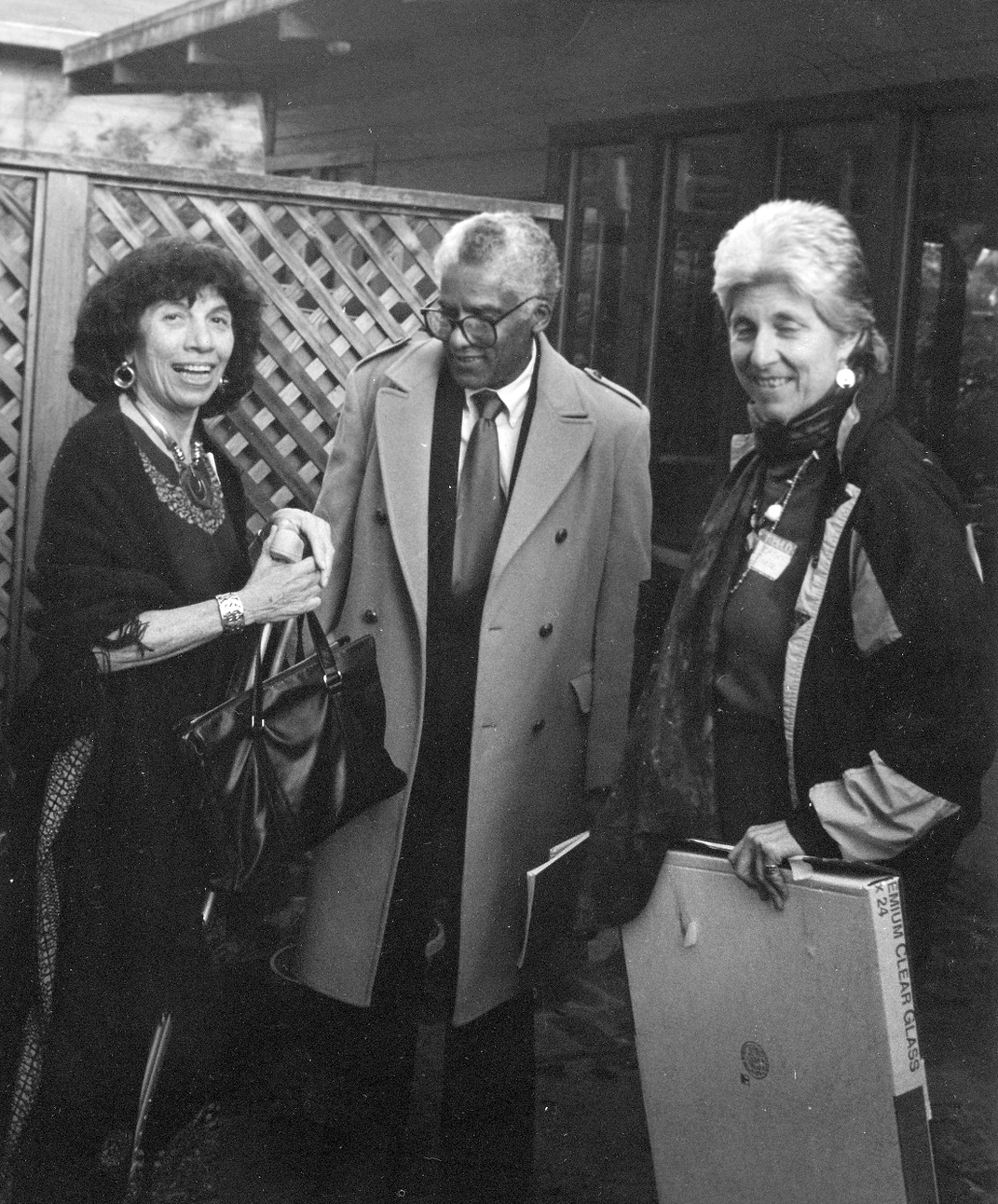 Betita Martinez, Jim Forman, Cathy Cade
As remembered by Marta Lopez-Garza
June 30, 2021
Betita's friendship and mentorship were absolutely crucial for my survival and sanity as a first-generation, college-educated Chicana. Betita was instrumental in influencing my understanding of the world; she enabled me not to feel alone and to believe in myself. Betita was among the very few people who came before me that I could ask for advice and comfort. I could never repay her for all that she has given me in terms of political insight, courage, corazon, and love for our gente. But I can pass these gifts on to others. That is exactly what Betita would want.
Thank you, Marta
Marta Lopez-Garza, Professor
Gender & Women's Studies Department
Chicana/o Studies Department
California State University, Northridge
As remembered by Tony Platt
June 30, 2021
As remembered by Linda Wetmore Halpern
July 1, 2021
I remember her most vividly from Stanley Nelson's film FREEDOM SUMMER where she spoke so honestly and candidly about her experiences in Mississippi 1964. I am moved that we worked together that summer.
As remembered by Mike Miller
July 2, 2021
I was Betita's Student Nonviolent Coordinating Committee (SNCC) counterpart in the Bay Area where I was "field secretary" from 1962 - end of 1966. She was then in NYC. Our offices each did very well in our fundraising and general support work, though on the funds front NYC's was in a league all its own. Toward the end of that period, we had different views of what was going on in SNCC; we also knew we were on the same side. That couldn't be said about all of us at the time.
When she moved to 24th Street at the border of the Mission District and Noe Valley in San Francisco, Betita was also a neighbor. Going down or up the hill to/from BART would lead me past her apartment, so I would drop in on occasion and always be treated with Betita hospitality.
By this time, we were settled in our differences, but hoped there would be ways for our respective points of view and political allies to work together. In those days, Betita was traveling a lot. In most of her destinations, I knew someone working as a community organizer in what might be broadly described as the "Alinsky tradition," which is also where I was politically. I'd ask Betita to see whether her comrades there were doing anything with people I knew. The universal discovery was "no," sometimes accompanied by hostile editorial comments. We commiserated about that.
I don't recall when it was, but there was a period when Betita was feeling isolated, lonely. I wrote her a note saying something like, "support is just up the hill." The next time I was there, she had it scotch-taped by her computer. I was touched by that.
Viva Betita!
As remembered by Faith Holsaert
July 4, 2021
I worked in the NY SNCC office with Betita, and many others, the summers after I returned late summer 1963 to NYC from working in the field in Southwest Georgia. I love the image of Betita on the phone in the LA TIMES obituary, because that is how I remember her: always on the phone. I'd come to the door of her office; she'd glance up and wave me in.
The NY office was quite a fund-raising powerhouse. I think I read recently that we raised something like $350,000 for the 1964 Mississippi Summer. I was barely into my twenties. Betita, and her predecessor Julie Prettyman, taught me so much. How to process a massive direct mail, among many other things. We all worked our phones the way people now work computers and the internet. Betita was a writer and brought publishing world connections to the office, as well as creating the book of SNCC history and photos, with text by Lorraine Hansberry, The Movement.
I lived in Santa Fe, New Mexico, in the late 60s and spent time with Betita there. Betita moved to San Francisco and was a stalwart and visionary member of the Chicana/o struggle. Decades later, Betita contributed a piece to Hands on the Freedom Plow, She and I both attended the San Francisco launch of HANDS, where her daughter, Tessa Koning-Martinez accompanied her. The last time I saw Betita, and Tessa, was at the 2010 SNCC reunion in Raleigh.
I will miss having Betita's physical presence in this world.
As remembered by Bruce Hartford
July 13, 2021
I first met Betita in the mid-1970s here in 'Frisco, and then again in the early 2000s when we formed Bay Area Veterans of the Civil Rights Movement.
When I think about Betita, what rises in my mind's eye is that she truely was one of the Lamad Vav.
"Lamad Vav" is Hebrew for the number 36. More importantly though, it refers to an ancient Jewish legend that predates the Talmud. As is true for all traditional cultural & religious lore, there are a wide variety of versions and interpretations of the Lamad Vav tradition. The one that resonates with me is that so long as there are at least a minimum of 36 men and women alive in the world who dedicate themselves to the pursuit of justice the world will not fall and hope won't be extinguished. They don't have to be Jews, they don't have to be public, they may not even be conscious of who they are or what role they play, but they preserve the light and continue the long journey towards the goal of freedom and equality.
For me, Betita was one of the Lamad Vav.
As remembered by Maria Varela
July 16, 2021
Neither Black Nor White In The Black-White
World Of The 1960's Civil Rights Movement
Betita Martinez and I were like combatants in a fox hole.... We were two Mexicana's who worked for the Student Non-Violent Coordinating Committee in the early to mid-60's. Betita, a generation above me, set aside a successful professional life to run the New York SNCC office. When I joined SNCC earlier, only a year or two out of college, I was assigned to the deep South working with local communities in Alabama and Mississippi on their communication and photography needs. While different, we always had each other's back.
In the early 60's there was little national consciousness about Latino resistance movements, especially in the Eastern US. Many of our SNCC compañeros and community folks had never met a Latino. While we might have private conversations about our respective cultural histories, Betita and I were in the liminal space between black and white struggling with an identity that was not recognized in the civil rights world we occupied. One was either Black or White: We were neither.
However, in the mid-60's, SNCC was the first civil rights organization to provide critical support to Cesar Chavez and Dolores Huerta's United Farmworkers Union (UFWOC) in California. In 1965 the organization responded to UFWOC requests for training in nonviolence tactics, CB radios, cars and funding for two staff to work full time on union campaigns.
SNCC's support for the grape boycott was critical in the union's victory in achieving a contract with grape growing corporations. In 1966, when the union launched a 300-mile protest march from Delano California to Sacramento, Betita was invited to speak and proclaimed to more than 10,000 farmworkers and supporters "We are with you and are proud of ... your victory because it is a victory for all the poor of the world. It is necessary that Blacks and Mexicans see that there is only one cause — justice."
Perhaps SNCC's involvement with the farmworkers had created a space for Betita and I. Despite erroneous scholarship claiming that in 1965, because of SNCC's adoption of the Black Power ideology, Betita and I were 'thrown out of SNCC because we were white', We Were Not! A 1967 SNCC staff roster named both Betita and I in a call for an all-staff meeting.
SNCC and the struggle for Black Power, formed us into lifelong vocations of resistance against white supremacy, colonialism and racism... no matter where we ended up. When Betita came to work in NM she made a significant mark in community journalism, grass roots media and cultural publishing. In 2008 she authored "500 Years of Chicana Women's History," when she was in her 80's. She went on to the Bay Area and achieved an enormous body of teaching and communications work which, among her legacies, created opportunities for cross-racial coalitions for change.
Today our SNCC compañeros and others in the black movement seek alliances with people of color because we will only be victorious in our resistance struggles ... together. We still have a lot of work to do to learn about each other's cultures and histories of resistance. But if we do the work and develop authentic relationships, black, brown, red and yellow together will be an indomitable force for justice and freedom.
Maria Varela, July 2021
As remembered by Chude Pam Parker Allen
November 8, 2022
Betita and I were active together in the Bay Area Veterans of the CRM. In 1989 a group of us organized the 25th commemoration of the Mississippi Summer Project, popularly known as "Freedom Summer." We asked Betita to facilitate the gathering. That was the beginning of working together. We then organized a tour for Jim Forman to speak both in college classrooms and at a Movement commemoration event where, again, Betita facilitated. We formed the Bay Area Veterans of the Civil Rights Movement and organized meetings where veterans could share stories with each other and the public. These were recorded and are on this website (Our Stories and Discussions). Most are transcripts, but at least one includes a voice recording of Betita. I learned a great deal from Betita's meticulous work style and political clarity.
Although I did not know her personally in the 1960s when she was still Liz Sutherland working with the Student Nonviolent Coordinating Committee, she impacted my life even then. Along with running the New York office and editing the marvelous photo book, The Movement.
Betita also created the book, Letters From Mississippi. She edited letters written in the summer of 1964 from freedom school teachers and voter registration volunteers and made a cohesive, highly readable and very moving account of a collective experience. She showed how the predominantly white volunteers were antiracist allies of the Black-led Southern Freedom Movement. It was the first time something I wrote was published and when I doubted my ability to write my thoughts in the early women's liberation movement, I would remember that Betita had thought highly enough of my writing to include excerpts from my letters in her wonderful book.
In 2007, Letters From Mississippi was republished. Betita, of course, took this opportunity to update her comments, add a new introduction by Julian Bond and poetry by freedom school students. In her new preface she wrote "The Mississippi Summer Project ... continued a historic tradition of white anti-racist activism. Such an alternative does exist and whites can choose to join an honorable tradition today..."
Thank you, Betitia, for encouraging me and other white women and men to stand tall in the struggle for equal rights and freedom! It was a privilege to work with you!
---
© Copyright
Webspinner: webmaster@crmvet.org
(Labor donated)