Fighting for Civil Rights in Hattiesburg, MS in 1965
Marion Kwan
May 2020
Originally published in East Wind Ezine, May 2020
I became interested in the Civil Rights Movement while attending Hastings College, a Presbyterian college in Nebraska. In the Spring Break of 1965, a Hastings College professor had visited the Delta Ministry in Hattiesburg, Mississippi. It was the only church-sponsored civil rights organization in the country, and it was headed by the National Council of Churches in New York City. He shared first-hand accounts of the plight and discrimination of Negroes in the Deep South. I was deeply moved. About a month later, upon my graduation, I along with my classmate, decided to join the Movement. We packed and left for the Delta Ministry.
Going to join the Movement with the Delta Ministry actually started from a circuitous route that began in a church in San Francisco Chinatown, which brought me to a church-related college in the Midwest, and from there to the Delta Ministry, some 2,220 miles away from home. From my participation with Delta Ministry, I got to know all the other organizations that comprised the Movement — Southern Christian Leadership Conference (SCLC), Council of Federated Organizations (COFO), Student Nonviolent Coordinating Committee (SNCC) and others.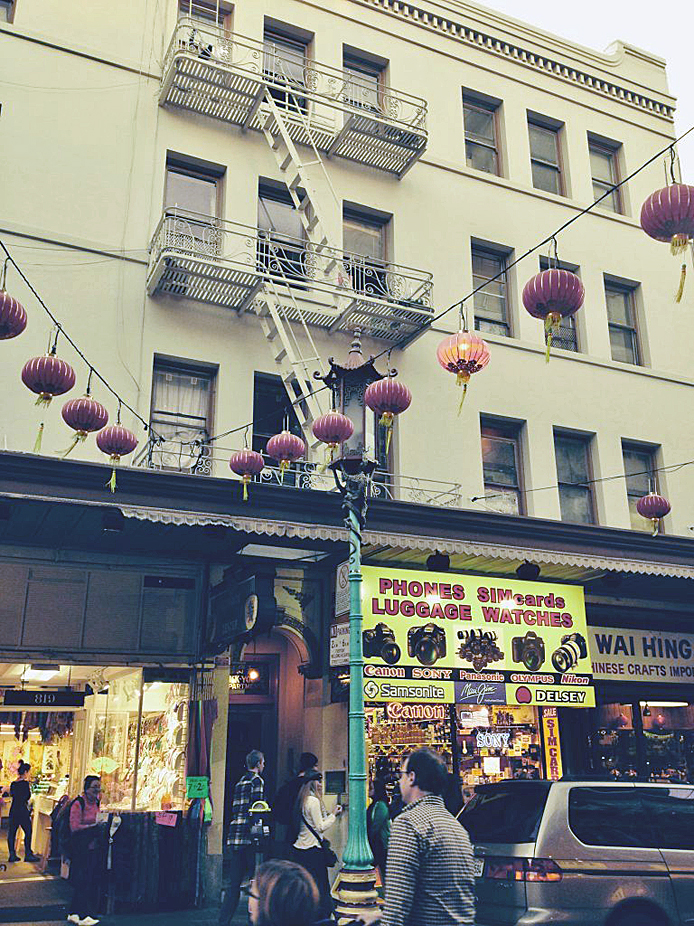 [Marion Kwan's home in San Francisco Chinatown.]
During the 1960's Hattiesburg, MS. had a population of about 35,000. I don't have the statistics for those living within the "Negro district." Of course, San Francisco, my hometown, was a metropolis of about 740,000 at that same time period. It is ironic to note that Hattiesburg was established in 1882, the infamous year of the Chinese Exclusion Act, which marked the first time the U.S. banned a specific race from entering the U.S.
The familiar fact for me was the physical segregation of a people. In Hattiesburg — the Negro district was clearly marked and distinct. In "old Chinatown proper," an area less than 1-sq.mi., was distinct also from the rest of the city of San Francisco as was Hunter's Point and the Fillmore for Black San Franciscans.
I had heard about the killings of Chaney, Goodman and Schwerner (three civil rights workers) but did not pay much attention to it in 1964, as I was more preoccupied with college. However, when I did visit the crime scene in Philadelphia, MS the following year, I felt the terror of it. But I was not scared; I always felt protected while in Mississippi because I was always with groups of fellow "freedom fighters" who watched each others' backs. There was the sense of comradery and commitment to our being there.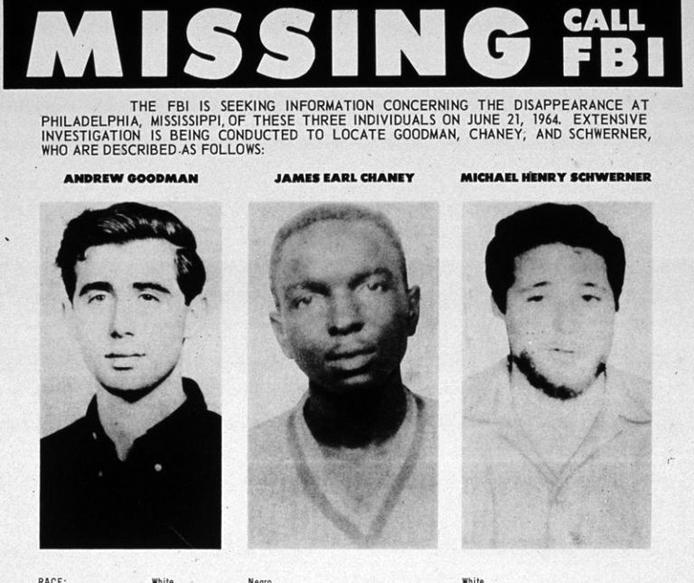 I lived in the area where the dirt road begins and the rest of Hattiesburg's paved streets ends. This was where wooden houses lay bare with the same color as the dirt in the road. The main gospel church was the only place to congregate and find spiritual comfort.
There was culture, but I was mostly tuned to the humanity more than the culture. There was mostly poverty and resignation. Neighbors sat under the shade on their front porches and passed the time away. The glimmer of life and hope came from restless eyes and welcoming arms of its Negro people to outsiders who wanted to help. Hope especially rested in Hattiesburg's young people. The young were so curious and so happy to join me in activities and meetings, so thirsty for knowledge and so eager to experience new things.
I felt the oppression of the neighborhood, yet there was the underlying strength and resilience that never quite left me either. It was there, all right; systemic racism may be evident, but so was the strength of the community that would not give up on itself. Chinatown, too, was like that to me. Both minority ghettos within cities, hanging on as hard as it could. But that's where the comparison stops. I was able to go beyond the boundaries of San Francisco Chinatown without being in imminent physical danger — hateful stares and verbal insults notwithstanding -, but in Hattiesburg, I knew that going beyond borders one could end up being dead. I had learned about how Chinatowns were burned down to the ground and about Chinese lynching of the past, but I did not know that was still happening before my eyes, right then and there in the Deep South, to another race of people. When I walked on the rubble and ashes at the crime scene of the three slain workers — one year later that was still undisturbedI could still smell the scene. After 400+ years, African Americans today continue to be persecuted.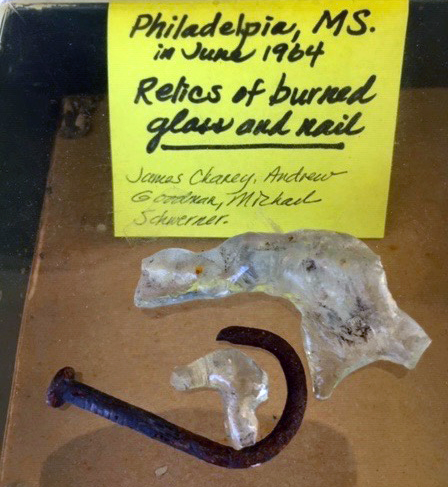 Bob Beech, Director of the Delta Ministry, had set up office in the heart of Mobile Street from1964-1967. The office was for business and a place for a few "Northern civil rights workers" to sleep. The area was also the hub for other offices that housed COFO, SCLC, SNCC. There were meetings almost all the time at these places and the Delta Ministry participated. I believe we did what every other group there was doing: grass roots organizing within the community, voter registration, marches, conferencing, visiting local groups and more meetings. Blacks in the community played a large part, and I got to know them.
There appeared a heightened sense of gravity to what everyone was doing, and everyone was doing it together communally. In the Delta Ministry, I felt much of our meetings had to do with communicating clearly and understanding what was at stake. We were from diverse races, religions, economic classes, cultures, sexes, ages, and educational backgrounds. We were also outsiders and insider-locals. There was much to learn about each other and from each other. There were tensions and revelations mixed in.
The role that Bob Beech lived as a true supporter of the Negro people in the community, made him, in the eyes of the Black community, someone Blacks could trust and protect. Bob came to be an integral part of their lives. Three years in one place was what was unique about the Delta Ministry and its director. Bob decided to move his family — his wife was pregnant at the time — and three young boys, to Hattiesburg. The Beech family lived in the white part of Hattiesburg because the hospital where Alice was to give birth was close by. The family endured danger and hostilities in their neighborhood and was driven from their home. They were shunned from attending churches and schools, and where one child had to be home-schooled. Dan Beech sent me this email where he recalled those days:
I got kicked out of kindergarten at a white Baptist church in Hattiesburg. My mom homeschooled me until the following year when I attended 1st grade at a nearby public elementary school. My two younger brothers, Russ and Doug were not old enough for school in Mississippi, between 1964 and 1968. Older brother Ed went to Woodley Elementary with few issues that I recall. There were a couple other things:

1) the shot gun blast through my Dad's bedroom window just after he closed the door one evening while many people were in the house;

2) cross burned in our front yard;

3) stink "bomb" placed near our air intake under our house shortly after youngest brother Doug was born;

4) many anonymous threatening phone calls to our home.

We went to stay with a rabbi friend of Dad's for a couple days to let the house recover from the stink bomb.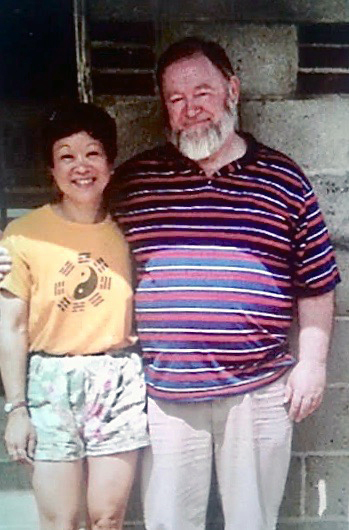 [Marion Kwan with Bob Beech at Hattiesburg reunion]
Another unique aspect to the intrusion of this family in Hattiesburg, was Bob Beech himself. He did not look like a minister or a politician or even a Negro lover/rabble-rouser/troublemaker, a popular label for any one of us Northerner agitators and outsiders in Hattiesburg. When I first met Bob, I thought he was a right-wing redneck. He wore overalls and had a gentleness to his demeanor that made him appear suspicious. When he made remarks, he engaged people in a way that make them think harder or differently. He "read" people well and could communicate with just about anyone. The rumor circulating in both the liberal and conservative communities of Hattiesburg was that this Civil Rights Director was their friend, or at least was well-respected on both sides, even when one would disagree with him.
The lessons I learned observing Bob were the importance of equality and the building of leadershipstarting from first the Black resident community people, then to the rest of us outsiders. The goal was building self-determination from the inside-out and from the bottom-up. I then understood that I was a temporary resident and the permanent residents were the ones who had to stay and fight the good fight on their own. I could leave; they couldn't. I could only help so much. If anything, I needed to fight for freedom in my own turf, in San Francisco or as a minority or as a woman anywhere I go. I learned more from the people of Hattiesburg than I helped, and by the end of my two summers in Hattiesburg, I was humbled. I was not in Hattiesburg as a tourist or visitor or helper; rather; I came to be a witness to what it was like to be of another minority in America. And as another minority, I understood what I witnessed, e.g. the War on Poverty and injustice.
The Delta Ministry's stable presence in the town could be reflected in another story: I remember there was mail addressed to the Delta Ministry office that was delivered on a semi-regular basis, coming from an unknown addressee. Sometimes it would be a news clipping worthy of looking into for civil rights causes, or it would be a hand-written letter about his/her personal feelings about racism. It clearly came from someone afraid for his/her life, an anonymous liberal who wanted to be part of the Movement and found trust in the Delta Ministry to be heard.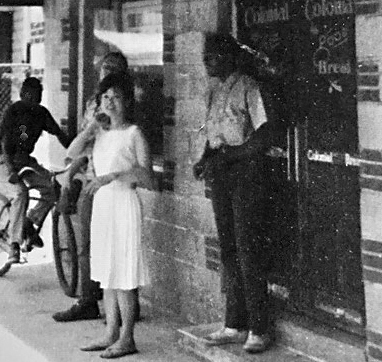 [Marion Kwan in front of the Delta Ministry office in Hattiesburg, MS. 1965.]
I lived with Mrs. Sims who didn't talk much about herself. I never saw other family members, but I knew she had family. My friend and I lived in one bedroom. She fed us like clockwork. Each morning we had grits.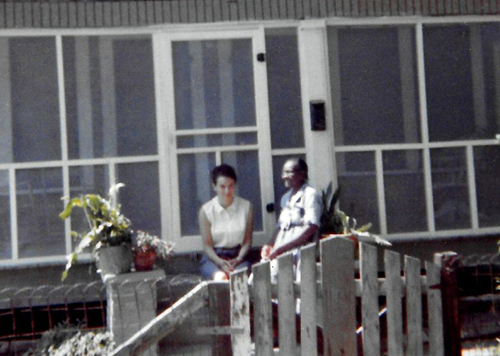 [Mrs. Sims (right) sits in front of her home with Karen, a friend. Hattiesburg, MS. 1965]
Some days we would walk with her to church, where she sang in the choir. Church wasn't just Sundays; during the summer, church was almost every day and a salvation for its members. I heard that Mrs. Sims was an activist in her younger days and worked alongside others in the community to fight against the KKK. I would return home, close to midnight every night (lots of meetings), and she would always get out of bed to let me into the house. I think the neighborhood looked out for each other and for Mrs. Sims as well, as she was harboring me and other outsiders. Her house was easy target for drive-by shootings. If I were to say "who" impressed me, it was clearly Mrs. Sims, not Martin Luther King, Jr. or Andrew Young.
Sometimes I would walk the neighborhood. Neighbors in their rocking chairs under the shade of front porches would wave and say "Hi, Miss Marion." I might drop in for a glass of cool water and stay a short while. My favorite drop-in was at an elderly man's house where he sells cold bottles of Coca Cola. He would chat and tell me the days when he never walked through the front door of a store, but always had to go through the back door. After returning home to San Francisco, I would get letters from neighbors. I still keep those letters.
I had my girls' group with me to canvass the neighborhoods and get people to register to vote. Negro neighbors were all friendly and cordial, and some did register to vote. However, most of them were afraid to register, but they still regarded me as a Freedom Fighter and welcomed me openly.
In January of 1966 the head of Hattiesburg's NAACP, Mr. Vernon Dahmer, was murdered.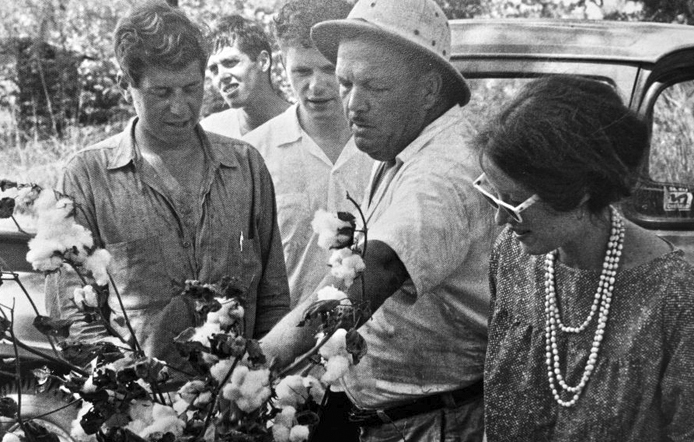 [Hattiesburg NAACP leader Vernon Dahmer (center) with
civil rights volunteers at his annual Independence Day picnic.]
A KKK-poster was found tacked to a tree by his house which was firebombed. His wife and children escaped. Mr. Dahmer had burns over 80% of his body; he died the next day. The day before the murder, he had announced on the radio he would help pay the voting poll tax for anyone who couldn't afford to register to vote.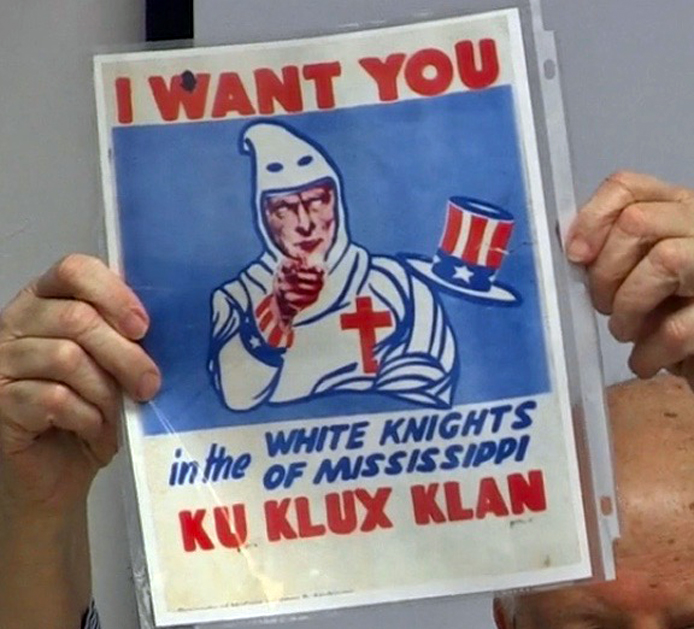 [KKK poster found outside of murdered civil rights leader Vernon Dahmer's home in Hattiesburg, MS.]
Injustice done to one is injustice done to me. I was struck by the similarities between the plights of both the Chinese community where I was born and the Black community where I took part in the Civil Rights Movement. I felt the same pain and sufferings, and I understood the struggle. It was years later, after returning to San Francisco, that I understood why I felt "so much at home" with the Negroes in Hattiesburg and why I slipped so smoothly in-and-out of there for two summers. We were all dispossessed minorities who were standing up for our rights.
I wasn't able to articulate it then, and it was much later that I realized I was fighting for human rights. The Negroes taught me about their humanity, not about the color of their skin. And I, too, matter. And African Americans matter, especially them. It's all of us together that we must stand up for. From the Black community of Hattiesburg and the Chinese in Chinatown — I was treated in both places with the kindness and generosity of a people and the wisdom of perseverance when it's been tempting to just give up. There was great bravery in face of fear and strength and endurance enabling us to stand up for what is right and just.
The word "grace" comes to mind. Grace is defined as "a disposition to kindness and compassion, a sense of propriety and consideration for others and the favor of God over you." That more or less explains the "greater good" that has empowered me in both of these communities, and to which I sincerely belong.
If you had asked me back in the 60's if the Civil Rights Movement changed my life, I would've said, "No, nothing's changed much." I thought of my stint in the Deep South as nothing extraordinary, even though it was intense and meaningful. I didn't know that I was experiencing culture shock. And there was no one at home in San Francisco who had gone down South, for me to share those traumatic experiences with the exception of two friends from Cameron House who joined me the second summer. They were stationed elsewhere in Mississippi. Most of us who volunteered in the Deep South, returning to "life as usual back home" was what we did and we forgot about it. At least, I thought I did.
Back at home, I immediately took on a job as Head Start Pre-Kindergarten teacher in Chinatown. Then other jobs and interests ensued — all, as I look back at my life — were roles and positions involved with grass-roots organizing, social protests and education: Chinatown YWCA Young Adult Program Director, Peace Caravan with the American Friends Service Committee in New England states, social work with International Rescue Committee in Hong Kong, anti-Vietnam War protests, academic counselor for low-income students at the City College of San Francisco, trainer for Community Boards, Inc. a San Francisco dispute-resolution neighborhoods program; consultant for Stanford Intercultural Communications Institute.
My life took me to people and places that called for justice and equality. So, I guess I had never left the civil rights struggle. The welcoming myself back to my beginnings started with the 50th anniversary of the Civil Rights Movement in 2014. The Bay Area Veterans of the CRM helped re-kindle my memories. Each of us helped change the nation in a profound way; the Civil Rights Bill and the Voting Rights Act were passed. Anti-poverty programs emerged throughout the country, ethnic studies started in universities, etc. In the process we were profoundly changed. Often, I was the only lone Asian American at civil rights gatherings but that did not deter me and propelled me to step up to my speaking out for Black people and, of course, for all peoples in the process.
Young people in the San Francisco Bay Area schools are multiracial. However, knowledge of the CRM varies from school to school depending on interest and priority to having speakers in classrooms. Schools are underfunded and there are academic pressures to stick to a tight curriculum. I found students were more aware of the CRM in private schools. However, young people in general were eager to know more and have endless questions.
Students understood the overall history of the Movement, such as the1963-4 Selma March and Bloody Sunday in Alabama and Dr. Martin Luther King. They wanted to know if I met and knew Dr. Martin Luther King, Jr. I only participated once with King, when we were both in the 1966 James Meredith March Against Fear. (Note: James Meredith was the first African American to desegregate the University of Mississippi. The march's goal was to encourage African Americans to register to vote. Meredith was shot on the second day of the march, and hundreds of people took up the march and registered over 4,000 people as they walked from Memphis, TN to Jackson, MS.)
Students wanted to know what dangers we encountered. I tried to emphasize that the Movement is continuous and not embedded in the past. Students asked, If civil rights was won (with the passing of the Civil Rights Bill) why are we still in it?' That was my "moment to teach" how segregation still exists today for all minorities, and why voting is the key to reaching equality. I had to burst the bubble about "the light at the end of the tunnel." That light is not there yet, we have to keep fighting for it.
As a Chinese American and woman, I also pay attention to the importance of breaking stereotypes and barriers for Asians as "quiet, obedient, subservient, smart." I grew up in a great culture and family that speak of filial respect and the respect for all peoples. But as an American I also learned that freedom of expression and standing up for one's rights are also important virtues. I trust that my presence speaks for all of that, as I face Asian American and other students.

[Marion Kwan (middle) with her sisters at Chinese New Years in San Francisco]
There is hope. For a while I thought the "Movement" stopped altogether, but the Movement is "moving again." I saw it on the day after President Trump's Inauguration in January 2017, in the Million Women March in Oakland — where I couldn't believe that I saw a young Asian father with his wife and baby in tow in a baby stroller, among the crowd of multiracial, multi-generational, including young men and their girlfriends, and LGBTQ demonstrators. We also now have spotlights on younger people throughout the world (so much more aware of the deterioration of our planet than I ever was in my generation) — the Sunrise Movement (youth for climate change) and March for Our Lives (student led against gun violence).
Are Asian Americans ready for building connections and becoming more openly present in society? The United States is becoming a land of immigrants, where there will no longer be a dominant white majority. It is no longer enough just to be Chinese. We are also American. I think young Asian Americans are becoming more multiculturally aware than in my generation.
I would personally like to see visibility of the Asian American communities onto the public eye. We may be visible unto ourselves, but not to the public. Our communities have done so much and so well for its own, as well as for other communities of color — but often that goes unnoticed. We need to be visible when there is a "civil rights issue," such as at the airports when Muslim Americans were being deported. We were not in the front-news to speak out against another deportation against another group, as has happened historically to the Chinese in Angel Island. The American news media also tends to ignore statements from Asian Americans, including those of Andrew Yang, who ran for President of the United States.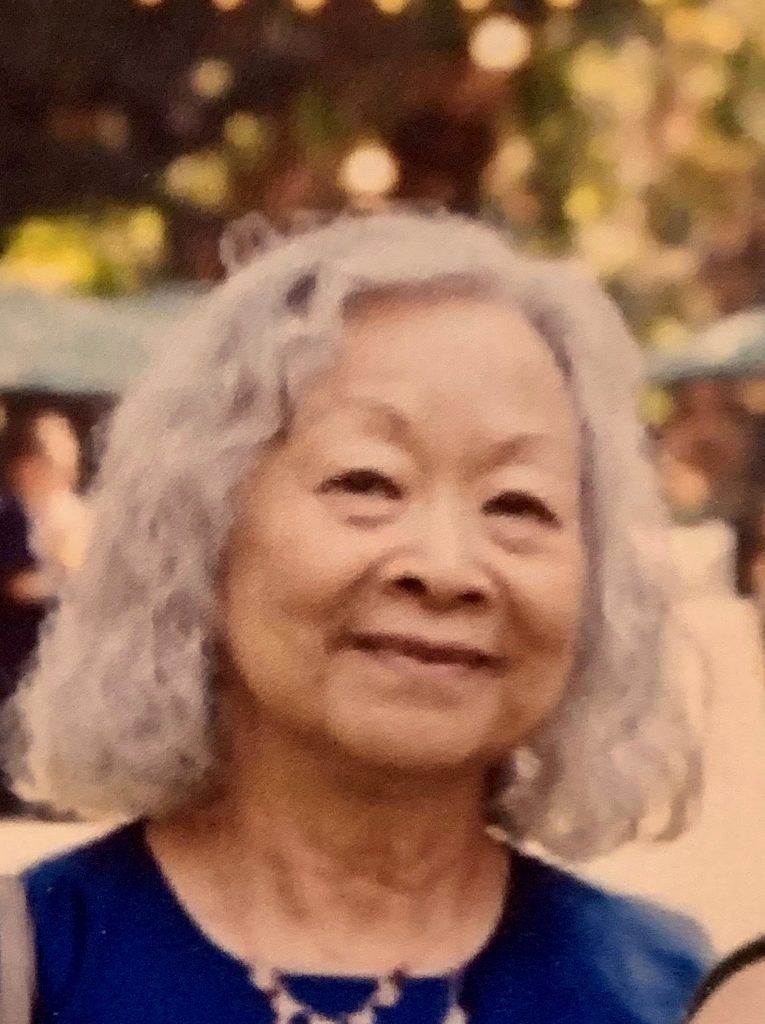 [Marion Kwan is a proud member of the Bay Area Veterans of the Civil Rights Movement]
As innocent and as ignorant as this may sound, I wish there is an Asian American run/Asian American owned TV network. I like to see more young, assertive Asian Americans majoring in broadcasting, and be supported in this. There is a glass-ceiling mentality still in the media industry that continues to ignore and downplay Asian Americans. The current programs tuned only about Asian Americans, are run in a very restrictive one-hour time period. One example of a successful network is FNX the First Nation Experience, a Native American TV station that runs part-time and has lengthy, diverse formats about their peoples and cultures. Again, I don't know much about the media industry, but I know what ordinary people watch from their homes every day; I wonder what rural America watches besides Fox News? Better communication is a key to standing up for justice.
So glad East Wind Ezine is here!
Copyright © Marion Kwan. 2020

See Delta Ministry Founded in Mississippi for background & more information.
---
Copyright ©
Copyright to this web page, as a web page, belongs to this web site. Copyright to the information and stories above belong to the authors or speakers. Webspinner: webmaster@crmvet.org
(Labor donated)