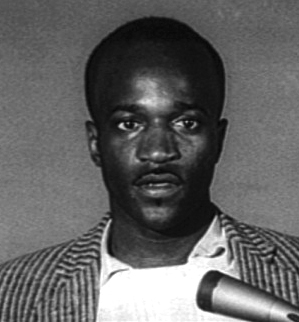 As remembered by Sharlene Kranz
April 17, 2016
I am sad to announced the passing of SNCC veteran Willie Wazir Peacock in San Pablo, California on Sunday morning. He was in hospice care at home. Wazir was born in Tallahatchie County, Mississippi. He wrote:
In 1960, while a student at Rust College in Holly Springs, MS. , I had the first opportunity to express my activism. We all knew about the sit-ins by black college students in Raleigh, North Carolina and some Rust students wanted to show our solidarity. The balcony of the movie theater in Holly Springs was segregated so we organized a student boycott of the theater. We tried to get the students at a nearby industrial college to join us, but the president made them go to the theater and break the boycott."

"In fall, 1960, we met our first SNCC representative, Jim Bevel, when he came to Rust with Sam Block and Dewey Green, Jr. We organized other students to meet with them and later Dion Diamond, also from SNCC (who was arrested on charges from Louisiana and therefore couldn't return). Then came Frank Smith from Atlanta, who moved to Holly Springs in early 1962. I worked on voter registration all over northeastern Mississippi and also organized a credit union with Frank until I graduated from Rust in August."
As remembered by Joyce Ladner
April 17, 2016
I am so saddened to hear that Peacock has transitioned. I especially identified with him because we both grew up in Mississippi and fought for our own families and neighbors to be free. He was a kind, gentle, "salt of the earth" person: warm hearted, very smart, with a warm smile and a great baritone voice that lifted us up when we needed it. He was headed to medical school when his plans were diverted to work in Greenwood. He would have been a great doctor. This is but one example of the kinds of sacrifices so many of our generation made.
Willie, or "Peacock," as some of us called him, will leave a giant space that will not be filled. He will join his brother. Sam Block, June Johnson, Ida Hollander, Jesse Harris, Lawrence Guyot and other black Mississippians who passed on before him.
Rest in peace, my brother.
Andre Gide ... "Art is a collaboration between God and the artist, and the less the artist does the better."
As remembered by Dr. Gwendolyn M. Patton
April 17, 2016
Wazir Peacock was Tuskegee Institute's students guardian/protective angel, especially for our beloved Sammy Younge, Jr. It was always reassuring for me to see Peacock in the Student Center on campus. Peacock and Winky (Bill Hall) were on visible and quiet strength in our meetings with Institute administrators, especially during the time of students hosting the first "Black Power!" in Tuskegee in 1967. Peacock will forever be a warm and living spirit in my heart to continue our race to real freedom.
As remembered by Leslie-Burl McLemore
April 19, 2016
Willie Wazir Peacock was a beloved Brother and giant in the Movement. He will be missed by all of us who believe in Freedom. I considered him a mentor and Brother. Long live his memory and good work. Peace,
As remembered by Maggie Magee
April 19, 2016
Yes, this passing hit me very hard although I haven't seen Willie since about a decade with Jean Wiley in Oakland. Deep in my heart heart also he lives as a strong and caring presence during my time at Tuskegee.
As remembered by Mike Miller
April 19, 2016
I went to Greenwood the next summer (1963); Wazir was co-director of the project, and was the best of my teachers there. When a huge truckload of food and clothing arrived at Greenwood, there was a scramble among people who were the group who worked out of the office to take goodies. Wazir was among the first to insist that they stop and that we meet and arrive at an agreement about how the goodies were to be distributed. It was not a popular thing to do; he did it. In the meeting, an agreement was reached that all the goods would either be shelved (we created some shelves in the office with bricks and boards) or hung on hangers, and that they would be distributed according to this priority: first, to people who had tried to register and been sanctioned (loss of job, house; arrested or beaten); second, to others who had tried to register; third, to staff and volunteers in the office.
As remembered by the SNCC Legacy Project
May 21, 2016
"Peacock" as we most often called him in Movement days, could have been a doctor, was in fact on his way to med school, but the movement came knocking at his door in Tallahatchie County, challenged him and his plans changed. He once said of the movement that reshaped him and Mississippi in so many important ways: "It caused me to act. And I learned that this is not just about myself. How do I get other people involved to help my dream come true, and translate it to them to show that — in their own language this is what they're talking about too? Not to bring something, but to find something."
We who are engaged in the SNCC Legacy Project are part of Wazir's legacy. And that legacy, Wazir would say, demands that we continue to act; and to find ways to act with others.
Mississippi was changed because men and women like Peacock acted. We emphasize this in this brief statement because as much as we miss his presence and recognize the impact of his work, we are neither gathered here nor thinking about Wazir from a distance, to mourn him. He would not want that. We need to remind ourselves with Wazir on our minds, perhaps thinking of one of the many songs he loved to sing, that struggle continues.
The SNCC Legacy Project
As remembered by Euvester Simpson
(sent to Willie, February 2016)
May 26, 2016
My dear friend, I just got the news that you are not well. Words cannot express my sadness. I have such fond memories of you and I cherish the time we spent together during this phase of our journey through this Universe. I will never forget how you and James took me under your care and how you protected me and looked out for me during the early days of the Movement and beyond.
I still remember the time I was recovering from surgery in 1990 and I was in a great deal of pain. I called out to Spirit and to my Angels and told them that I needed your healing hands. Within minutes, my doorbell rang and I hobbled to the door and there you stood. You were visiting from California. I told you that I had just prayed for your healing hands. You gave me a massage and the pain left my body and did not return throughout my recovery from that surgery.
Please know I love and respect you always. You are in thoughts and prayers.
Peace and Love,
As remembered by Bernice Johnson Reagon
May 26, 2016
What a great impact Wazir made in so many lives in his living witness in the Movement struggles that ended racial segregation as a legal system in this country. He was a great song leader and I still hear his voice...
I will not be able to be with those of you who gather, I just want to share how important it was for me as a SNCC activist from the Albany, Southwest Georgia Movement to meet and sing and share with the great singing courageous organizers of Mississippi, Willie "Wazir" Peacock, Sam Black, Hollis Watkins were organizers who brought sonic power as they moved thru the changes we worked to create across the south.
They keeping falling all around me
The strongest leaves of my tree
Every paper brings the news that
The sisters and brothers of my sounds
Are moving on
But you're not going to leave me...
It is your path I walk
It is your song I sing
It is your load I take on
It is your book I read
It the record you set that makes me go on
It your strength that helps me stand
You're not really going to leave me
I will try to sing my song right
Be sure to let me hear —
from you....
Deep Black 'Sippi Willie, by Bob Moses
May 30, 2016
---
© Copyright
Webspinner: webmaster@crmvet.org
(Labor donated)